Matrix Human Services Impact Report 2021
2021
2021 was a year of success and challenges. COVID continued to affect in person operations, but our staff had already learned how to adapt and remain resourceful. Being on the other side of the learning curve allowed our clients and community to continue receiving services they need while keeping our staff and clients safe. By being strategic about our sourcing decisions, we were also able to spend almost $1 million dollars buying services from Black and Hispanic owned business in Detroit. These dollars go directly into the community supporting jobs and local businesses.
This Impact Report details the myriad of programs and success stories that Matrix had in 2021. From making sure pre-school children have access to curriculum-based education and nutrition, helping families overcome barriers like housing and food scarcity, counseling of teens and people living with HIV and much more, Matrix is able to step in and provide a hand-up when people are at a turning point and need assistance to get back on track.
Continue Reading
During 2021, Matrix was able upgrade many of its 20 locations around Detroit. A complete renovation of the Matrix Center entrance and lobby was completed which will allow for better flow of people in and out of the building plus provide a more welcoming environment. In addition, lifts were installed to make the building ADA compliant. New playgrounds, awnings, and signage are being installed at our Head Start centers along with a refresh of the building interiors through painting, flooring, and other upgrades. In order to truly inspire people to achieve, our buildings need to provide inspiration for change.
We could not have overcome the challenges faced over the past two years without our funders and the generous donations from our individual and corporate supporters. They make our impact possible, and we are truly grateful for the ongoing support.
Since 1906 Matrix has given people hope for a better life. We help provide a path to success and coordinate resources so individuals can strive for a better life for themselves and their families. For 116 years running, the passion to serve still remains.
Serving Detroit From Birth to Senior Age
Head Start - Birth to 5
Matrix Human Services is the largest Head Start provider in the city of Detroit, providing early childhood education to families who qualify.
Youth Assistance Program
Serving kids ages 7 through 17 with after-school programming including academic support, life-skills, sports, summer employment, and more.
Community Health
Full Service HIV Prevention & Treatment program aimed at reducing the spread of HIV in Detroit and improving the quality of life for those living with HIV. 
Adult Services
Helping adults reach self sufficiency via stable housing, workforce development, financial empowerment, online education, resources, and more.
Senior Services
Empowering adults ages 55 and older with free food distribution, low-cost transportation, in-home care services, technology resources, and more.
The Matrix Center
60,000 sq. ft. community center on Detroit's East Side providing a safe space for food distributions, community events, resources, and more.
Matrix Human Services' Birth to 5 Head Start provides high quality early childhood education to low-income families, using evidence based High Scope Curriculum to support children's growth in language and literacy, early math and science concepts, and social-emotional development. Children also receive health and development screenings, nutritious meals, oral health, and mental health support.
Consisting of center-based Head Start (3 and 4-year-old children), Early Head Start (EHS / infants through 2 years), home-based Early Head Start, and our Child Care Partnership Program (CCP), Matrix operates 16 Head Start Centers throughout the city of Detroit as well as provides access to an additional 13 Child Care Centers and 8 Family Child Care Home Providers as part of our Child Care Partnership Program.
Matrix Head Start operates in Detroit's Southwest and Eastside neighborhoods and is the city's largest Head Start provider. Funded enrollment for 2021 included 1,429 children, split between 927 Head Start children and 502 Early Head Start children and pregnant women, as well as an additional 360 infants and toddlers in our Child Care Partnership program.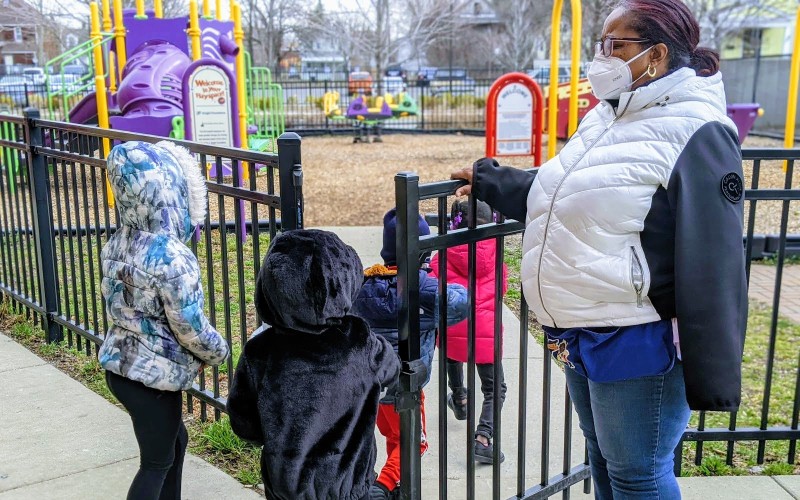 Details
During 2020 and 2021, Matrix Human Services Head Start Centers received major renovations 
All 16 of our centers received
Newly painted centers and classrooms
New "Chalk Walls" in the classrooms
Temperature Scanners at all centers
Zono machines – a large disinfection machine
Security Cameras installed
9 centers received new floors + outdoor "Shaded Structures" 
7 centers received new lights
Our Manuel Reyes Center received a major upgrade including:
New roof
Repaired Parking lot
Repaired Gate
Upgraded Fire Sprinkler System
Kitchen upgrade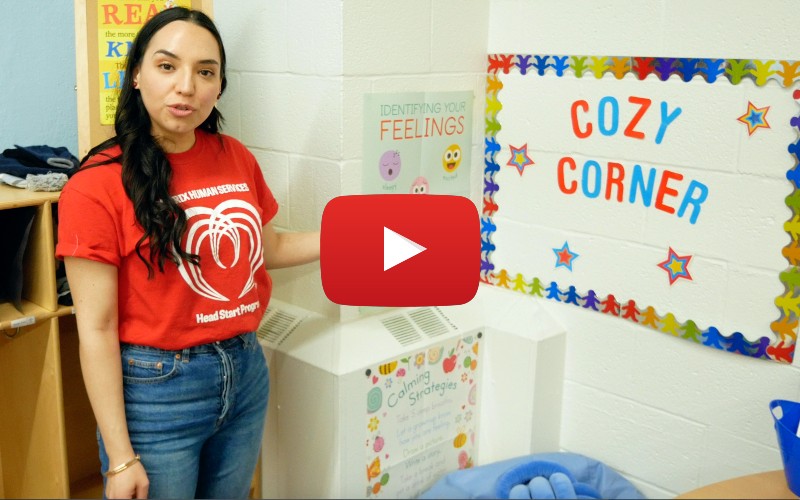 Cozy Corner + Trauma Smart
Details
Watch our Cozy Corner video at the link above!
Our Mental Health specialists support the Social and Emotional development of the children we serve, starting with a developmental screening with the parent-lead ASQ SE-3 observation tool. We utilize the Pyramid Model and Conscious Discipline as our Social-Emotional curriculum enrichments as well.
Through a generous grant from the Hares Foundation, we were able to implement Calm Down/Cozy Corners in all toddler and preschool classrooms to help teach children self-regulation skills. We also allocated Quality Improvement funds from the Office of Head Start to implement a trauma informed care curriculum by contracting with Trauma Smart. The Trauma Smart kick off began in the Fall of 2019 and will continue through 2023. Trauma Smart is an evidenced-based training and coaching model designed to create a trauma-informed environment with more resilient caregivers and students, which improves students' school readiness. Trauma Smart uses a train-the-trainer model so the curriculum will be sustainable after the contract expires.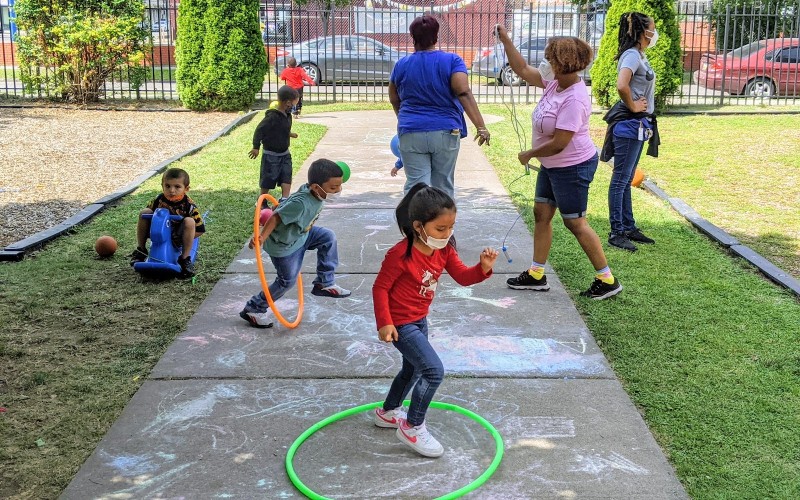 Details
Kindergarten readiness has remained a special focus during the pandemic due to the gaps created by remote and virtual instruction. The program has continued to provide Parent Kindergarten Transition Workshops, where elementary schools present information and address parents' concerns and questions regarding kindergarten enrollment. Elementary schools also offered virtual tours to help with choosing the best school for their children. The program also provided supplemental activity calendars for kindergarten preparation, distributed activity backpacks for these children, and held a summer program in July and August 2021 specially focused on rising kindergartners. Overall, 402 children attended the 2021 Summer School program, and included all age groups.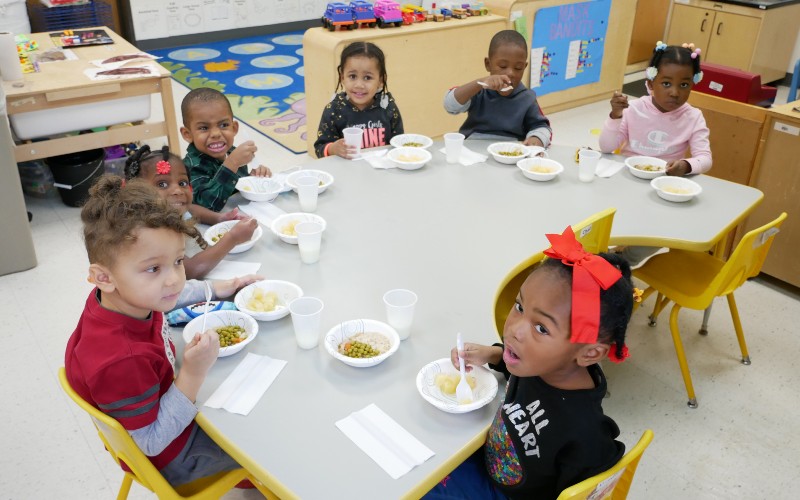 Details
Sent Health and Wellness email to keep parents and families encouraged and informed.
Provided Oral Health Kits that included oral health information/education to families during food and other distributions.
Virtual meetings and phone calls were scheduled with parents of children diagnosed with chronic illnesses, including asthma and diabetes.
To ensure that children and their families had medical and dental homes, we encouraged parents to use the tele-health option for physicals and consultations.
Encouraged parents to continue to update their children's vaccinations.
Because children were not in person to receive nourishing meals and snacks, biweekly distributions were held where parents were provided boxes of appetizing and healthy food.
Harvest boxes of fresh, locally grown food from Keep Growing Detroit were also distributed.
Personal protective equipment and other COVID-related supplies and equipment were made available to families and staff.
Virtual staff and parent trainings were conducted to promote a safe, healthy, and nurturing environment COVID Protocols, Controlling Communicable Diseases CPR and First Aid, vaccine promotion and presentations.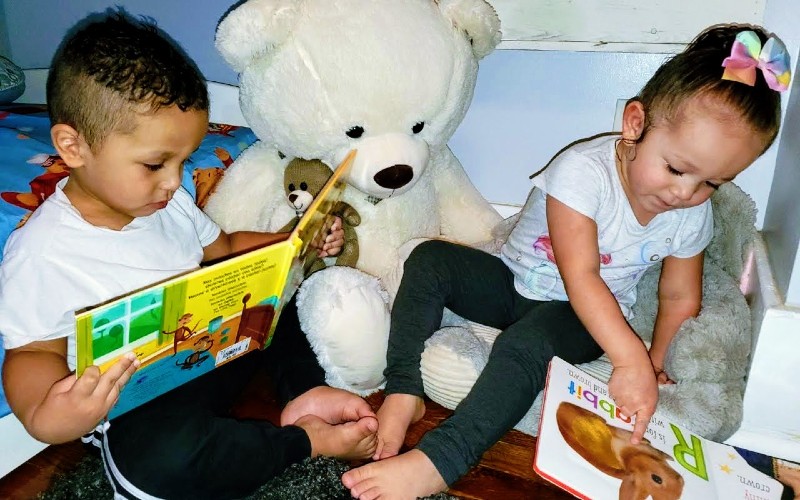 Details
The Birth-5 children/families were loaned 600 data-enabled tablets, assistance with internet connections, and packets of home supplies to ensure children could participate in remote learning. EHS/CCP classrooms were open for in-person services, and also provided teachers with virtual support weekly.
Families in both Birth-5 and CCP programs received at home learning activity kits that included a variety of educational materials, toys, books, and activity sheets. Regular calendars of curriculum-based learning activities were also posted to the agency's website on a special parents' resources page.
Training videos were created to engage teachers in pre-service training as well as CPR and First Aid. Education specialists continued to support the teachers both virtually and in-person during times when the centers/homes remained open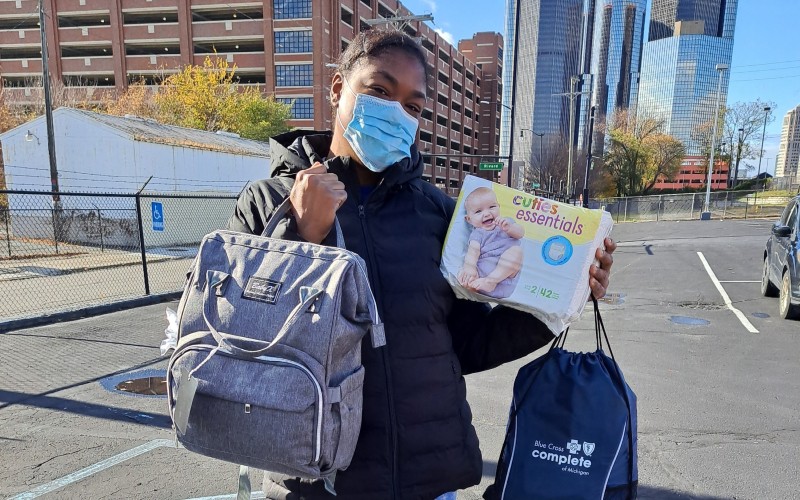 Details
Food Distribution: Matrix Head Start partnered with Wayne Metro Community Action Agency and Atlas Food to provide food and other essential items to families during the pandemic. More than 1000 families from both the Birth-5 and Child Care Partnership programs received $200 worth of food of their choosing over the course of six distributions. With these dollars families were able to select enough supplies to provide 12 meals plus cleaning or PPE supplies.
Using Walmart gift cards and Amazon for home delivery, 306 families experiencing homelessness / families with no income / children in foster or grandparent care — received the necessities they needed. 
4 drive-through distributions of diapers, training pants, wipes, baby food, dental supplies, and other necessities were held for Head Start families. CCP delivered these same supplies directly to their families' homes.
All Birth-5 and CCP centers and family child care homes were professionally deep cleaned and disinfected. Matrix provided thermometers, masks, gloves, sanitizing products and equipment, and portable water sources at all our locations.
Families received educational learning kits, books, and activity sheets to assist in keeping their children engaged.
Head Start Mom Receives "Hand-Up" From Matrix
The mission of Youth Services is to provide a suite of services to children 7 – 17 years old that will enhance their quality of life, build confidence, self-esteem, improve their academic performance, provide life experiences that will prevent involvement with the juvenile justice system, and help overcome obstacles and barriers to success.
Adapting to COVID-19 meant that some staples of the program had to be put on hold, including our annual Spring Break Camp and Summer Camp.  However, youth partnerships continued to provide important services either virtually or safely in-person, and 100 laptops donated by HumanIT were also distributed to families in need to facilitate online communication. 
In 2021, 619 youth throughout the city benefitted from Youth Assistance Program opportunities and services.  94% of youth who completed the Peer Aspirations Survey at the beginning and end of their enrollment had increases in their future aspirations and confidence in their conflict management skills.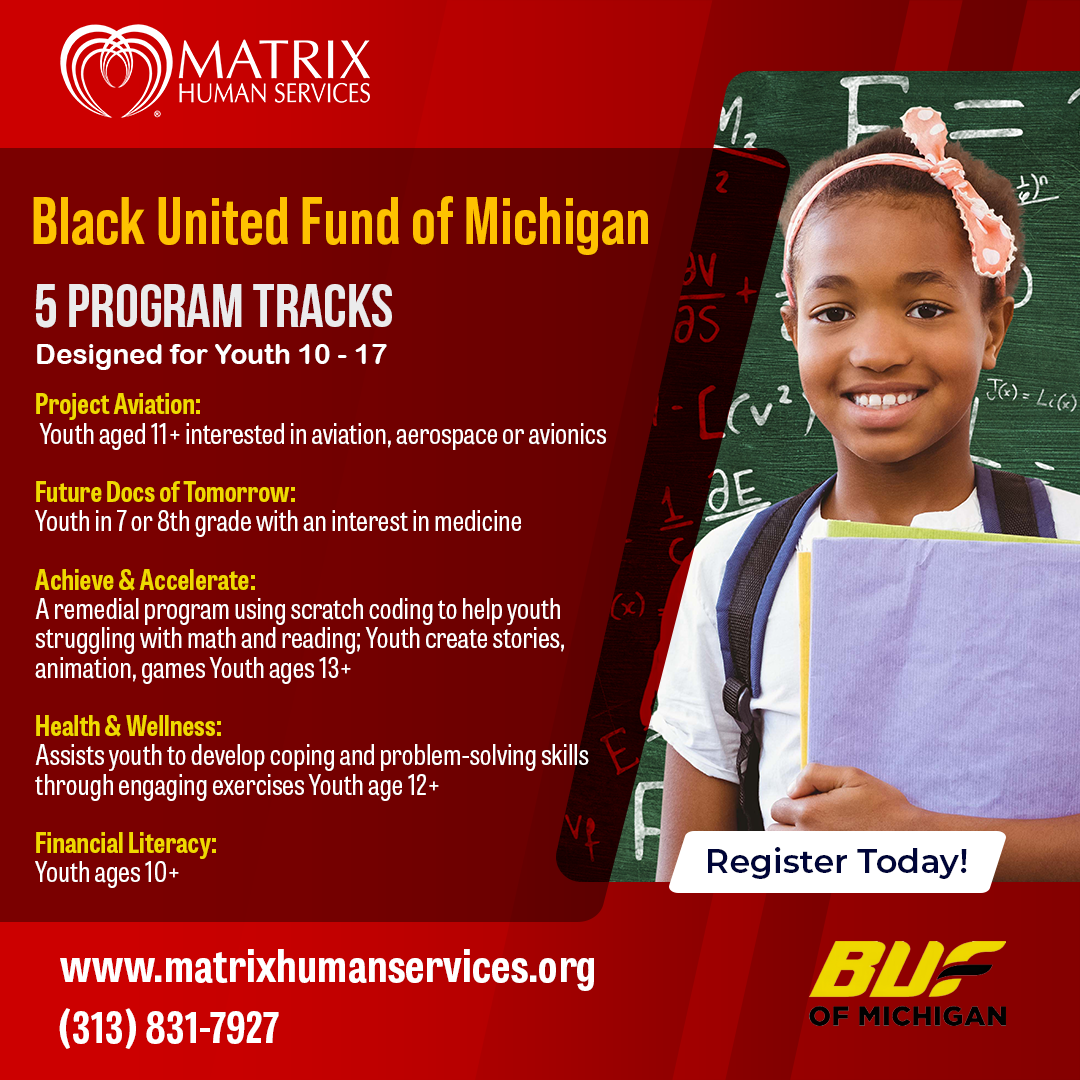 Details
130 youth participated the below programs in partnership with the Black United Fund: These youth empowerment programs are designed to bridge the gaps that Detroit's underprivileged youth experience between education, career pathways, mental health support, and post-secondary opportunities.
Project Aviation: Youth ages, 11-18, interested in aviation, aerospace or avionics
Achieve & Accelerate: A remedial program using scratch coding to help youth struggling with math and reading; Youth create stories, animation, games Youth ages 13+
Future Docs of Tomorrow: Youth in 7 or 8th grade with an interest in medicine
Health & Wellness: Assists youth to develop coping and problem-solving skills through engaging exercises youth ages 12-16
Financial Literacy: Youth ages 10-15
Detroit Children's Choir: Children interested learning to sing also gain teamwork skills and confidence.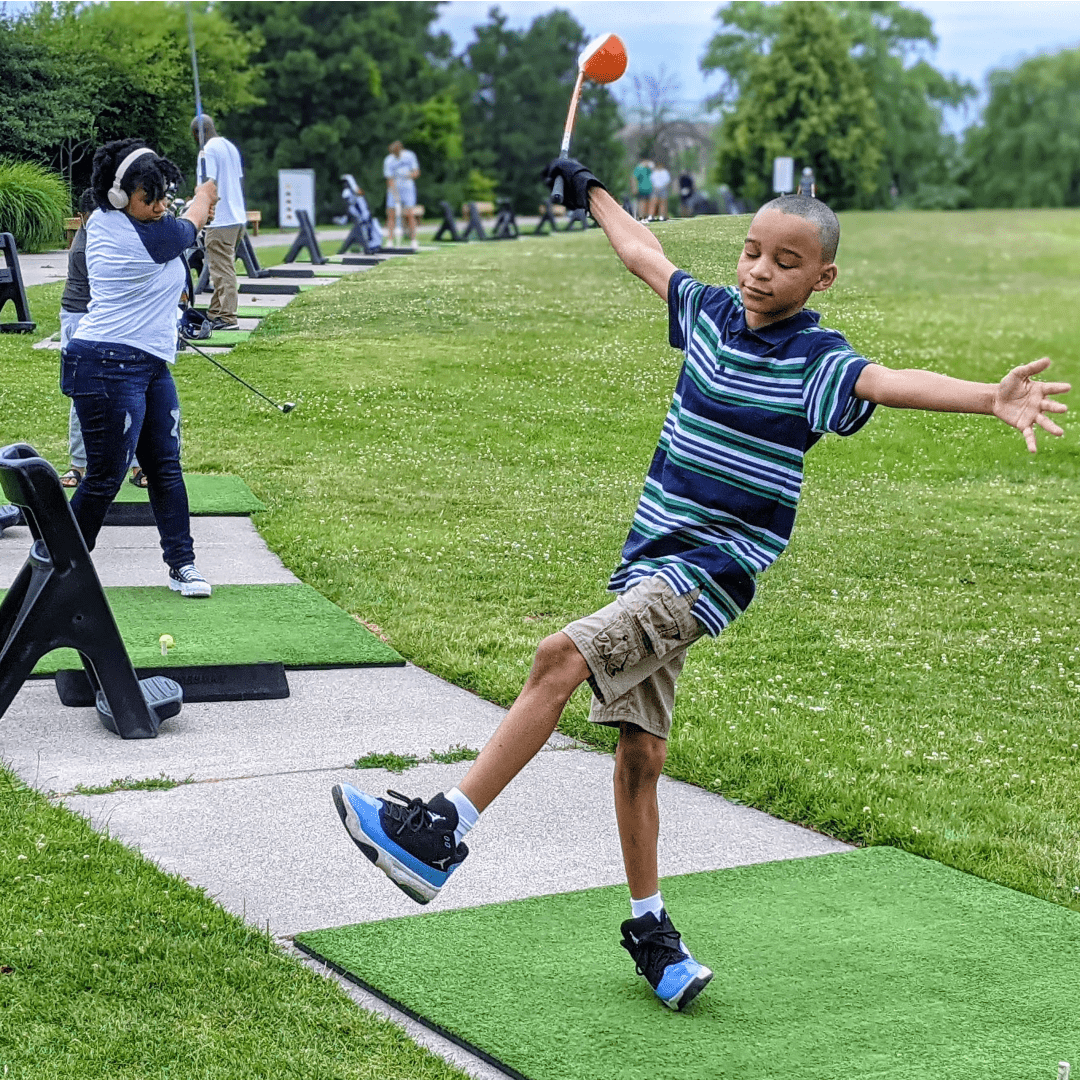 Details
Detroit Police Athletic Club (Detroit PAL's) mission, in partnership with the Detroit Police Department and more than 1,700 community volunteers, is to build character in young people through athletic, academic, and leadership development programs.
Softball – Matrix Youth formed a 14 and under girls team in Detroit PAL
Baseball – Matrix Youth formed a 10 and under team in Detroit PAL and Eagle sports
Golf. My Future. My Game.  – 20 kids ages 10 through 17 participated in the 10 week curriculum and received professional golf lessons twice a week, as well as experienced unique field-trip opportunities including the Rocket Mortgage Classic PGA Tour, Belle Isle Driving Range, Clearview Golf Course, Top Golf Auburn Hills, and more.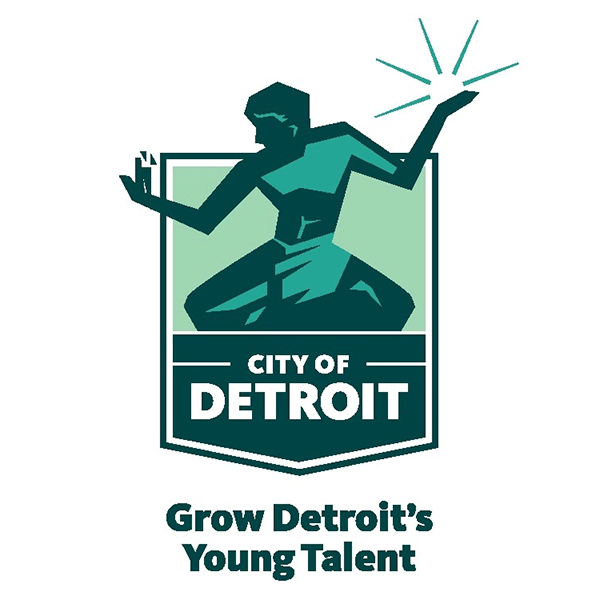 Job Training Opportunities
Details
Grow Detroit's Young Talent (GDYT) is a citywide summer jobs program that trains and employs young adults between the ages of 14 and 24 for up to 120 hours. 
As one of the Lead Agencies through the Grow Detroit Young Talent Program, 150 youth received employment during the summer and a total of 180 received virtual job training.
Access to Generation Now Youth Development Program (GN) – Youth Prevention, Tutoring, and Intervention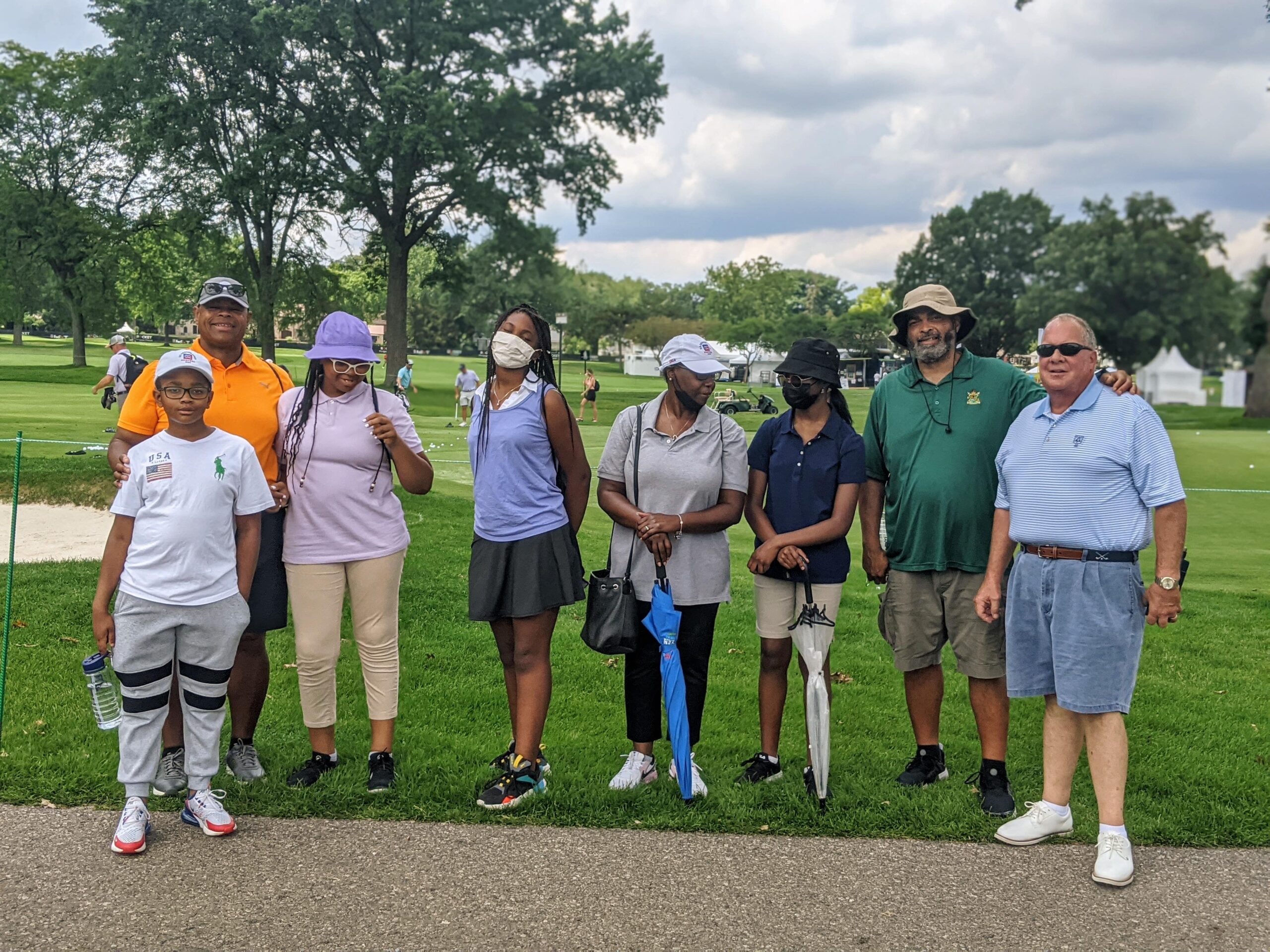 Golf. My Future. My Game.
2021 was the first year of this incredible partnership. Golf, like all sports, also provides lessons about life, and this program shines by highlighting how golf intersects the world of business and can facilitate developing relationships. 20 kids ages 10 through 17 participated in the 10 week curriculum and received professional golf lessons twice a week, as well as experienced unique field-trip opportunities including the Rocket Mortgage Classic PGA Tour, Belle Isle Driving Range, Clearview Golf Course, Top Golf Auburn Hills, and more. 
The mission of the Matrix Community Health HIV/AIDS family of programs is to combat the AIDS epidemic through assisting individuals in determining their HIV positive/negative status, and in providing compassionate services and care to empower people living with HIV/AIDS to live healthy and independent lives.
Matrix Community Health provides a systematic approach toward addressing the social determinants of poverty and the impact that has on the health of people living with HIV, along with providing comprehensive wrap around services to to treat and stabilize their medical condition.
In 2021, 1401 clients received services through our Matrix Community Health division. Funding was secured to provide resources to address the social determinants of health (housing, food, transportation, etc.) for persons living with HIV, as well as funding from the CDC to expand the HIV testing program.
Critical Services
1137 persons living with HIV (PLWH) received services including case management, HIV testing, and more.
Details
144 individuals participated in our Tobacco Reduction Use Program for People Living with HIV.
264 HIV tests were provided through our Matrix MAC Health program.
85.53% of our Care Coordination clients optimized their health by obtaining HIV viral load suppression.
99.56% of our Care Coordination clients successfully obtained antiretroviral therapy.
60,766 prevention risk reduction supplies (condoms) were distributed to the community this year.
Emergent Needs
635 emergent needs including housing, hygiene, food, and more were successfully treated.
Details
417 individuals received benefit assistance
109 received food assistance
67 received transportation to medical appointments
22 received housing assistance
14 received dental/medical support assistance
6 received vocational assistance
Tele-health during COVID-19
COVID-19 doesn't only impact physical health, but mental health as well, including those with compromised immune systems 
Details
The program continued to provide supportive counseling through the use of tele-health (phone, vide platforms, etc.) for persons living with HIV who may not be ready to engage in mental health therapy but needed support from a professional mental health counselor.
The program also expanded its mental health treatment services working with third party insurers including Medicare, Medicaid, Blue Cross & Blue Shield, as well as other insurances in providing clinical therapy to those in need.
By sending a phlebotomist to the client's residence, clients were able to participate in tele-health with their medical provider along with being able to access lab services that allowed their physician to obtain the necessary labs needed without the patient risking exposure to COVID-19.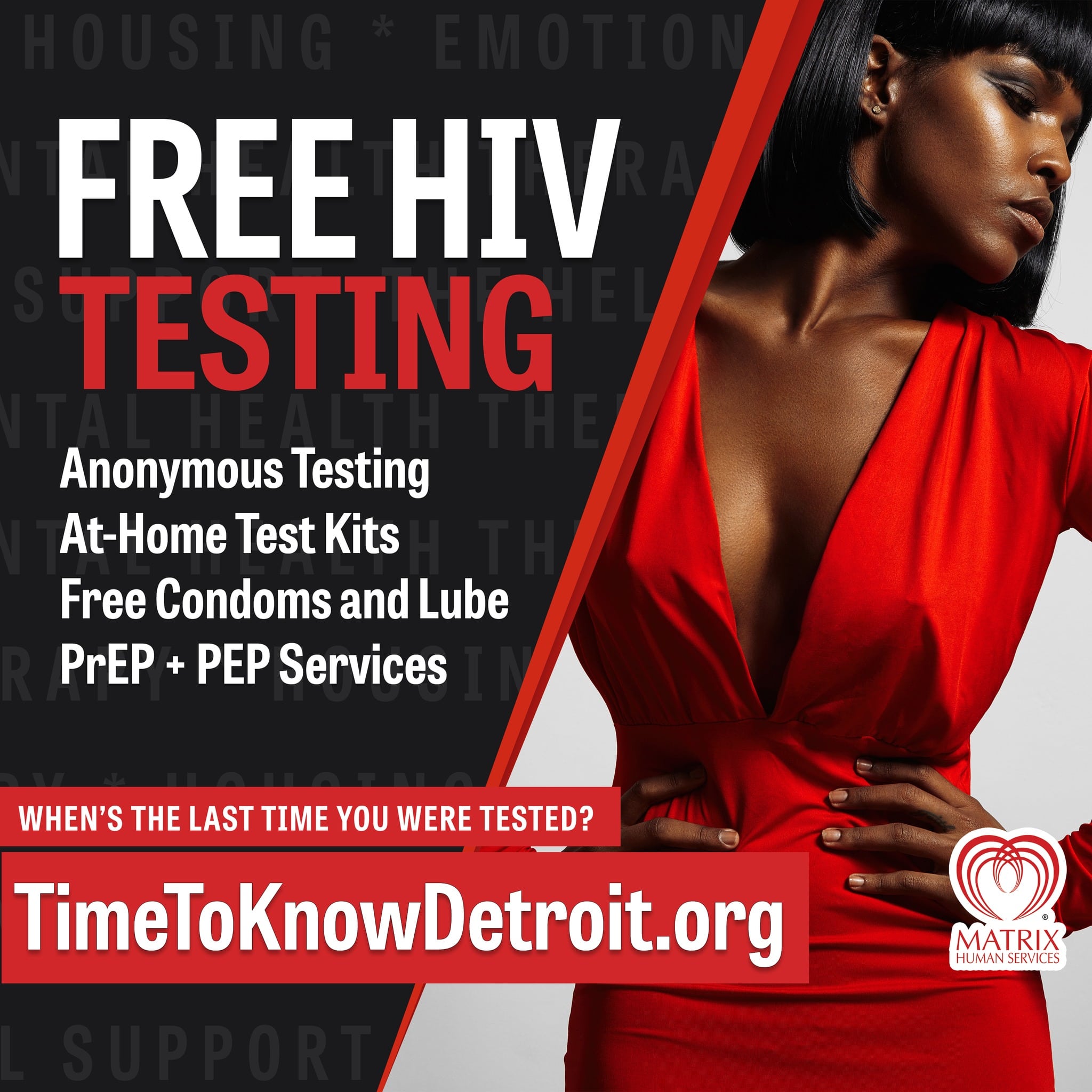 HIV Prevention Campaign
Every year, over 600 Michigan residents test positive for HIV and the majority are focused in the metro Detroit area. That is why the City of Detroit decided to partner with Matrix Human Services to create the largest HIV Prevention Ad campaign in Matrix history, at the end of 2021. The campaign consisted of 12 billboard ads throughout Detroit, one commercial shown on Comcast television channels, social media ads, and geofenced web ads, all directing traffic to a revamped webpage with virtual option to request services anonymously. Due to the success of the campaign, Matrix received more funding from the city to continue the campaign into 2022.
The collective goal of Adult Services is to support families and rebuild neighborhoods in Detroit through social and economic mobility. Our programs and services are designed to help clients move from poverty to self-sufficiency. We accomplish this through a variety of services such as:
Career coaching, various workforce development trainings, financial coaching, financial empowerment workshops, housing counseling, homebuyer workshops, resource navigation, adult online high school diploma program, and wellness/social engagement activities.
During 2021, the Adult Services Program provided 2,276 deliverables (measurable outcomes) for clients, some of them major milestones such as buying a house, or finally achieving a high school diploma. Often, they include families enrolled in our Head Start Program as well.
Details
Our Housing Education Center assists the community in trying to meet their housing needs including home buying seminars, supportive services, housing resources, and referrals.
Program Outcomes 2021
18 housing workshops
60 clients received one-on-one housing counseling
9 clients purchased homes
78 clients received rent assistance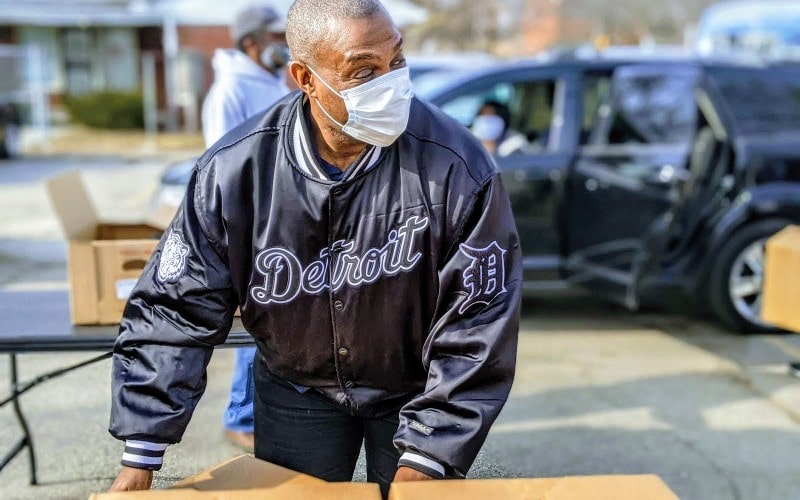 Details
There are many available resources that certain government programs and local organizations offer that could prove vital to helping a person move from poverty to self-sufficiency. This Center is designed to connect clients to available resources that may meet their immediate need including basic resource searching assistance, DTE Energy Efficiency Assistance Program, LSP and other community resources.
Program Outcomes 2021
636 general resource assessments
316 clients assisted in securing a significant resource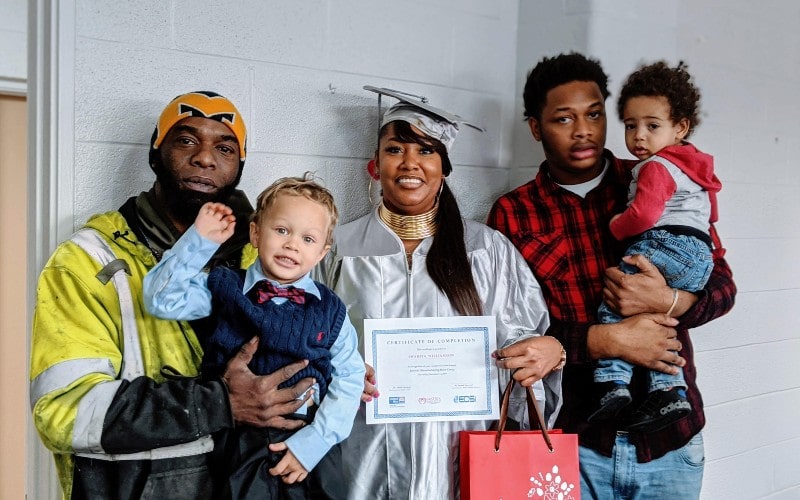 Details
At the heart of social and economic mobility is securing and maintaining gainful employment. Services available through this Center include soft skills training, one-on-one career coaching and assessment, resume, cover letter and job search assistance, employment resources, referrals, job placement, and vocational training.
Program Outcomes 2021:
510 clients received career assessments or workforce related services
32 clients received employment placement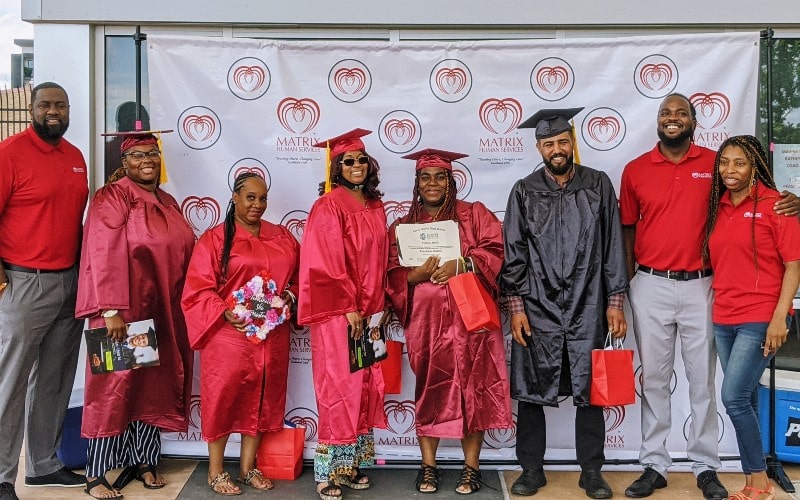 Details
The Education Center is designed to help those in the community earn a high school diploma via the Matrix Career Online High School/ED2GO– 100% Online High School Diploma Program, education resources, and referrals.
Program Outcomes 2021
7 adult students graduated with their accredited high school diploma.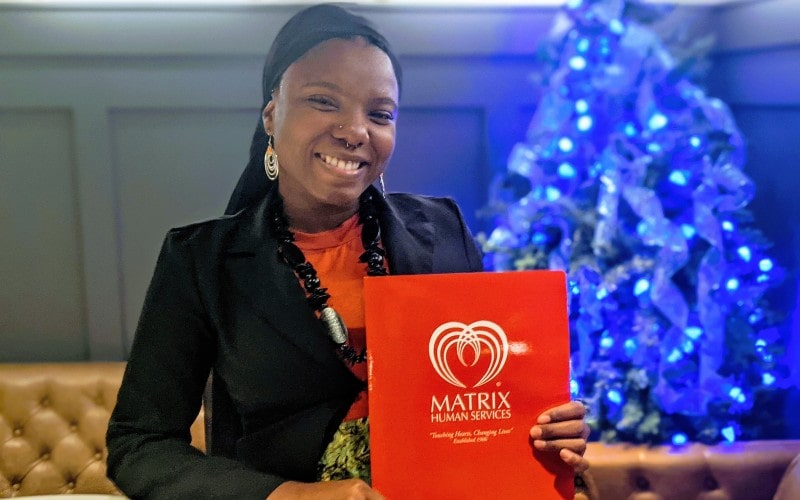 Details
The Financial Center is designed to assist clients reach their personal finance goals and to educate them on all things pertaining to economic upward mobility, including one-on-one financial coaching and counseling, financial capabilities classes, tax prep assistance, and more.
Program Outcomes 2021:
Provided 21 financial education workshops to unduplicated participants.
330 clients received financial coaching and counseling which included activities such as a developing a budget, credit report and FICO credit score review.
112 clients credit score increased.
98 increased their net income and 102 increased their net worth.
49 clients received rental assistance/mortgage.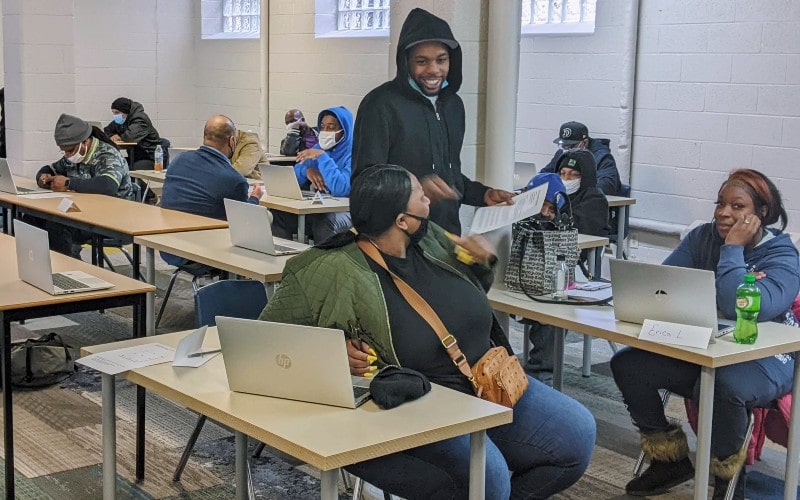 Details
Skills for Life is a new paid work and training initiative created jointly by the City of Detroit and Detroit at Work to accomplish two goals: 1. Provide residents with the training and credentials they need to make at least $15/hour; and expand blight removal and other services in Detroit. Participants will get paid five days a week as they split their time between working for the City of Detroit and engaging in education and training activities that lead to obtaining credential(s) required for better paying jobs.
Single Mom Receives Gift of A Lifetime – A New Home
Our Senior Center has been assisting seniors in maintain healthy, active and fulfilled lives for over six decades. The goal of our Center for Seniors is to help seniors remain living in their homes, and to live vibrant, active, and socially engaged lives. The Center also fights against senior hunger and provides seniors access to low-cost non-emergency transportation.
Services within this Program include: Personal/chores home care services, social, physical, and educational activities through the Senior Wellness Center, low-cost non-emergency medical transportation, health and nutrition support (including The Healthy Senior Living Initiative and Food Rx Program), and more.
225 seniors were served through various direct services and 90% self-attested to being positively impacted by resources and services received, including: 51 seniors who received in-home care services, 450 free round-trip transportation rides were provided, and 44 seniors received laptops as well as access to affordable internet service.
Details
The Health and Nutrition service category was created to convey the overall impact of our Healthy Senior Living Initiative – Food Rx Program and Food for Health for adults with children, focused on assisting participants in addressing chronic health conditions (specifically, high blood pressure, high cholesterol, diabetes, pre-diabetes and obesity). Services these programs offer are:
Quarterly health screening
Prescription food boxes
Overall case coordination
2021 Program Outcomes
· 78 seniors were provided health evaluations through the HUDA Clinic (Health Unit on Davison Avenue)
· 78 seniors were provided prescription food boxes containing both non-perishables and fresh produce from Eastern Market and Forgotten Harvest twice a month.
· 20 successful food distribution events held on the 2nd and 4th Wednesdays of each month – approximately 8000 pounds of fresh produce and 684 nonperishable food boxes were distributed to participants.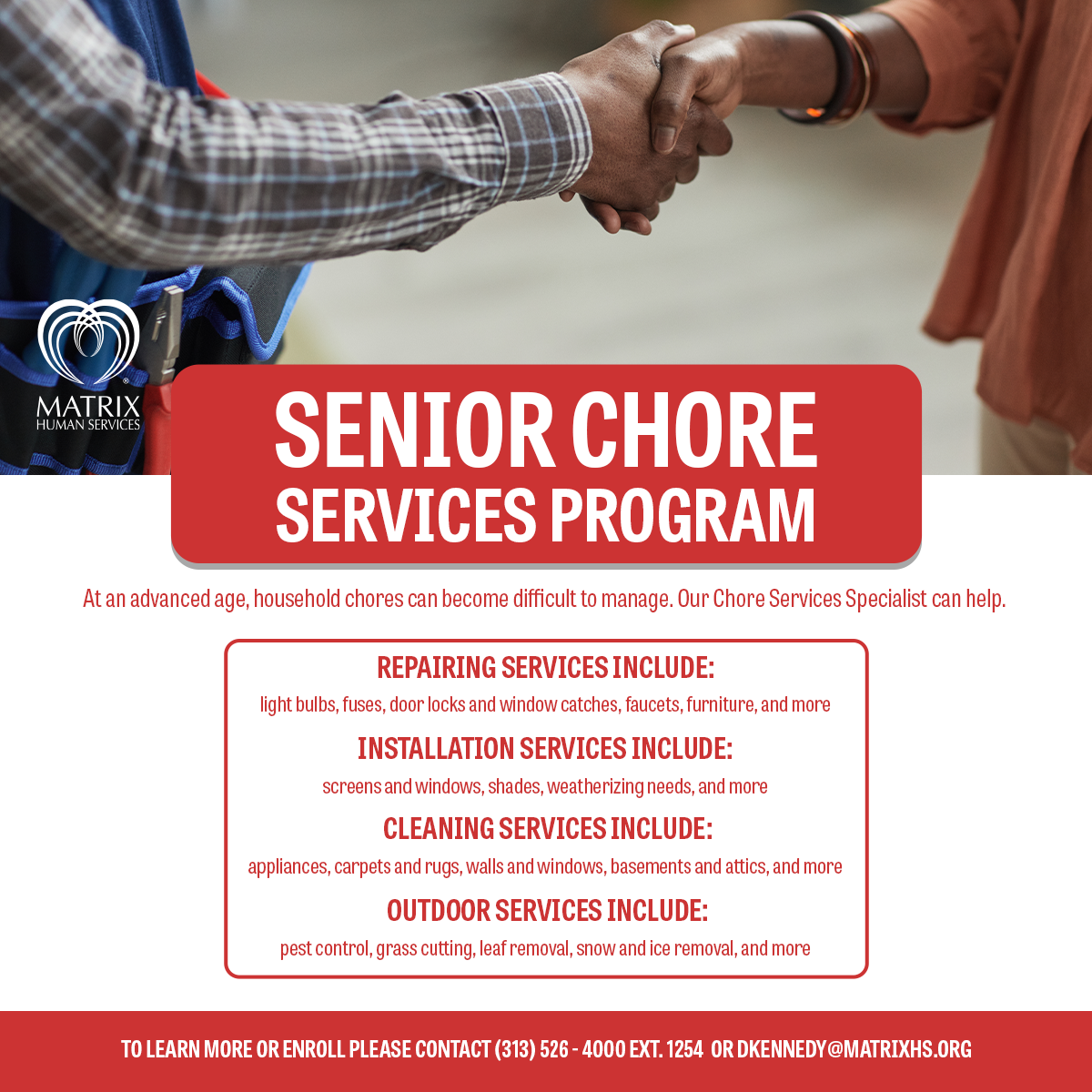 Details
Before COVID-19, our Center for Seniors provided a space for seniors to come and socialize, enjoy guided exercise and games, and obtain resources. In response to the pandemic, staff provided remote services including mental health support, low-cost non-emergency medical transportation, and added crucial new services to help seniors at home, who were spending even more time isolated from friends and family. These included:
Senior Home Care Assistance Program: provides assistance with bathing, dressing, grooming, laundry, meal preparation, shopping, and more
Senior Chore Services Program: provides assistance with home repairs and installations, and indoor and outdoor cleaning
21 seniors received in-home care services and 450 free round-trip transportation rides were provided to participants.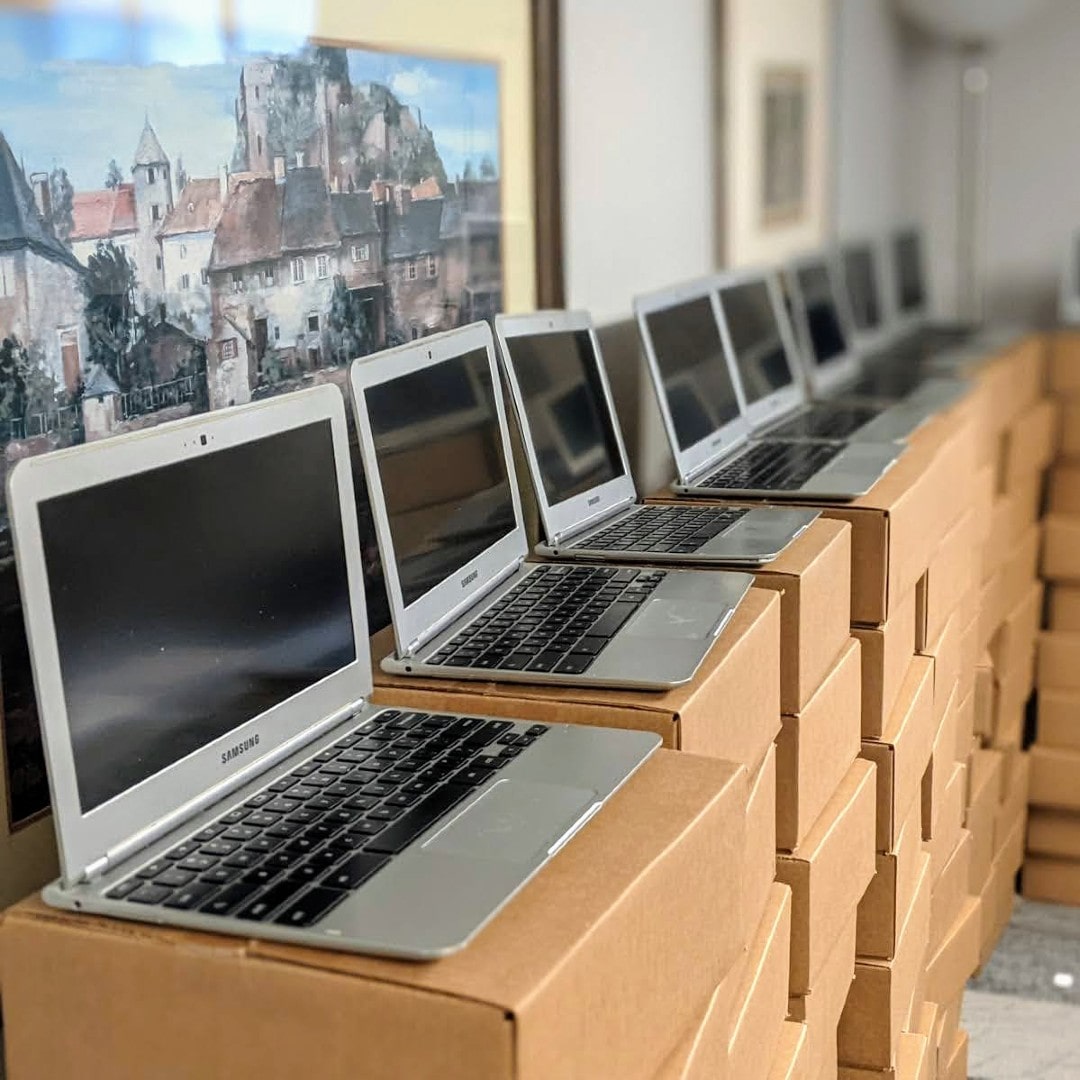 Details
Since staff were interacting with seniors mainly via the internet or phone, it was important to make sure seniors had access to both a computer and the internet, as well as training on how to use them. Matrix Human Services was extremely grateful to have partnered with Comcast OATS (Older Adults and Technology Services), to provide 44 seniors with new laptops and access to low-cost internet. This helped staff stay in touch with those seniors and provide important virtual socialization among other services.
Matrix Senior Advocate Receives "Unsung Hero" Award
As Senior Programs at Matrix Human Services continued to expand despite the pandemic, staff in the program quickly had to take on more roles and fill gaps. Soon, Dominque Jordan began to stand out, helping out all of the senior programs in various ways, on top of her role of handling senior home-care services and doing monthly check-ins. Dominque was still surprised, however, when she received the Unsung Hero Award from the Detroit Area Agency on Aging (DAAA). 
The Matrix Center (est. 2006) is Matrix Human Services' thriving community center on Detroit's East Side. The Matrix Center offers youth, families, adults, and seniors supportive services and referrals through Matrix programming and collaboration with more than 150 mission partners.
Detroit residents count on The Matrix Center for Food Tuesday Distribution, a community clothing closet, computer literacy instruction, GED & High-school completion, employment skill-building + financial literacy, summer youth day-camps, youth basketball & boxing, community + family events, and more.
In 2021, The Matrix Center received it's biggest renovations in over a decade thanks to generous funding from the City of Detroit as well as many corporate and individual donors. Please watch the video below to see for yourself! The Matrix Center also provides a polling location for major political elections.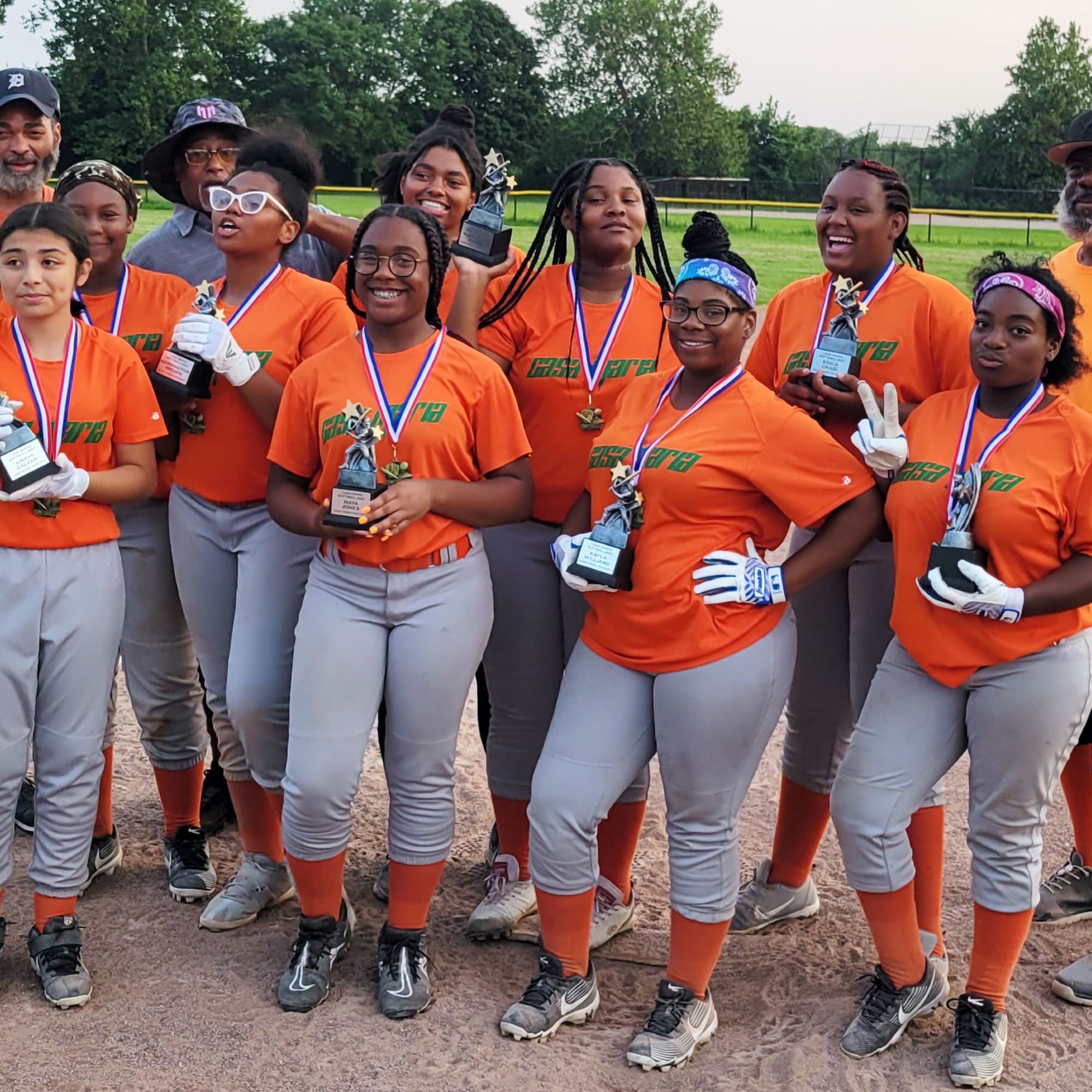 Details
As one of the Lead Agencies through the Grow Detroit Young Talent (GDYT) Program, the Matrix Center was able to employ 150 youth during the summer: these 150 young people did virtual job training.  
Baseball- Had a 10 and under team in Detroit PAL and Eagle sports 

Softball – Had a 14 and under girls team in Detroit PAL.
The Matrix Baseball and Softball program met Monday, Wednesday, and Friday from 5pm-7pm for practice throughout the summer. Participants also were offered several opportunities to learn from college players and coaches. We were able to serve 50 young people 8-14 years of age. The project gave youth in a low-income community access to recreation, college coaching techniques and top-level training facilities.  
Provided support for Golf. My. Future. My Game Program (See Youth Services section)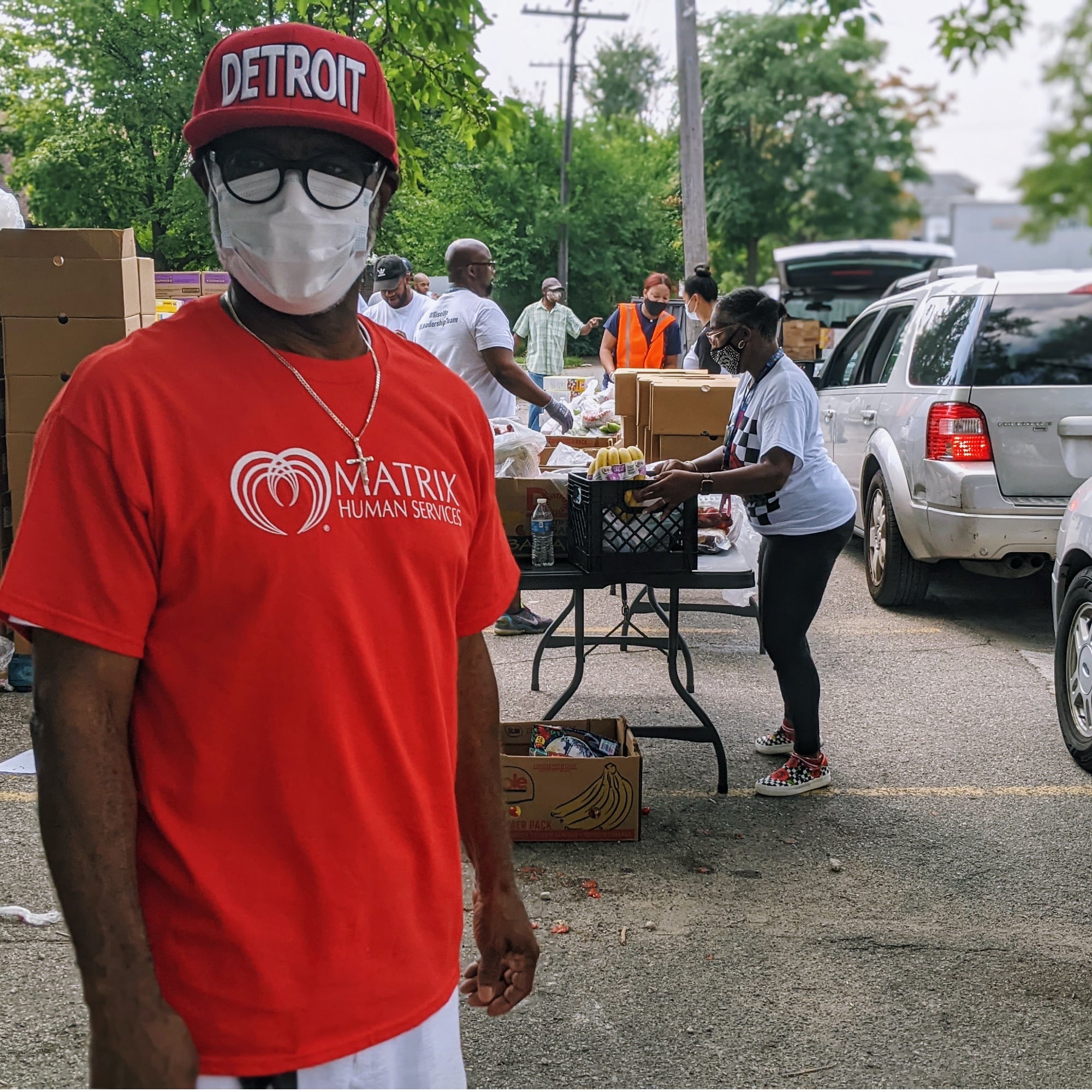 Emergency Food + Appliances
Details
On the 2nd and 4th Tuesday of every month, The Matrix Center provides a food distribution to anyone in need in partnership with Forgotten Harvest. 386,003 pounds of food were distributed in 2021 valued at $890,944.61  
In collaboration with SEEL (Solutions for Energy Efficient Logistics) the Matrix Center replaced 75 Refrigerators and did 75 Furnace/Central Air replacements/Test and tunes for our clients.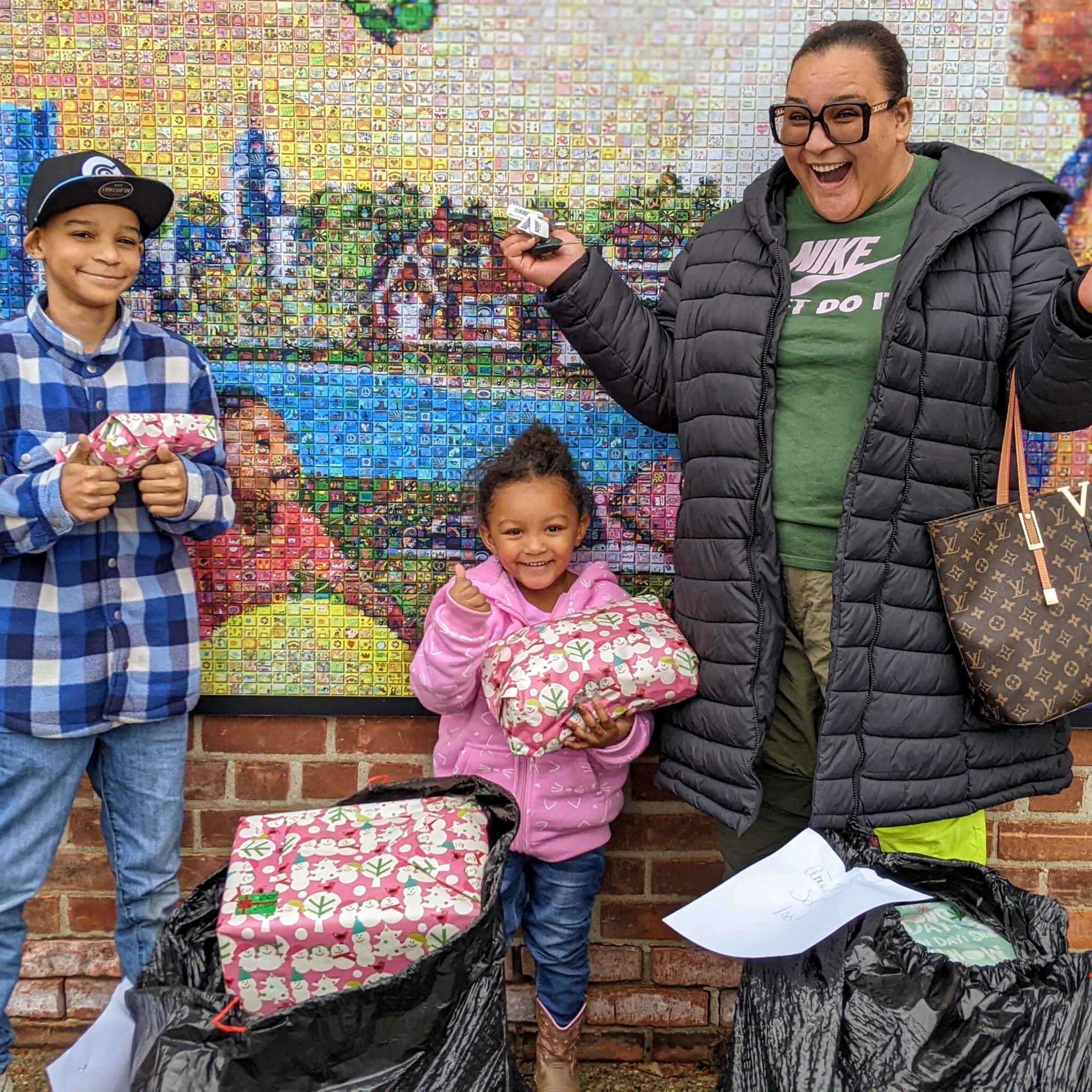 Holiday Support for Families
Details
The annual Harvest Festival typically hosted inside The Matrix Center near Halloween has been known throughout the community as a safe place to trick-or-treat, enjoy a warm meal, and allow kids to show off their costumes in the gym. Because of the pandemic, in 2021 the event became a drive through trick-or-treat experience instead. More than 400 families drove through the Matrix Center parking lot where they received candy and enjoyed the staff costumes.
Angel Tree is our annual event near Christmas to provide families in need with gifts for the holidays. In 2021, 86 families received holiday gifts. The families were able to meet the sponsors over Zoom and the sponsors were able pass the gifts out in a drive by setting at the Matrix Center.   
CEO Brad Coulter Tours Matrix Center Renovations
Thanks to the donations of our generous supporters, including the City of Detroit and many corporate and individual contributors, we are so grateful to show you the incredible changes that have taken place at The Matrix Center in  2021, allowing us to better serve our community in one of Detroit's most impoverished zip codes.
Matrix Human Services
Leadership Team
ADVISORY BOARD

Ms. Corri Wofford
Office of Senator Gary C. Peters
Ms. Judith Bell
Federal Express (Sales Manager)
Ms. Rebecca Scarcello
D-Brief Podcast and Events – Co-Host + CoProducer
Feet on the Street Tours (Business Manager)
Mr. Mike Blotkamp
Director of Sales –  My locker
Ms. Judy Masserang
Retired –  General Motors
BOARD DIRECTORS
Mr. Peter Archangel – Chairperson
Peter Archangel, LLC (Principal)
Ms. Terry Berry – Secretary
Ford Motor Company Fund (Employee Engagement Specialist)
Ms. April Tucker – Chair
Matrix Head Start
Ms. Nancy  Combs – Chair, Matrix Program Committee
Retired, Henry Ford Health System
Duane Garth – Board Treasurer, Chair
Finance & Investment Committee
Ms. Jessica Thomas – Vice Chair, Chair Head Start
Owner, M.S. Phelps, CPA, PLLC
Ms. Melinda Phelps
Owner, M.S. Phelps, CPA, PLLC
Ms. Sheila English – Chair, Nominating Committee
Vice President, Client Advisor, J.P. Morgan Private Bank
Mr. Frank Ervin, III 
Group Vice President, Piston Group
Dr. Janice Lewis Cardwell
CEO – Conceivers Leadership Development Group
BOARD DIRECTORS
Mr. Eric Longs 
Managing Partner, Comet Interactive
Mr. Angelo Rea 
SVP TPO Risk Manager and Senior Gov't Credit Risk, Flagstar Bank
Mr. K.J. Edward Fornell 
Senior Attorney, Clark Hill, PLC
Ms. Kim Blotkamp-Hilliard – Co-chair
iHeart Media (Vice President, Sales)
Ms. Krista M. Pankopf
Vice President, Senior Private Banker, Fifth Third Bank
Ms. Maria Salinas
Executive Director, Congress of Communities Southwest, Detroit Neighborhoods
Mr. Paul Rentenbach
Retired – Dykema Gossett, PLLC
Ms. Jeniene Edwards
Vice President of Utilization Management
Ms. Charlotte Gray
Early Childhood Consultant
Mr. David Underwood
Retired, DTE Electric
Ms. Kelli A. Van Buren
Associate VP for Marketing & Enrollment Services, Miller College
EXECUTIVE LEADERSHIP

Mr. Brad Coulter
President and CEO
Ms. Catherine Calvano
Chief Financial Officer
Ms. Kerrie M. Mitchell
Vice President of Marketing and Development
Ms. Karen Gray
Vice-President of Human Resources
Mr. David Perkins
Vice President of Community Health Services
Ms. Cristal Claussen
Vice President of Early Childhood and Head Start
Mr. Brad Maliszewski
Division Director Youth Services
Ms. Treska Seay
Director of Quality
2021 Actual Summary
Financial report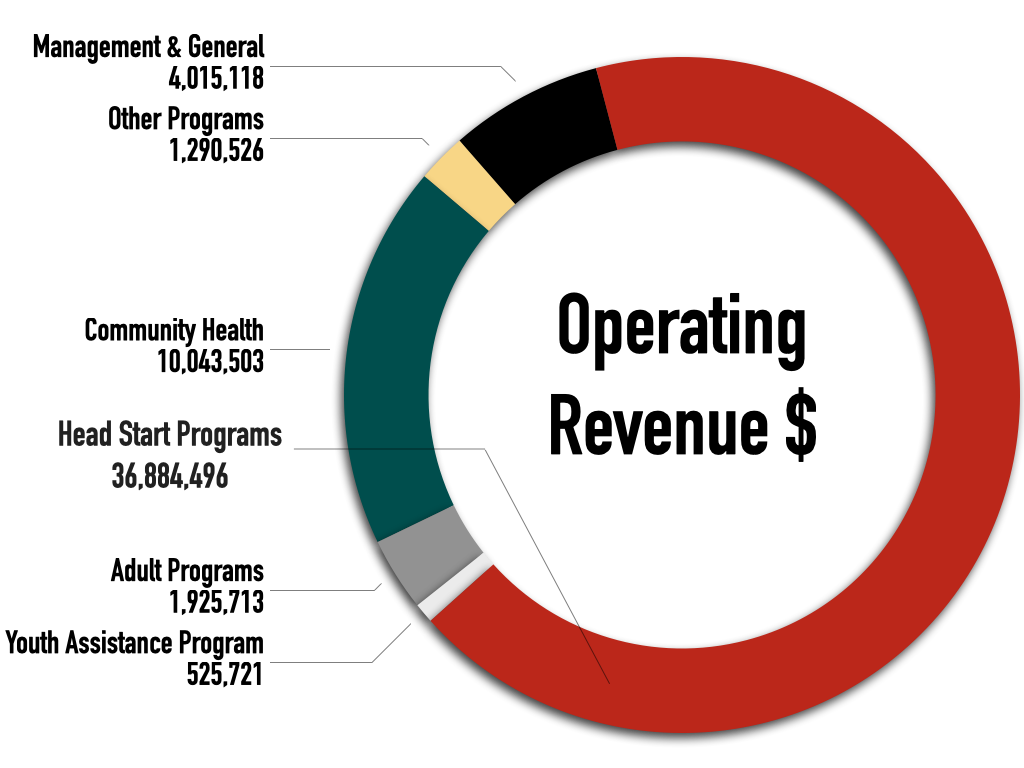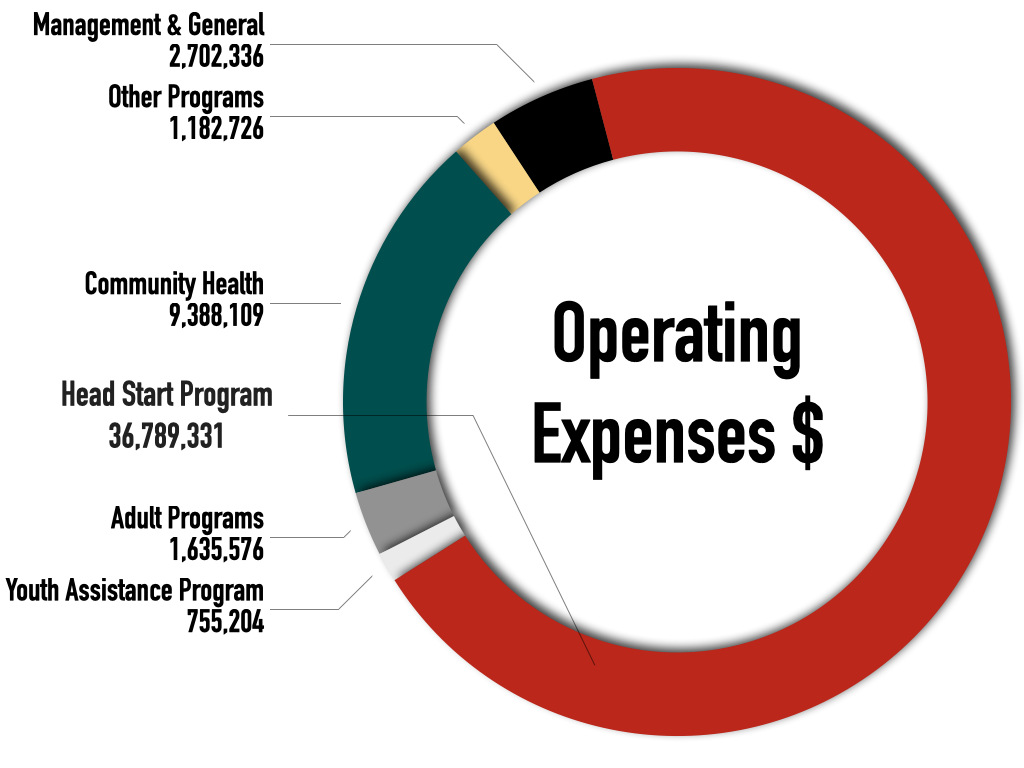 Total Revenue: $54,685,077
Total Expenses: $52,453,282

MATRIX ADMINISTRATIVE AND MAIN PROGRAM LOCATIONS
MATRIX HEAD START CLASSROOMS
EARLY HEAD START (EHS/CCP) CHILD CARE PARTNERSHIPS
SOCIAL MOBILITY, BASIC NEEDS EMPLOYMENT, EDUCATION
Community Health Services
COMMUNITY YOUTH SERVICES + AT-RISK YOUTH INTERVENTION
HIV TESTING SITES & SUPPORTIVE SERVICES
Headquarters
1400 Woodbridge 
Detroit, MI 48207
Email
inquiries@matrixhs.org