Social Mobility Services
NOW IS THE PERFECT TIME TO TAKE CHARGE OF YOUR DESTINY!
Our social mobility centers provide essential support to adults and seniors, helping thousands of people reach life-changing goals.
ABOUT OUR SOCIAL MOBILITY CENTERS
The Matrix Human Services Social Mobility Centers are a group of programs and services provided through our Adult and Senior Division. The collective goal of these Centers is to further support families and rebuild neighborhoods in Detroit.
We believe these programs and services, along with the support of our compassionate staff, have the capacity to move a person from poverty to self-sufficiency. By offering a strong hand-up, not just a hand-out, we help to ensure real and lasting change in the lives we touch.
The Matrix Human Services Social Mobility Centers are located inside The Matrix Center, our thriving community hub in Detroit's east-side Osborn neighborhood. The 60,000 square foot community center is home to a network of programs and services, including more than 150 mission partner organizations, all designed to meet the unique needs of our greater Detroit area community.
Click here to view/print our Social Mobility Center brochure!
We will be delivering virtual financial education classes providing our workbooks online for download. We will also continue to provide 1:1 coaching that includes free credit report monitoring and support via video chatting, phone appointments, text messaging services, and email. As always, we will continue to guide our clients regarding financial and housing emergencies, late payments, other resources during the crisis. We can help walk people through the process.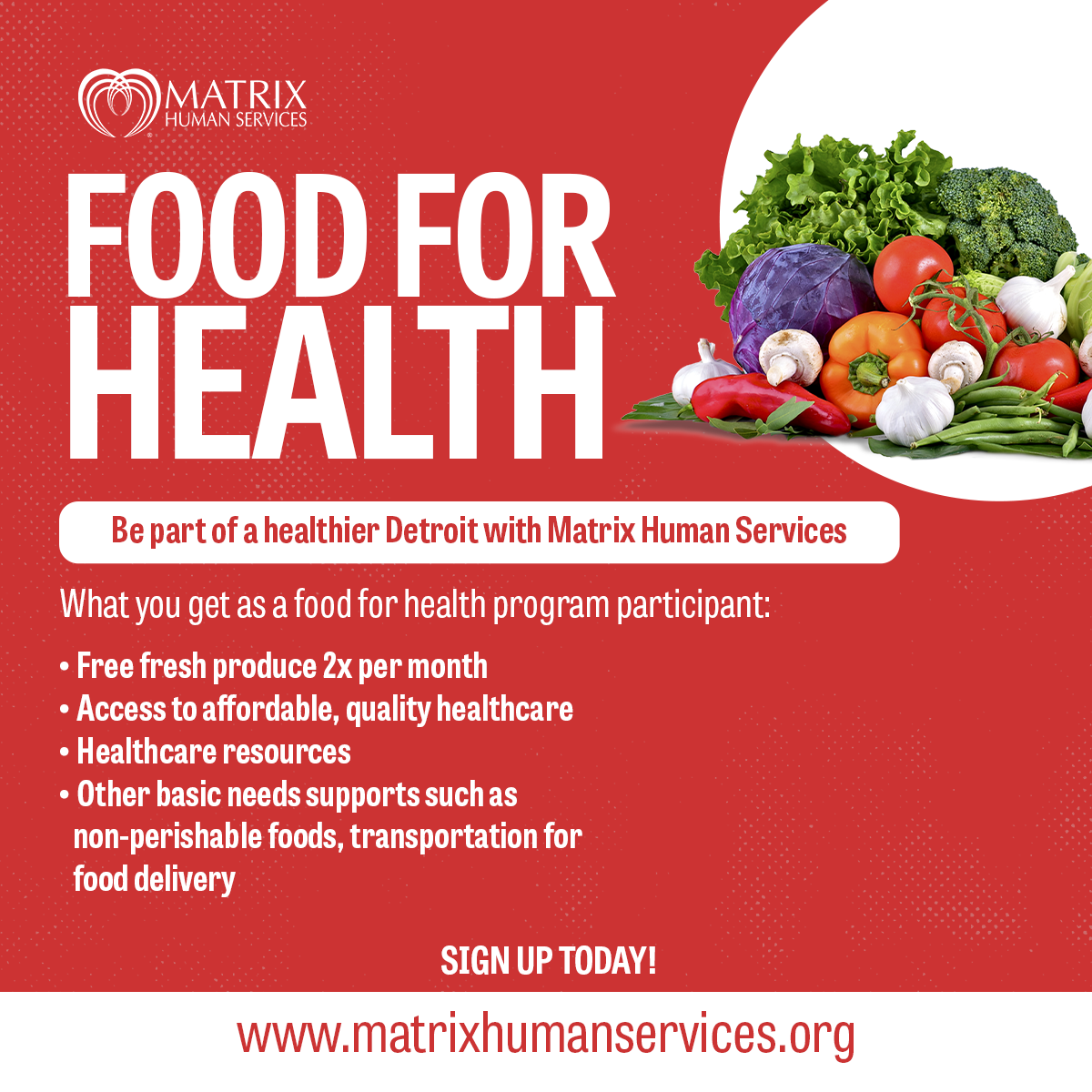 Food for Health
Matrix launched its Food for Health program in 2021 with the hope of helping more families and children in Detroit become healthier and increase access to fresh produce and quality, affordable healthcare. We would love for your family to join this FREE program as we continue to support families like yours! 
Must be 18 to 54 years of age to join
What you get as a Food For Health Participant:
Fresh produce 2X per month
Access to affordable, quality healthcare
Healthcare Resources
Other basic needs support such as non-perishable foods, transportation for food delivery
* This program is currently full and we cannot accept more participants at this time. Check back here next year for more openings.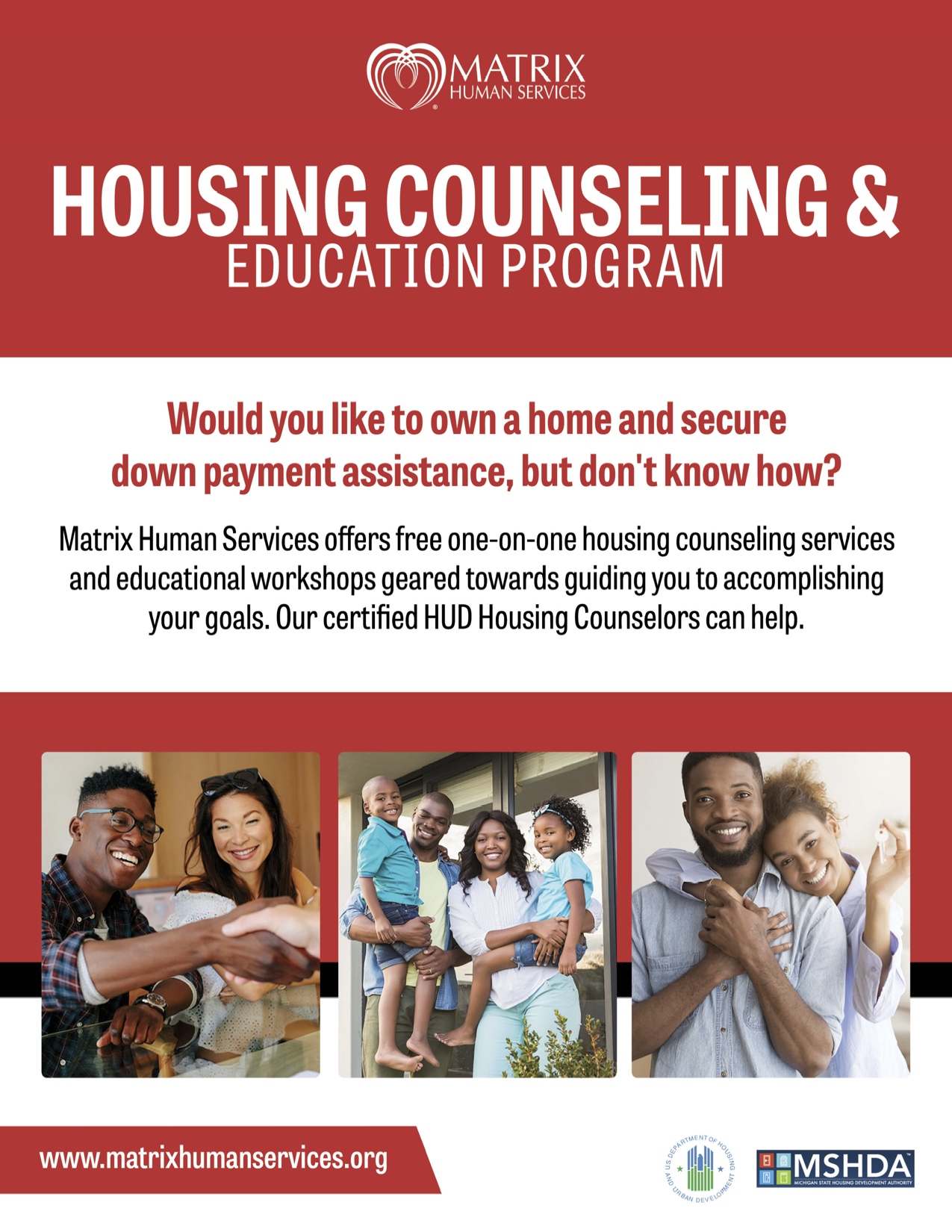 This FREE virtual workshop will teach you the ins-and-outs of buying a home and plenty of resources that can help you through the process, as well as some tips to manage finances 
. Our HUD Housing Counselors can help you make the dream a reality!
FREE Workshop valued at $100
Down payment & closing cost assistance up to $10,000
Expert advice from an actual lender
Pre & Post purchase counseling
Financial Coaching with FREE credit monitoring that will not impact your credit score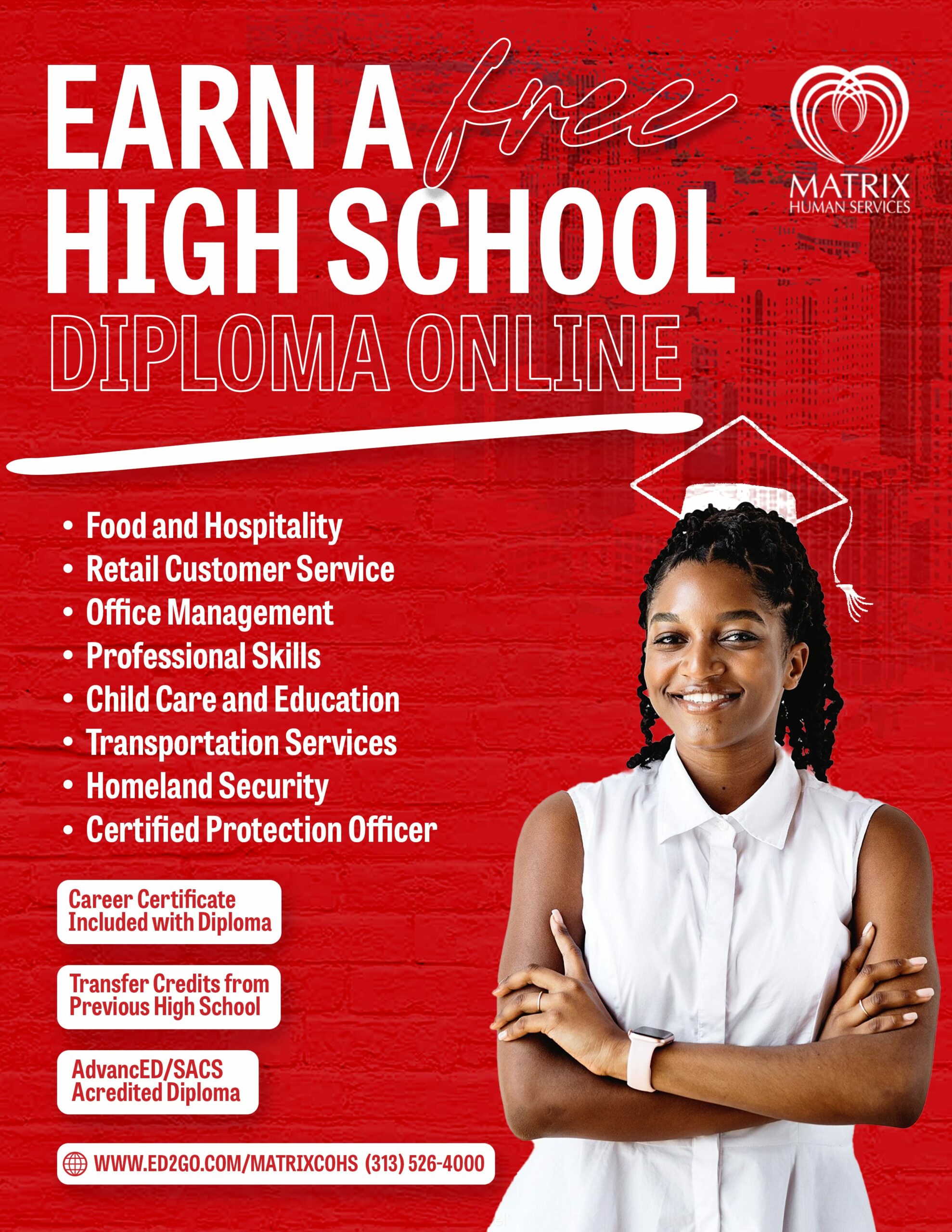 Did you know in 2019, about 25% of high school students in Detroit did not graduate?
A High School Diploma can be the first barrier to gaining better employment – don't let it stand in your way. You can achieve your High School Diploma online and completely FREE through the Matrix Human Services High School Completion Program
Follow the link below for more info or email
ed2go@matrixhs.org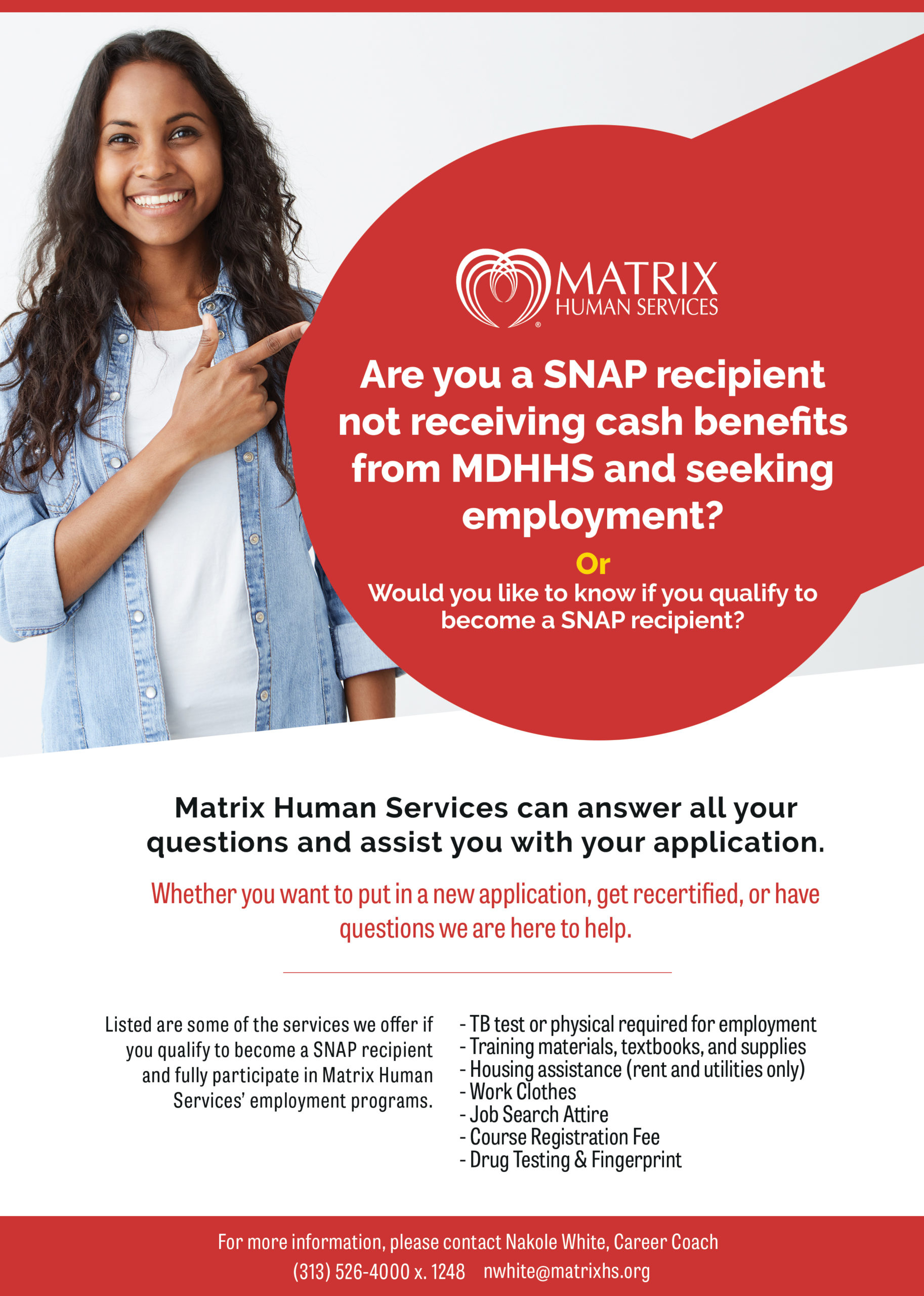 Would you like to know if you qualify to become a SNAP recipient?
Matrix Human Services can answer all your questions and assist you with your application. Whether you want to put in a new application, get recertified, or have questions we are here to help. Listed below are just some of the supportive services we can help you with if you qualify to become a SNAP recipient and fully participant in Matrix Human Services programs to become gainfully employed.​​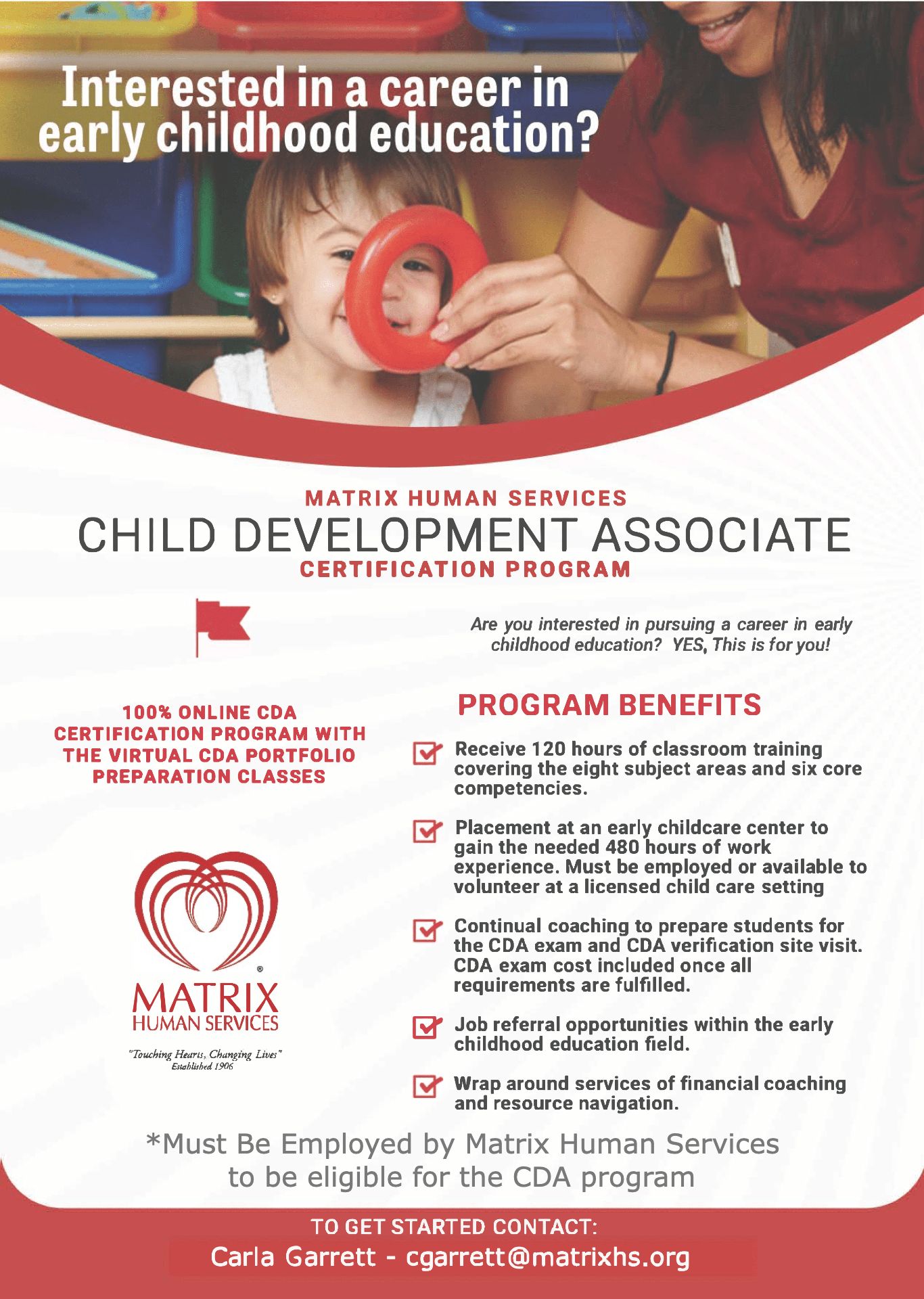 The Childhood Development Associate (CDA®) credential enables early childhood educators to demonstrate certain competencies and, in turn, can help advance their careers. Employees of Matrix Human Services receive free CDA training to help them become the best early childhood educators they can be.
Apply for a substitute teacher or assistant teacher position with Matrix Human Services and our CDA program will help you become trained in a career as a full-time teacher!
The Social Mobility Services office is located inside The Matrix Center located at 13560 E. McNichols, Detroit, MI 48205
With sponsorship and support from Warner Norcross