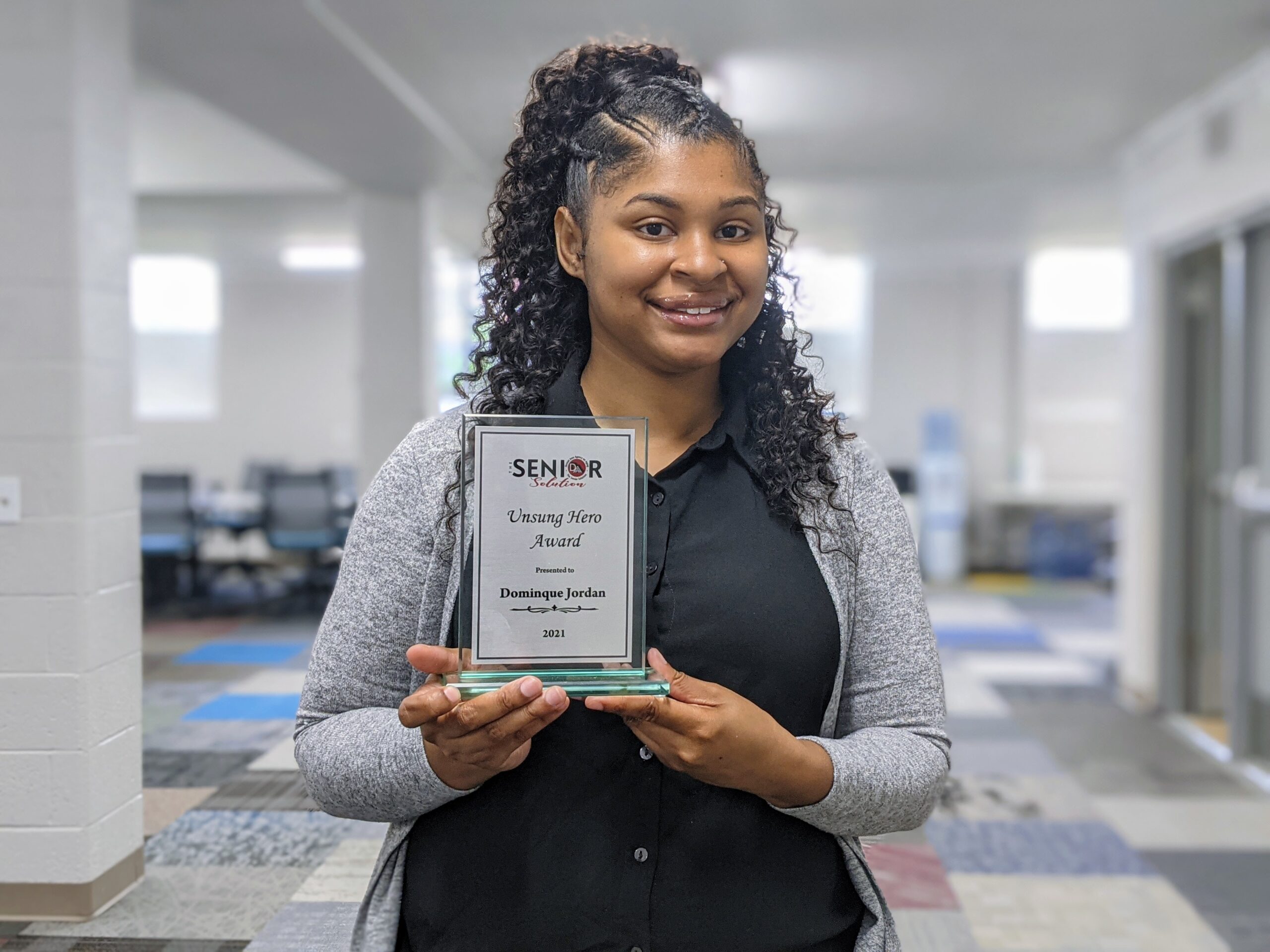 When Dominque Jordan started working at Matrix Human Services in November of 2019 in the Senior division, she wasn't aware of all the services offered to seniors. Fast forward a year and a half, and Dominque received the Unsung Hero Award from the Detroit Area Agency on Aging (DAAA) for the many senior programs Dominque assists with at Matrix Human Services.
Dominque was caught off guard by the award,
"Yea I didn't know, I was surprised, but I was very grateful, I was like, 'oh you recognized me, wow.' I was definitely surprised but very grateful, very appreciative because that means someone is watching me and they like the work I've been doing."
It all started when Dominque began working with seniors at The Matrix Center, our community center on Detroit's Eastside (13560 E. McNichols rd.) where seniors were enjoying a variety of wellness programs in person, before the pandemic began.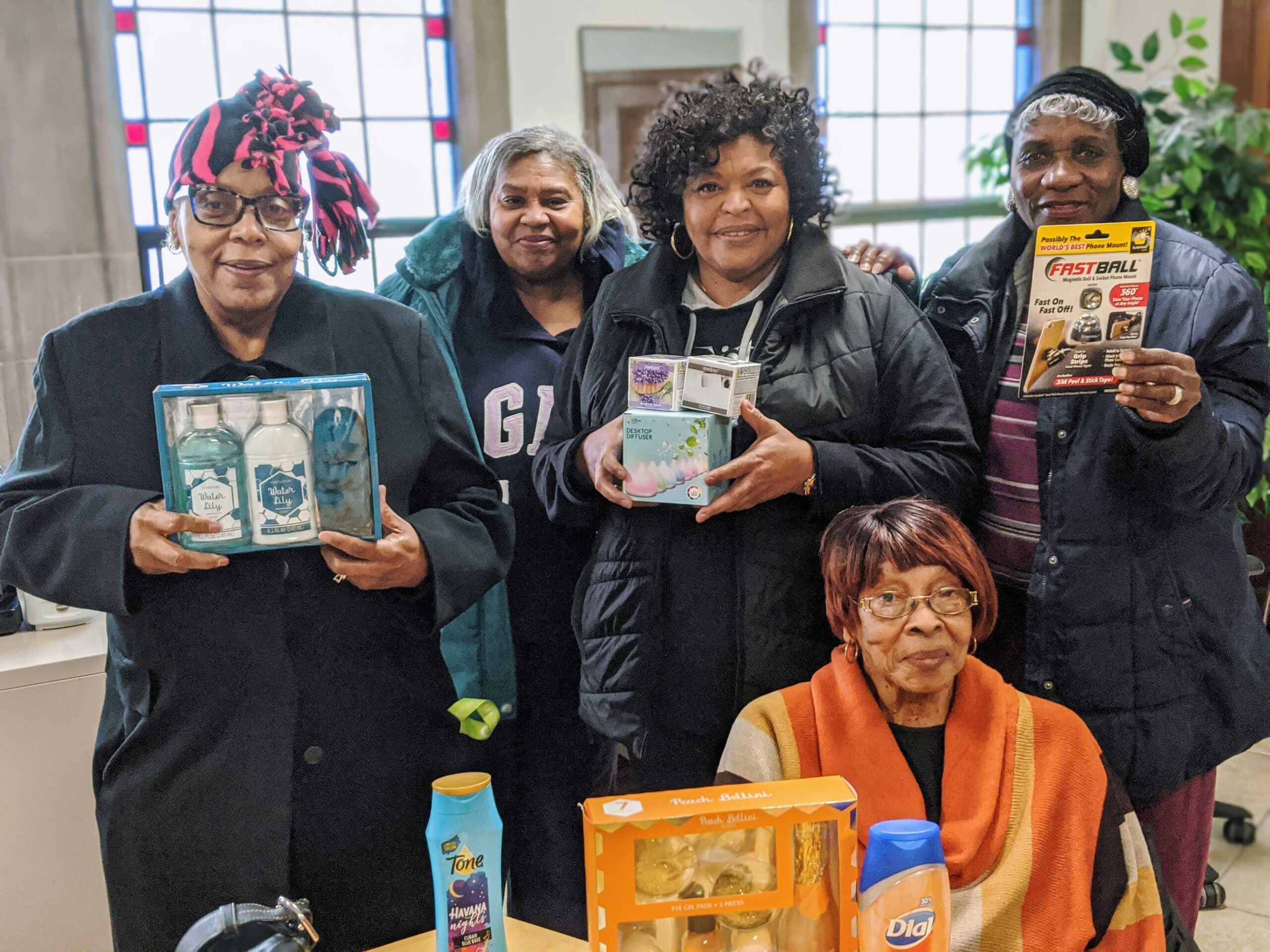 Seniors receiving prizes after Bingo in January 2020
The Senior Wellness Program includes:
Fitness classes (including yoga, Zumba, weight training)
Financial classes
Guest Speakers and workshops
Health Education
Social Activities (Board games, Bingo, Card games, arts & crafts, and more)
Transportation support (low / no-cost rides for medical appointments, as well as shopping and field trips)
Membership perks (Membership card, T-shirt, coffee, tea, and baked goods)
Food Security (Distributions of free food from Forgotten Harvest)
During this time, Dominque was developing relationships and getting involved in more senior programs through Matrix.
However, only 4 months after Dominque started, the first case of COVID-19 was announced in Detroit, and suddenly the entire program had to radically adapt to offering remote and over-the-phone services instead.
"We talked to the seniors via the phone, so, instead of like having a person come and talk to them, or fill out the application, we do it over the phone, by mail, just different things so we can make everything work. So that's been a change, but it's been easy to adapt. They are OK with it, they do miss seeing us in-person, but now that we are coming to an end and I get to meet all my clients, I think meeting them will be great."
As the pandemic continued, Dominque got more involved with senior transportation scheduling, to make sure seniors could make it to important appointments or even make grocery store visits, safely and securely. She also continued to connect seniors with our Home Care Services, so a caregiver can come to the home and assist with many aspects of home life including personal care like grooming, bathing, and eating, as well as cleaning and maintenance.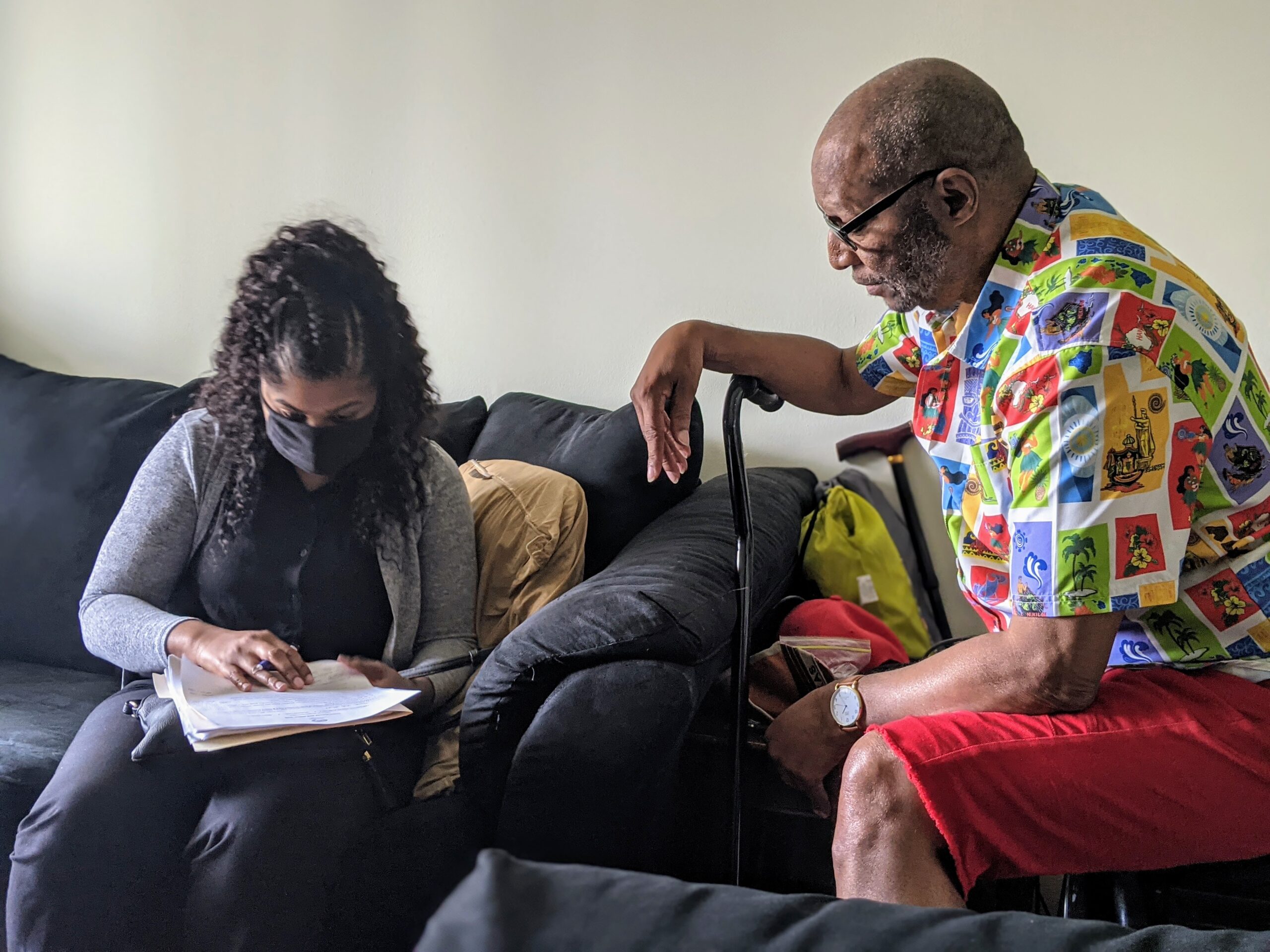 Dominque doing a monthly check-in with a senior receiving Home Care Services
"The My Choice Waiver Program is our program where we partner with DAAA, the seniors will call them needing home care services, things of that nature, they'll give an assessment where you either get approved or denied, then they will determine how many hours they get. Then they ask which agency you want.. And they might say 'We want Matrix' and then they send the clients over to me and then I'll call the caregiver, call the client, introduce myself and I take it over from there as far as getting the Care Giver onboarded."
When asked why she thinks she was chosen for the award, Dominque says,
"I think because I'm flexible. Even though I work with the transportation and the DAAA portion, I would also help Jada with the Food Rx, I don't have a hand in that program, but then they'll say hey can you drop off a food box and I'll do that. Just things of that nature that wouldn't be a part of my job description, but I'll go ahead and do it anyway, and I thnk they recognized the hard work I've been putting in the last year and half."
Now that COVID-19 restrictions are lifting, Dominque is enjoying seeing seniors in person that she has spent so much time on the phone with.
"There was quite a few who were like 'are you Dominque,' and I was like 'yea, I was the one who was scheduling rides'… There was quite a few who I have met doing that who have given me a hug because we talked on the phone for months on end and now I'm dropping them off a food box… So they were surprised."

"Interacting with the seniors is my favorite part of the job. We used to have them come in so I saw them on a daily basis with different programs and activities, Bingo, things of that nature. They are sooo appreciative, welcoming… even on the phone though, they will call me and talk for a while about different things, you know, just to have a conversation so, that doesn't bother me at all, I just love interacting, it makes the job go past very quickly."
If you would like to learn more about our senior programs, including our new Healthy Senior Living Initiative, please visit: