Overview
ArtWorks Detroit, the premier charity art auction that benefits Matrix Human Services, will take place from Friday, October 27, 2023. Bidding will take place virtually, but the collection can be viewed in person at Collected Detroit. We have two exciting experiences planned to check out this year's collection in person.
First up, we are kicking off the festivities with an invite-only private Preview Party at Collected Detroit on Friday, October 27, 2023 from 6:00 – 9:00 pm. Guests will enjoy an exclusive viewing of this year's collection while enjoying complimentary cocktails and heavy hors d'oeuvres.
In the following days, Collected Detroit will be open for previews. Refreshments will not be offered during this experience. More information to come.
We are thrilled to showcase our collection of local and nationally sourced masterpieces from the talented artists in person and online this year. We will provide more information when it is available to view on the ClickBid auction site, which has powered the past 3 ArtWorks Detroit auctions.
ArtWorks Detroit has historically been one of Matrix Human Services' most profitable fundraising events and, with your help, we can continue that success in the event's 28th year!
Proceeds from ArtWorks Detroit power critical services and programs designed to close the needs gap for underserved Detroiters. These resources provide a hand up NOT a hand out, allowing beneficiaries to rise to self-sufficiency.
Your support is vital to us continuing this work!
Auction Opens
Friday, October 27th
8:00 a.m.
Preview Party
Friday,  October 27th
6:00 pm to 9:00 pm
Collected Detroit
In-Person Viewing:
Saturday, October 28th –
Sunday, October 29th
Collected Detroit
Auction Closes
Monday, October 30th
10:00 pm
Over the past 27 years, locally and nationally renowned artists have shared their talents with the community to uplift Detroit's most vulnerable citizens through ArtWorks Detroit. Each year, in an amazing display of conviction and community service, nearly 100 artists and collectors rally together to raise funds for Matrix Human Services by donating stellar artwork to ArtWorks Detroit.
For sponsorship opportunities please visit the link below and contact Linda Garrison at 313.969.0635 or via email at lgarrison@matrixhs.org
Our Healthy Senior Living Program and Food For Health Program reached max capacity, serving over 200 individuals with a "prescription" of fresh fruits and vegetables from Eastern Market, delivered twice a month – directly to their doorstep in 2022.
Over three hundred people have enrolled in our Skills for Life Partnership with the City of Detroit in 2022, helping people achieve higher quality employment and quality of life.
Our Head Start Program continues to serve over a thousand families with high quality early childhood education in the midst of a massive childcare shortage in Detroit.
Our Community Health Program launched its largest ad campaign in history, helping people living with HIV to receive treatment while preventing the spread of HIV with free testing.
Our Community Center called The Matrix Center completed major renovations and is back to hosting an average of 200 people a day withcommunity events, after school programs, food distributions, senior exercise classes, community resources, and adult programs.
Changing Lives Across Detroit Everyday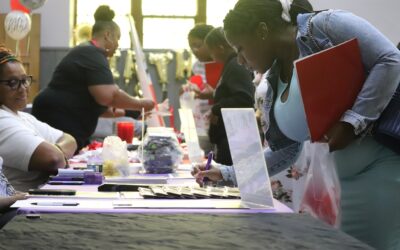 On Saturday, August 26, the Matrix Center hosted Birth & Beyond, a comprehensive services event to provide wraparound support for families. As the name suggests, the Birth & Beyond Resource Fair went beyond by offering an overview of resources available to...
read more