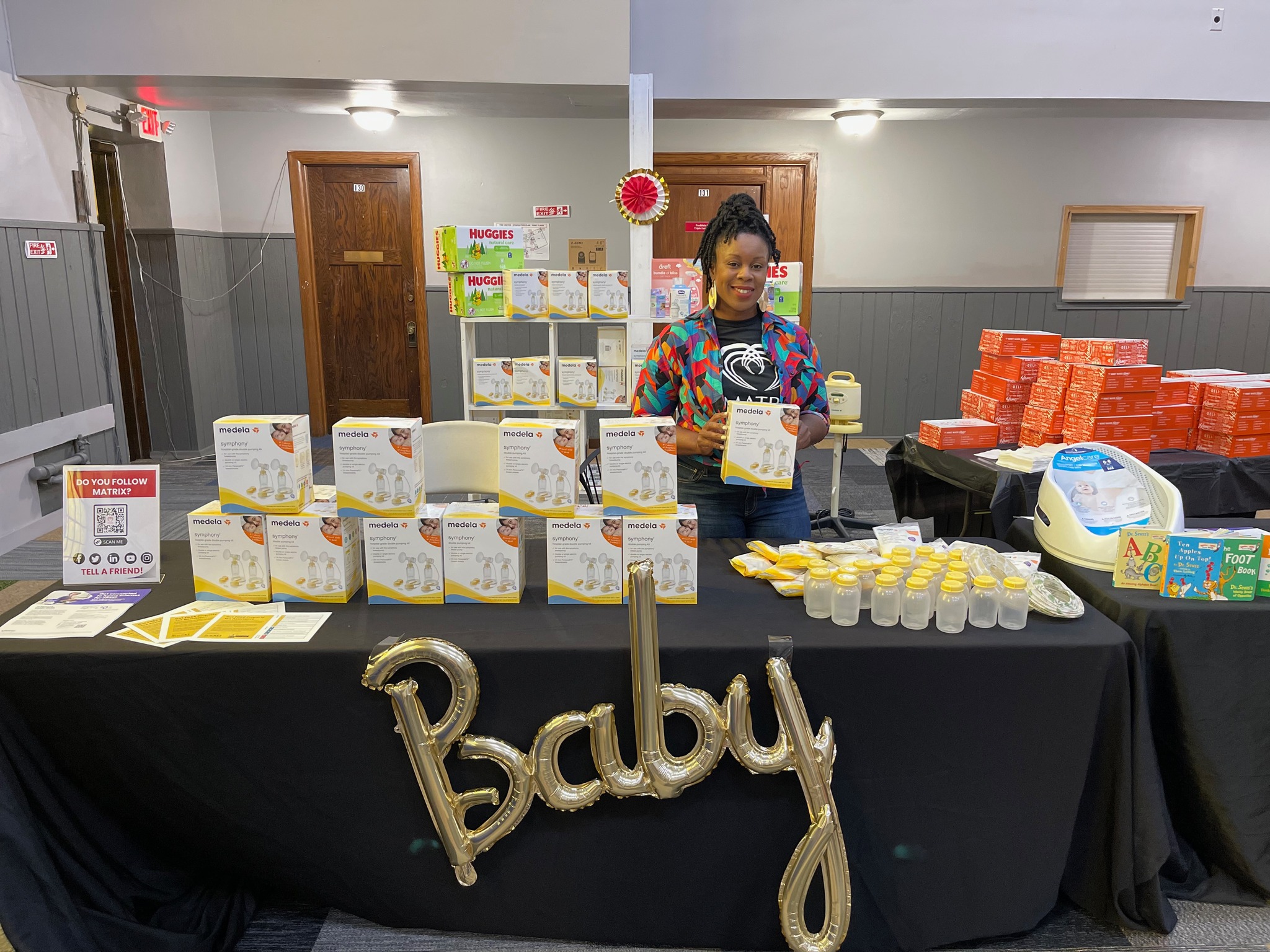 On Saturday, August 26, the Matrix Center hosted Birth & Beyond, a comprehensive services event to provide wraparound support for families. As the name suggests, the Birth & Beyond Resource Fair went beyond by offering an overview of resources available to expectant parents, not only through Matrix but in the larger community.
Thanks to a panel of speakers, which included Maternity Health Policy Specialist Carlee Austin, Michigan Health & Hospital Association; Author and Cultural Advocate NyRee Hardyway; Doulah Khadeejah, owner of Khadeejah Da Doulah, LLC; and Henry Ford Community College Public Health Program Director and Professor Dr. Kanetra Young, attendees received critical information on birth education and maternal wellness. Support from the City of Detroit Health Department came from Toria Turner of SisterFriends Detroit and Eric Donald, PhD, representing the Fatherhood Initiative. Rounding out the city's presence at Birth & Beyond was Customer and Community Liaison Clerk Carl Baxter, Office of the Wayne County Clerk Cathy M. Garrett. Matrix programs and services were showcased as well, with Brandon Easley advocating for ED2Go, our 100% online high school diploma program; Human Resources' Kathy McClain highlighting currently open positions across our organization; and Kenja Riley reinforcing the benefits of our Home Based and Early Head Start.  
As Matrix Human Services Director of Marketing Monique Riley, the event's organizer, noted, "Matrix truly supports families through all stages of life, from birth to senior age – and with Black Breastfeeding Week kicking off on August 25, what we're doing here today aligns perfectly.

Birth & Beyond gives us not only an opportunity to discuss how Matrix can assist whole families, but it also lets us address disparities in the birth cycle and celebrate the resilience of Black breastfeeding mothers."
Black Breastfeeding Week, an annual August event nationwide, shines a spotlight on the need for equitable support, education, and resources in Black and Brown communities to promote breastfeeding, as well as maternal and infant health. Historically, Black mothers have faced disproportionally low breastfeeding rates coupled with higher infant mortality rates.
All expectant mothers in attendance received free breast pumps, diapers, a newborn car seat, and a bag sponsored by Molina Healthcare filled with additional items to welcome their new babies.