Matrix Head Start Job Fair
September 13, 2017 @ 4:00 pm

-

7:00 pm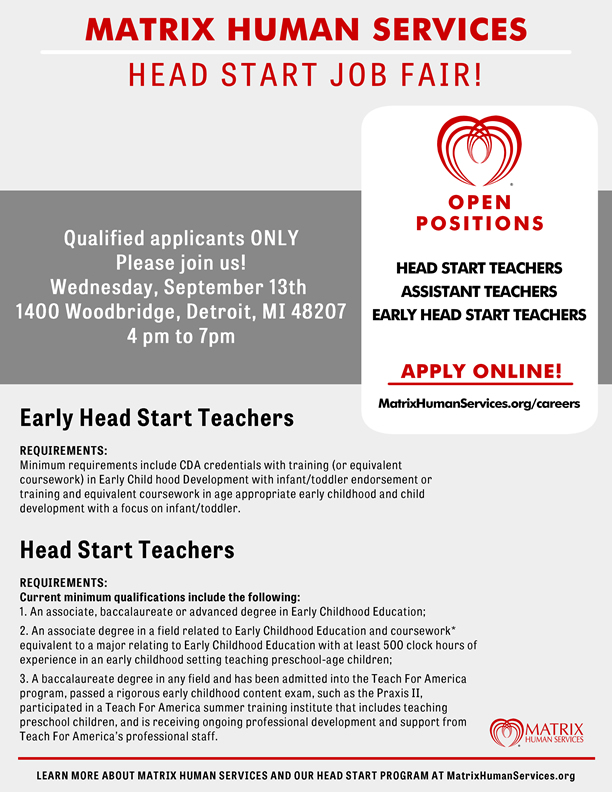 We are looking for qualified teachers and assistant teachers to join our Matrix Head Start team!
The Matrix Human Services Head Start Job Fair is happening from 4:00 pm to 7:00 pm on September 13th at 1400 Woodbridge, Detroit, MI 48207
Applicants must meet the following required qualifications:
Early Head Start Teacher:
At a minimum, a CDA credential and have been trained (or have equivalent coursework) in Early Child hood Development with infant/toddler endorsement and have been trained or have equivalent coursework in age appropriate early childhood and child development with a focus on infant/toddler development.
Head Start Teacher
Current minimum qualification is one of the following:
1. An associate, baccalaureate or advanced degree in Early Childhood Education;
2. An associate degree in a field related to Early Childhood Education and coursework* equivalent to a major relating to Early Childhood Education with at least 500 clock hours of experience in an early childhood setting teaching preschool-age children;
3. A baccalaureate degree in any field and has been admitted into the Teach For America program, passed a rigorous early childhood content exam, such as the Praxis II, participated in a Teach For America summer training institute that includes teaching preschool children, and is receiving ongoing professional development and support from Teach For America's professional staff.