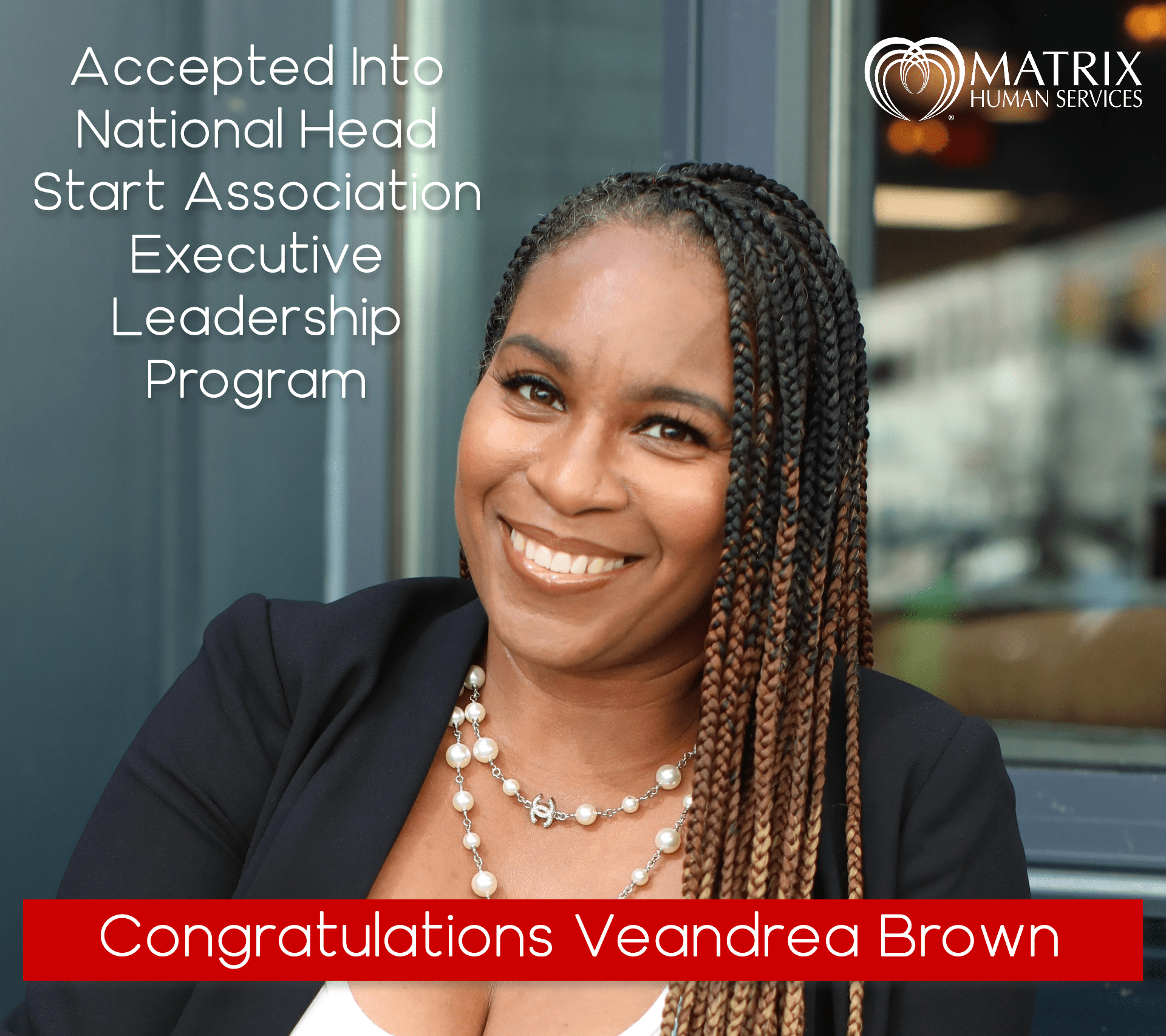 Congratulations Veandrea Brown!
Veandrea is the Senior Education Manager in our Early Head Start Child Care Partnership Department. Her shown commitment to seeking opportunities to continuously gain knowledge in her field exemplifies the Matrix Human Services core value of Always Learning.
Veandrea Brown achieved the exceptional accomplishment of acceptance into the National Head Start Association (NHSA) Executive Leadership Program. Completion of the program provides an opportunity to be a member of the NHSA Executive Leadership Council which will be an example of leadership for Head Start communities throughout the nation.
Veandrea is only one of three educators from Michigan who were accepted into the program, of about 15 total participants.
"I'm just honored to be selected for the Executive Leadership Credential. This is the pilot of the program so I'm just honored to be a part of that."
Veandrea grew up understanding that teachers are important to the development and success of children because her mother worked as a special education teacher, but she also saw the impact closer to home. Growing up with a sister who was disabled, Veandrea saw the hard work and dedication her mother put into caring for her sister and her students, which inspired Veandrea to work in childhood education herself.
"Children just have a soft spot in my heart, just helping people, period.  So when I found out about Head Start and what Head Start stands for, I said oh my god, I have to be a part of that."
Veandrea's career in early childhood education started when she became a teacher with Matrix Human Services' Head Start Program in 2006 at our
Cecil Center
. After 8 years as a teacher, Veandrea felt ready to use all of her knowledge as a teacher to help other teachers.
In 2015, Veandrea accepted the role of Education Associate, allowing her to guide teachers, offer classroom support, create lesson plans, prepare classroom learning environments, and more. By the end of the year, Veandrea became Center Manager of the Matrix Human Services Samaritan Head Start Center, where she was responsible for 12 classrooms and about 30 staff, in both Early Head Start and Head Start Programs. Veandrea recalled one year when DTE sponsored her center, providing 2 gifts to every child.
Veandrea began by implementing curriculum into certain CCP centers with her team, teaching them "the Head Start way". This was a learning experience since many centers had not been introduced to standard Head Start curriculum.
In May of 2022, Veandrea reached another milestone when she became Senior Education Manager of the Early Head Start Child Care Partnership Department. Not only does she handle curriculum now, she also works with providers to make sure the facilities themselves are up to date, which can include new fences, painting, building and classroom maintenance, etc.
Veandrea is also incredibly proud that her whole CCP Education Team will be
HighScope
certified by the end of 2023.
"That's a big deal to be High Scope Certified because we can give all this great curriculum training to our teachers."
Matrix Birth-5 and EHS/CCP programs both use the evidence based High Scope Curriculum, which is grounded in current child development theory and research. Our framework for understanding and supporting children's learning from birth to age five is based on forty-two key developmental indicators (KDIs) which align with national and state early learning guidelines and the Head Start Early Learning Outcomes Framework (ELOF).
"The fact that we can help so many families and we can touch so many people with the services we offer is just amazing."

 

"I love Matrix, I love what it stands for, I love the work that we do. The teachers are so appreciative of the trainings we give them, all of the supplies and furniture we give them, learning environments, it's just amazing."
Veandrea is excited to learn more at her first in-person meeting which will be in Washington D.C. for the Winter Leadership Institute, where she looks forward to going on Capitol Hill to talk to policy makers about changes educators would like to see in Head Start programs, nationwide.