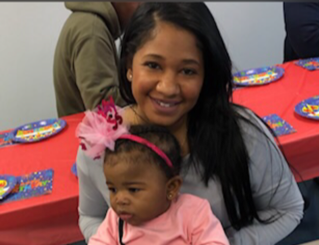 Like all of us, Ms. Danielle Murphy was caught off guard by Coronavirus. which lead to her work dropping her hours. At the same time, her 2-year-old daughter was no longer attending Carlee's Daycare Center in Detroit after schools were closed for Coronavirus safety.
Since Carlee's Daycare Center is part of the Matrix Human Services Child Care Partnership program, Ms. Murphy was staying in touch with her Matrix Family Advocate, Lynette Shorter. Because of the difficulty Danielle was facing with paying her bills, while having no support from family or friends, Lynette asked Danielle what she needed to get through this difficult time. One of her major needs was more Pull-Ups for her daughter. 
Knowing this, Lynette submitted her name for emergency assistance and the Pull-Ups were delivered to her house within a week. 
"That was so helpful because I really needed them for my daughter. Oh my God it was a big box, I wasn't expecting that. It was about a hundred. I was expecting maybe a pack but not that big box so I greatly appreciate it. She (Lynette) has been very, very helpful. She is constantly sending resources and checking in, she is awesome." – Danielle Murphy
Although times are still uncertain for Danielle regarding work, she has appreciated the support she has received from her Matrix Family Advocate and the delivery of Pull-Ups when she needed it most. 
"Ms. Lynette is so nice and Carly, I just am so thankful for her. So my whole overall experience has been nothin but just, great."