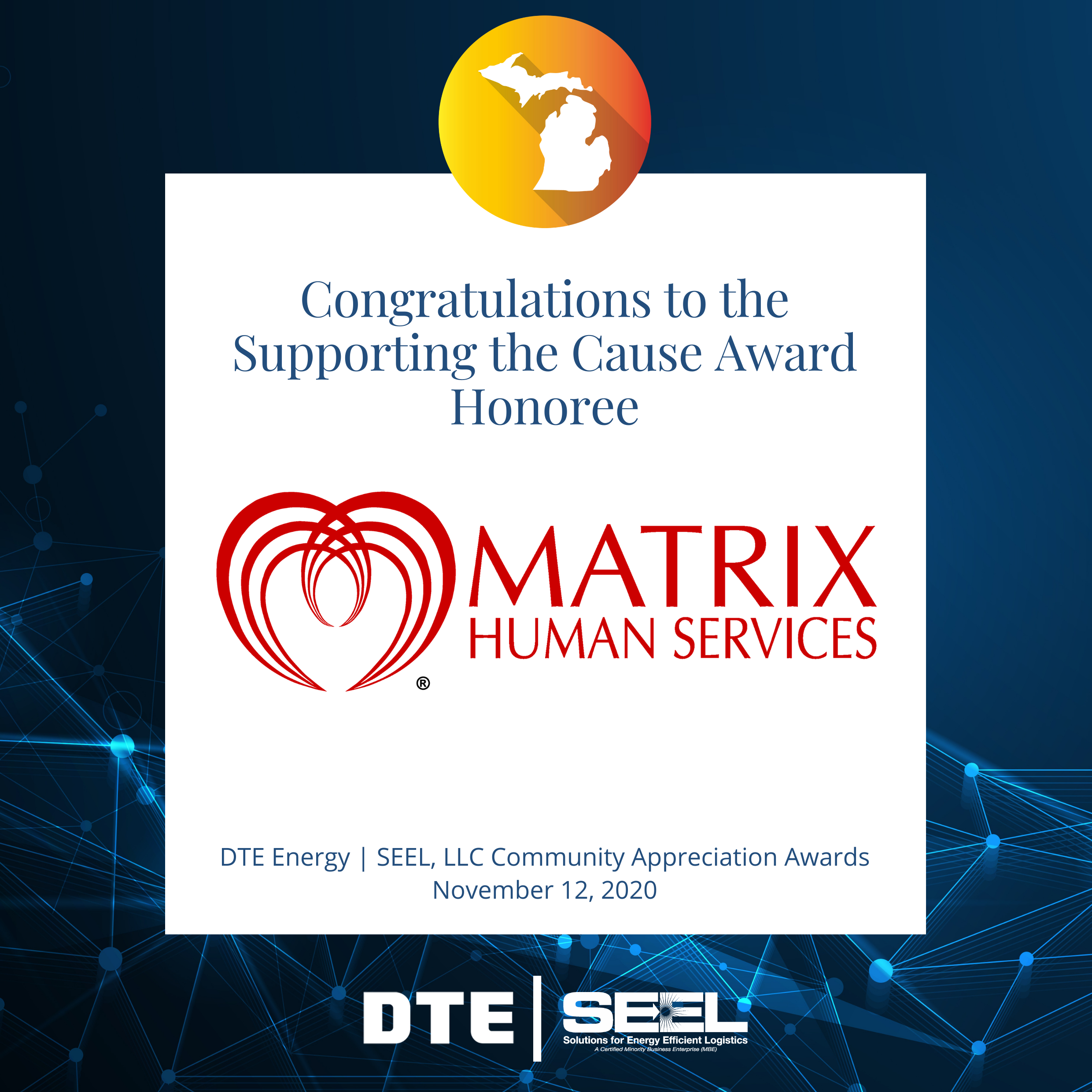 Matrix Human Services was recently honored with the Supporting the Cause Award during the virtual DTE/SEEL Community Appreciation Awards. The award was given to the community partner who demonstrated outstanding performance and exceptional commitment to participating in customer events as well as customer assistance within the DTE Energy Efficiency Assistance (EEA) program.  Community partners are engaged to extend the reach into the community with a goal toward lowering energy bills and saving energy.   
"We're super excited about getting the award.  Just seeing the impact of the work we do touches me," said Ken Brown, Assistant Director, Matrix Human Services.  "It makes an impact when an 80 year-old calls to say that the only heat she has is from her stove.  You just want to work as hard as you can to make sure she and others like her have heat.  I appreciate the collaboration with SEEL and DTE and I know the community appreciates it too." 
The DTE Energy Efficiency Assistance program is designed for residents who have limited income but want to make their homes more energy-efficient. Eligible residents may receive multiple energy-efficient products to help reduce their monthly energy bill and make their homes more comfortable, all at no cost to the resident.  To be eligible, household income must be at, or below 200% of the federal poverty guidelines and they must also be actively enrolled in the Low Income Self Sufficiency Plan, or other state low-income public assistance programs like SNAP and WIC.  Other guidelines do apply. 
Jackie is an example of one of the many people who have benefitted from this partnership between Matrix Human Services, DTE, and SEEL.
"And so I just followed through with it. I got a refrigerator, first they approved me, DTE approved me for the gas program. And then I followed through with that and Ken Brown (Director of The Matrix Center) was telling me… how you can get a furnace and stuff like that, so like I said I followed through and I got the refrigerator, and then I asked him about the furnace because I needed that. And they just delivered and installed that last Friday. So it's been going pretty well but there's been hard times and then COVID set in." – Jackie
Read more about Jackie's story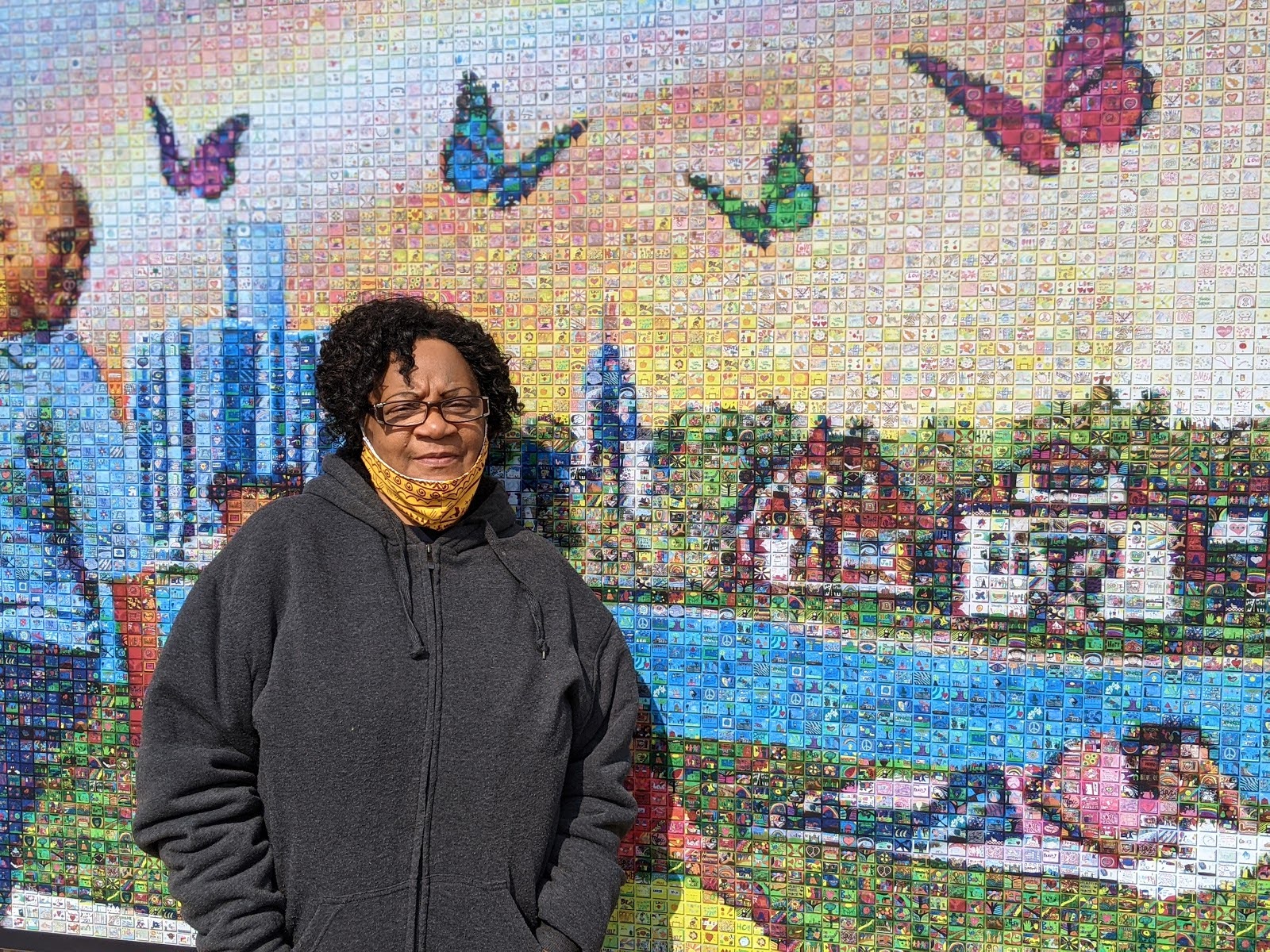 Jackie pictured at The Matrix Center after completing paperwork
One of the largest minority-owned, disabled-veteran owned energy program management firms in the nation, SEEL (Solutions for Energy Efficient Logistics) works with DTE Energy to implement the EEA program in communities throughout Michigan. SEEL works with community partners helps to extend the reach of the program making it available to even more residents who may have otherwise not been helped. 
"We really appreciate the good work that these organizations do," said Louis E. James, president and CEO of SEEL.  "We applaud DTE Energy for making programs like this available to the community ensuring that all residents have an equal access to the opportunity to save money on their energy bills and make their homes more energy efficient. This is extremely important for low-income residents who are disproportionately impacted by high energy bills.  Programs like EEA help to alleviate the problem." 
According to the American Council for an Energy-Efficient Economy (ACEEE) and Energy Efficiency for All (EEFA), on average low-income households pay 7.2% of household income on utilities, which is more than twice as much as the median household and three times as much as higher-income households. 
Matrix Human Services, a 501(c)3 organization, has served the Detroit community and surrounding areas for well over 100 years. The League of Catholic Women led the way in 1906 with a vision and mission to fight poverty.  Today our mission remains the same as we continue to touch hearts and change lives in our community. With programs at more than 30 locations, Matrix Human Services serves more than 20,000 individuals and families each year.