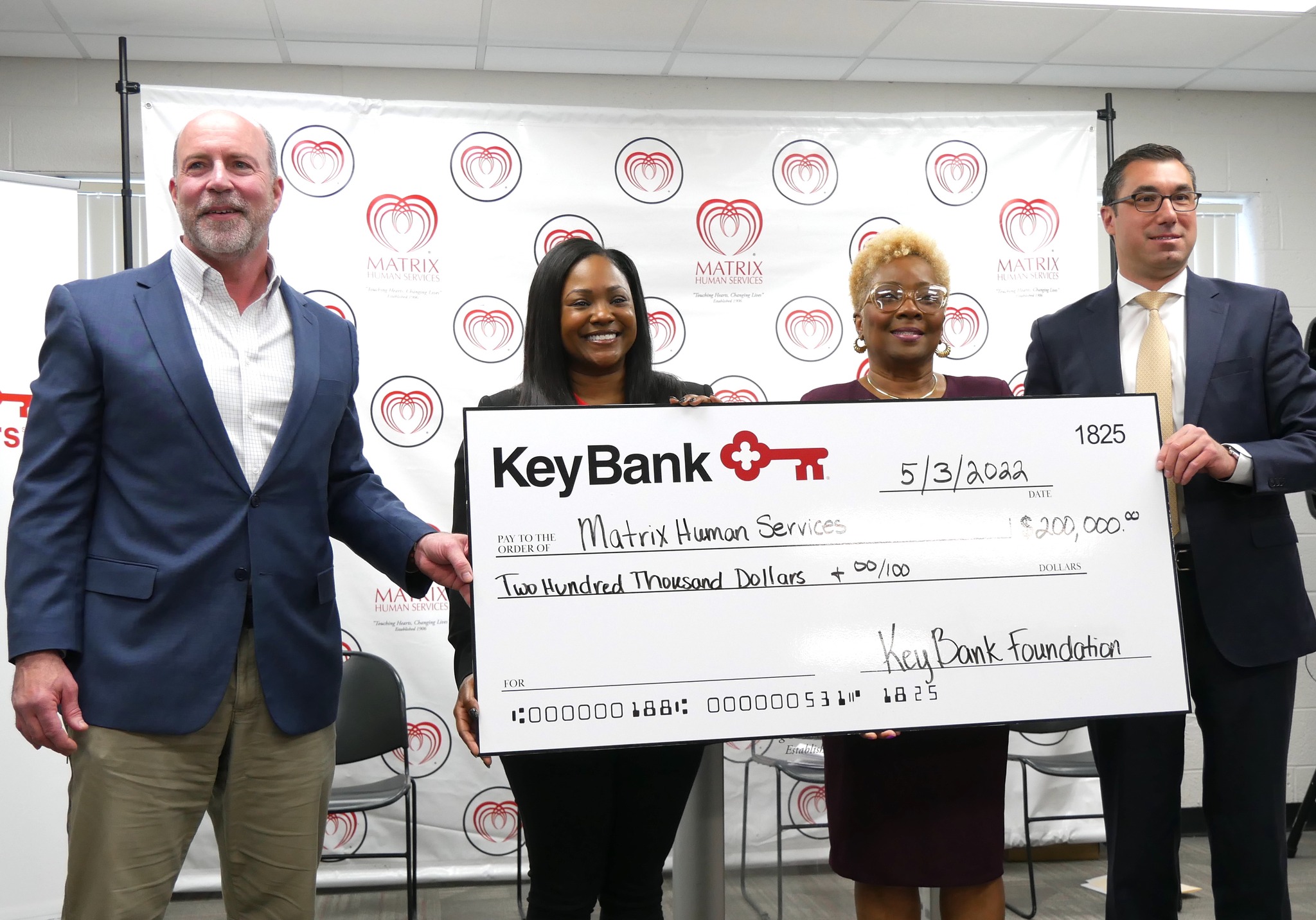 On Tuesday, May 3rd, 2022, KeyBank visited The Matrix Center to present a check for $200,000 to Matrix Human Services' President & CEO, Brad Coulter, and Vice President of Marketing and Development, Kerrie Mitchell to bring The Matrix Human Services Online High School Diploma Program back to life. 
In 2019, about 25% of high school students in Detroit did not graduate, adding to the number of adults seeking work but experiencing a barrier to success. However, thanks to KeyBank, The Matrix Online High School Diploma program will have funding for years to come, helping adults achieve their diploma long after graduation day, all for free!
Matrix's Online High School Diploma Program is unique in the Detroit-Metro area because it provides holistic training and education services within a self-paced online high-school diploma program. Upon graduation, individuals receive vocational training with certification and employment. Read the story of our final graduating class in 2021.
This 100% online school is facilitated by Matrix's case management and allows participants to learn at their own pace. Further, Matrix's wrap-around services help participants with financial education and vocational guidance, leading to certificates in their chosen fields, such as Hospitality, Homeland Security, Office Management, Certified Protection Officer, Child Care, and Culinary Arts.
"This grant from KeyBank will support the educational efforts of 50 individuals during each program year for a total of 200 graduates over the next several years. All of us at KeyBank are very proud to support Matrix Human Services and the transformative work they do in our community. Matrix provides essential services to over 20,000 people in the Detroit area annually, from pre-natal to seniors. The Matrix philosophy to wrap around care through its online high school diploma program combined with workforce training will help some of Detroit's most vulnerable citizens and improve their quality of life." – David Mannarino, KeyBank Michigan Market President, and Commercial Sales Leader.
KeyBank is the perfect partner for Matrix Human Services and a program like this in Detroit. First, their recognition and financial commitment to the Matrix philosophy of integrating wrap-around services and individual counseling, helping to provide all the resources clients need to receive their high school diploma with vocational guidance that leads to real, self-sustaining jobs, will make a real difference in the lives of our clients who participate in this program. Second, the program's specially designed success metrics and benchmarks will help guide and hopefully grow our program over the next several years, positively impacting the lives of hundreds of Detroiters."– Matrix Human Services CEO and President Brad Coulter