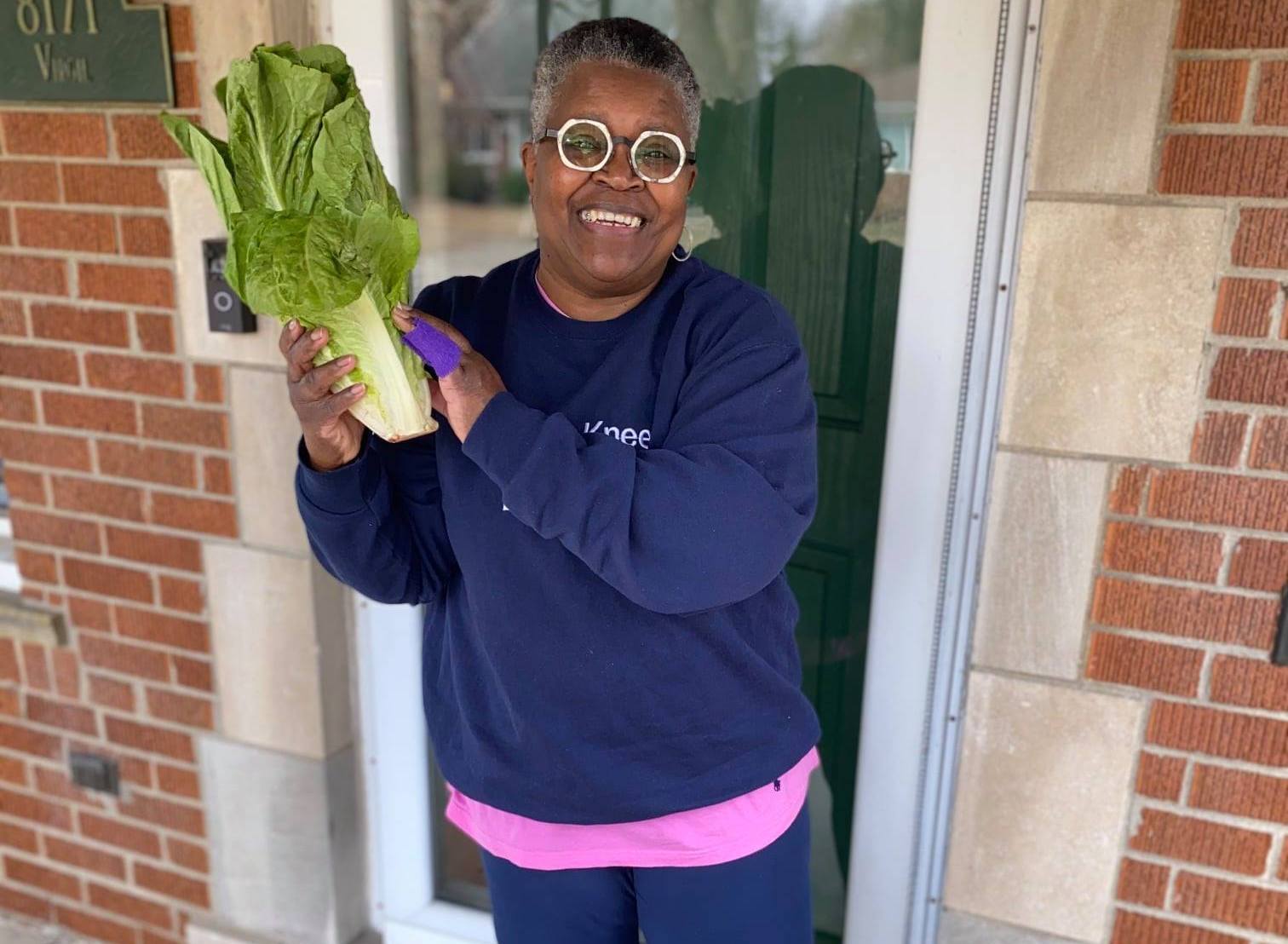 In the spring of 2021, Ms. Elaine Green was in the hospital and watching the news when she saw a segment about the Matrix Human Services Healthy Senior Living Initiative.
"Actually I was in the hospital and it came across the television, the Healthy Senior Living Program, and you know seniors receive fresh fruits and vegetables to help them, and I was like, 'I didn't know they had that over at Matrix, I know where Matrix is."
She decided to give the number a call when she left and soon enough, she was connected with Deena Kennedy, the Director of Senior Programs at Matrix Human Services.
The first thing Ms. Green received was access to free healthcare at the HUDA Clinic in Detroit, which provides free Primary Care, Dental Care, Mental Health Services, Vision Care, and Specialty Care for those who are uninsured and underinsured. This provided Ms. Green with important preventative healthcare checkups.
Soon after that, she began receiving fresh fruit, vegetables, and non-perishable food to her doorstep, twice a month, making it easy to eat healthier.
"And then I started getting fresh fruits and vegetables and some commodities, like dried goods and canned foods. Which at that time I thought, oh no, let me tell her not to bring anymore canned food because I can't use those, because I was under the impression that fruits and vegetables in a can weren't nutritious, that they had to be fresh or frozen… Because one of the things, I'm on a salt restricted diet, and I know all those foods in the can are high in sodium. I didn't know at the time that you can rinse those vegetables off and that will help with the sodium content."
At Elaine's request, she stopped receiving canned food and continued to receive fresh produce. However, when she was presented with the opportunity to join a Cooking Matters class in partnership with Matrix Human Services, she learned a lot more about nutrition than she expected.
… There was a lot of things I didn't understand, so my doctor had been telling me, well you're gonna have to learn to read the labels when you're buying your food. So I read the labels, but I didn't really understand what I was reading. You know, what to look for. And I was ashamed of the fact that I didn't know, and I didn't want to say to the doctor that I didn't know."
The Cooking Matters class, in partnership with Matrix Healthy Senior Living Initiative, is a six-week course that would meet every Thursday on Zoom from 10:30 am to Noon, hosted by a Cooking Matters nutrition professional. The class covers nutrition, recipes, cooking tips, and more, and comes with a free cook book.
One of the many things Ms. Green learned was how to read nutrition labels on food products, which she was excited about after receiving the recommendation from her doctor. Now Ms. Green was able to see how much sugar or sodium was actually in each product and understand what it meant.
"And the sodium thing, about my sodium intake, I didn't know how many grams or whatever I was supposed to have, and what would be too much or whatever. So this young lady was able to break it down to teach me and I could ask questions. I felt like I was in school although we had to do everything on Zoom. But yea she was patient with me, she answered all the questions that I had and she explained it where I understood."
Ms. Green also learned how to grocery shop with specific meals in mind, and how to fill her pantry with items that can be used to complete meals.
"In the book is an area that teaches you the things that you should have in your pantry, if you have everything that's on the list than you can make every recipe that's in that book. So I'm in the process of little by little, buying things for my pantry, so that at any given time I can go and make a meal in my house because I have these things already."
Ms. Green also used to enjoy eating no-salt chips at night, it was her favorite bed time snack, but she learned she may need to eat those more sparingly.
"It helped me so much too because one of my go-to foods was no salt potato chips. I eat potato chips at night with no salt on and I thought I was really doing something right until the young lady pointed out that those potato chips still have salt in them they just didn't sprinkle extra salt when they cooked them."
Finally, she also learned to love blueberries, and a lot more.
"I never liked blueberries, like blueberry jam and stuff like that, but I started eating the fresh ones thanks to this program – I LOVE fresh blueberries now. So a lot of foods I wouldn't have bought, I get a chance to try now."

"And then about the difference of good cholesterol and bad cholesterol… so I learned quite a bit and like I say I'm grateful to have had the opportunity to be a part of that program and I can say it has made a difference in my life and I know. it's something I will be using for the rest of my life. I just wished I could have learned sooner. I would have been in better health now, had I known."
Today, Ms. Green is back to receiving canned and dry food in her healthy food box deliveries and she is feeling more in control of her health thanks to the program.
"I know I'm a senior citizen and these things you would think I would know already and should have known, but the truth of the matter is I didn't know, and it's OK not to know, I found that out now. But then ask questions and don't be ashamed to admit to the fact that you don't know. That's how you learn."

"I was just sad that the class had to end. I didn't want it to end. I felt so empty the following Thursday after the class ended, I was like man what am I gonna do with myself. I enjoyed the class SO MUCH. I'm just so grateful I had an opportunity and Deena called me and asked me if I'd like to participate."
If you are interested in learning more about our Healthy Senior Living Initiative, please visit