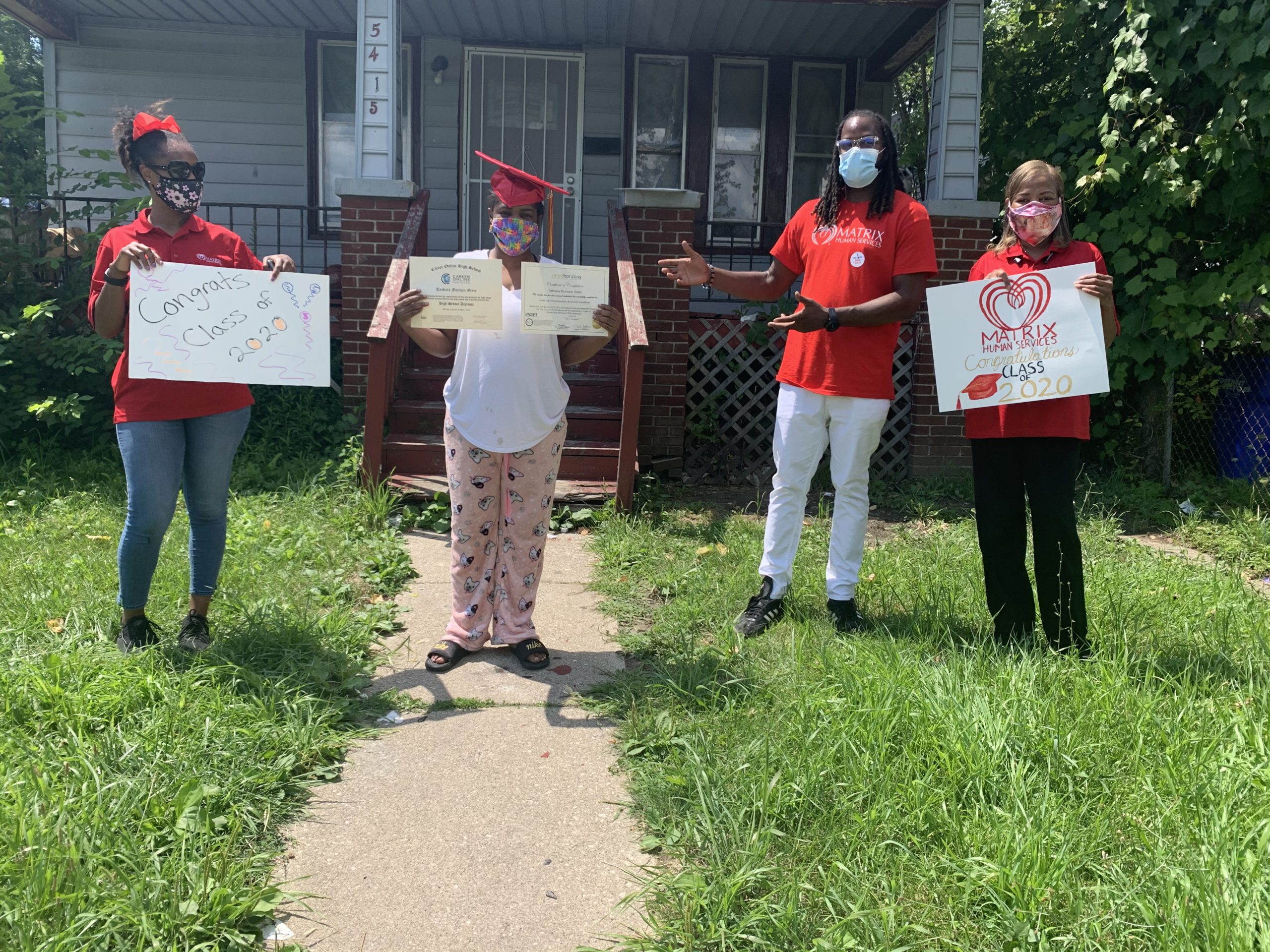 On August 3rd, 2020, we were pleased to celebrate our three graduates of the Matrix Online High School Diploma Program! Two out of three graduates also completed the program within 6 to 8 months, which is up to three times faster than the expected 18-month program usually takes.
In order to celebrate their graduation safely during Coronavirus, our Career and Financial Coaches at The Matrix Center decided to decorate their vehicles in the spirit of a mini-parade and drove to the home of each graduate to present them with their gown, cap, and diploma.
See photos of the graduation below
Here is what Career Coach Ron Norwood had to say,
"Today we are celebrating 3 graduates who completed the Matrix Online High School Completion Program, so what we are doing is a drive-by graduation. We are stopping at 3 graduates houses and giving out celebratory items. They're getting their cap and gowns and then we're gonna make sure each of them get a monetary reward for their achievement as well. So that's what we are out here doing. We are on the Eastside of Detroit making our rounds. We have a whole team from Matrix here supporting us, a whole procession of cars out here to make the graduates feel really loved and appreciated."
Graduate Tashara said,
"I feel wonderful. This is a wonderful program to actually go through especially if you have little ones at home, being with them every single day. They help you, they motivate you. I actually had help from my own kids, they wanted me to succeed so it was just an awesome feeling."
Regarding her plans for the future, Tashara said,
"I was planning on going back to school, but I'm not sure just yet. Probably a little later once everything goes back to normal."
On September 4th, we also talked to Lakisha who recently graduated from the Matrix Human Services Online High School Diploma Program. Lakisha was inspired by a friend to go through the program after seeing her graduate last year!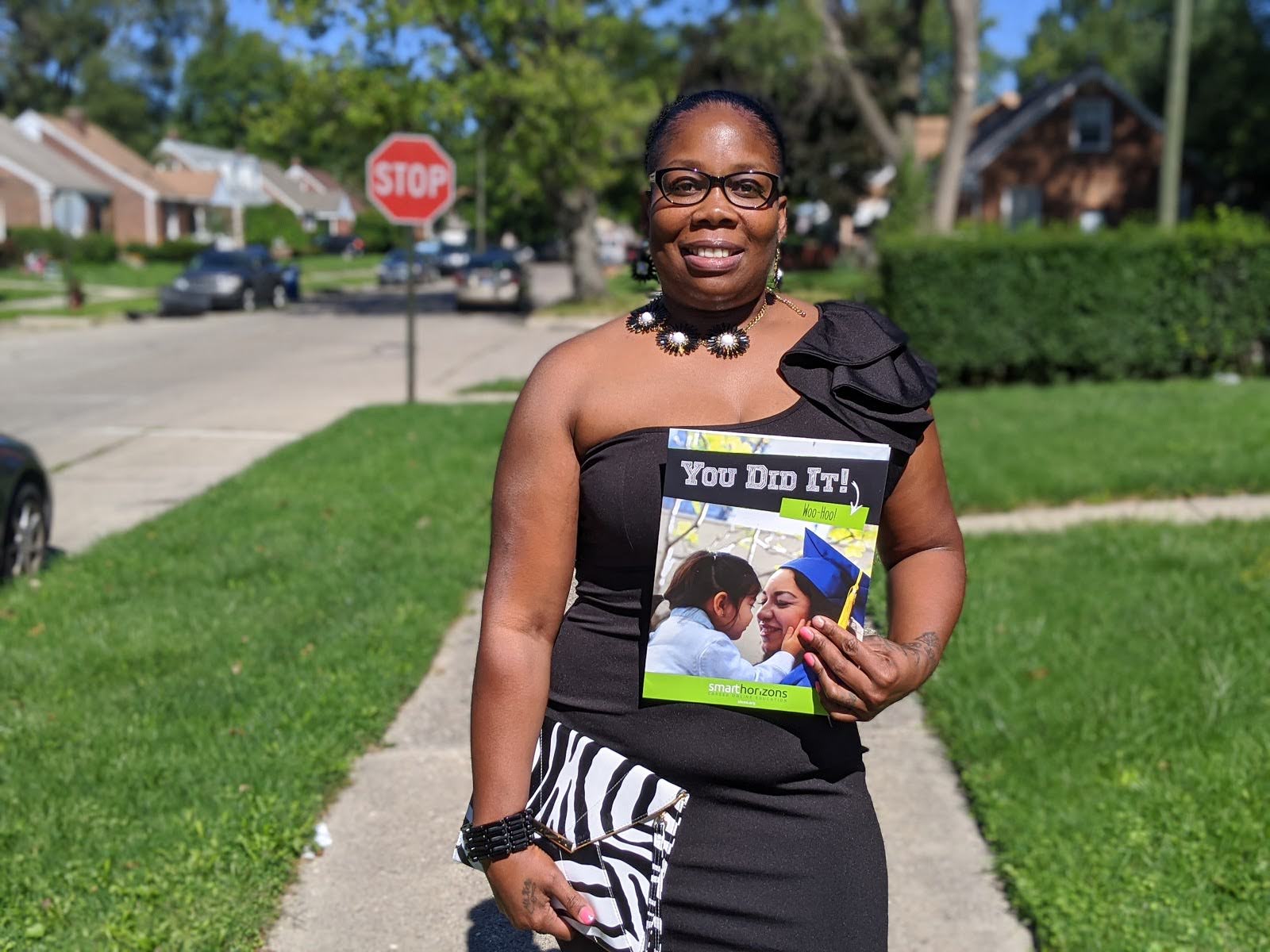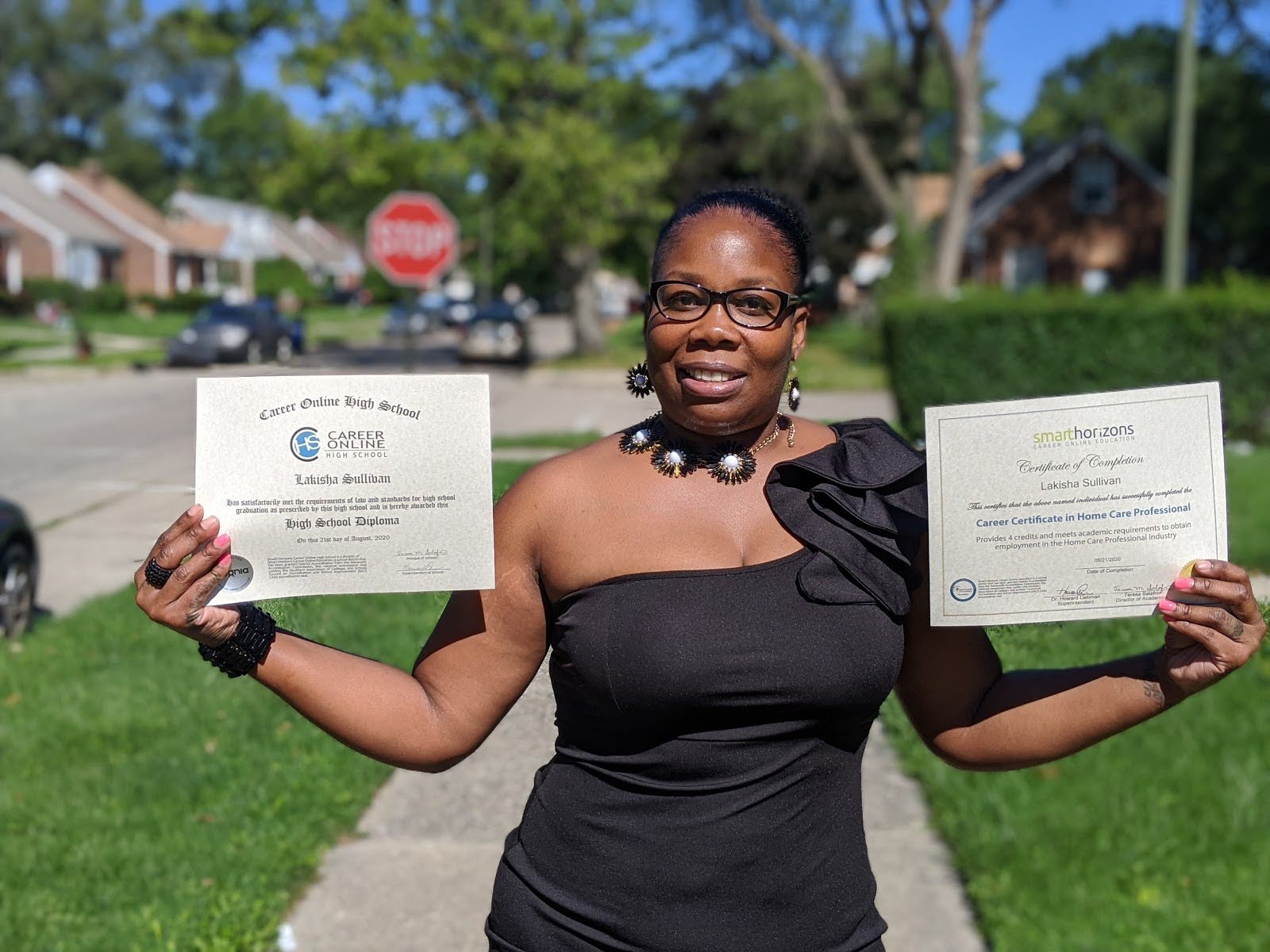 "I thought The Matrix Online High School Diploma Program was an excellent program because I always wanted a High School Diploma instead of a GED. I wasn't just gonna settle for a GED, I always wanted a cap and gown, diploma, walk across the stage, so I just was always motivated all the time while I was doing it because I knew the outcome in the end. But it's hard work and dedication, you have to stick to it… But once I stayed consistent and put my best foot forward, I was done in no time".
Currently, we have a waitlist of participants for the program but we are unable to accept more without additional funds. If you would like to help us continue the Matrix Online High School Diploma Program so people post-graduation can still achieve a diploma and higher quality job opportunities, please consider a donation via the link below.
Watch our TikTok video of the graduates below