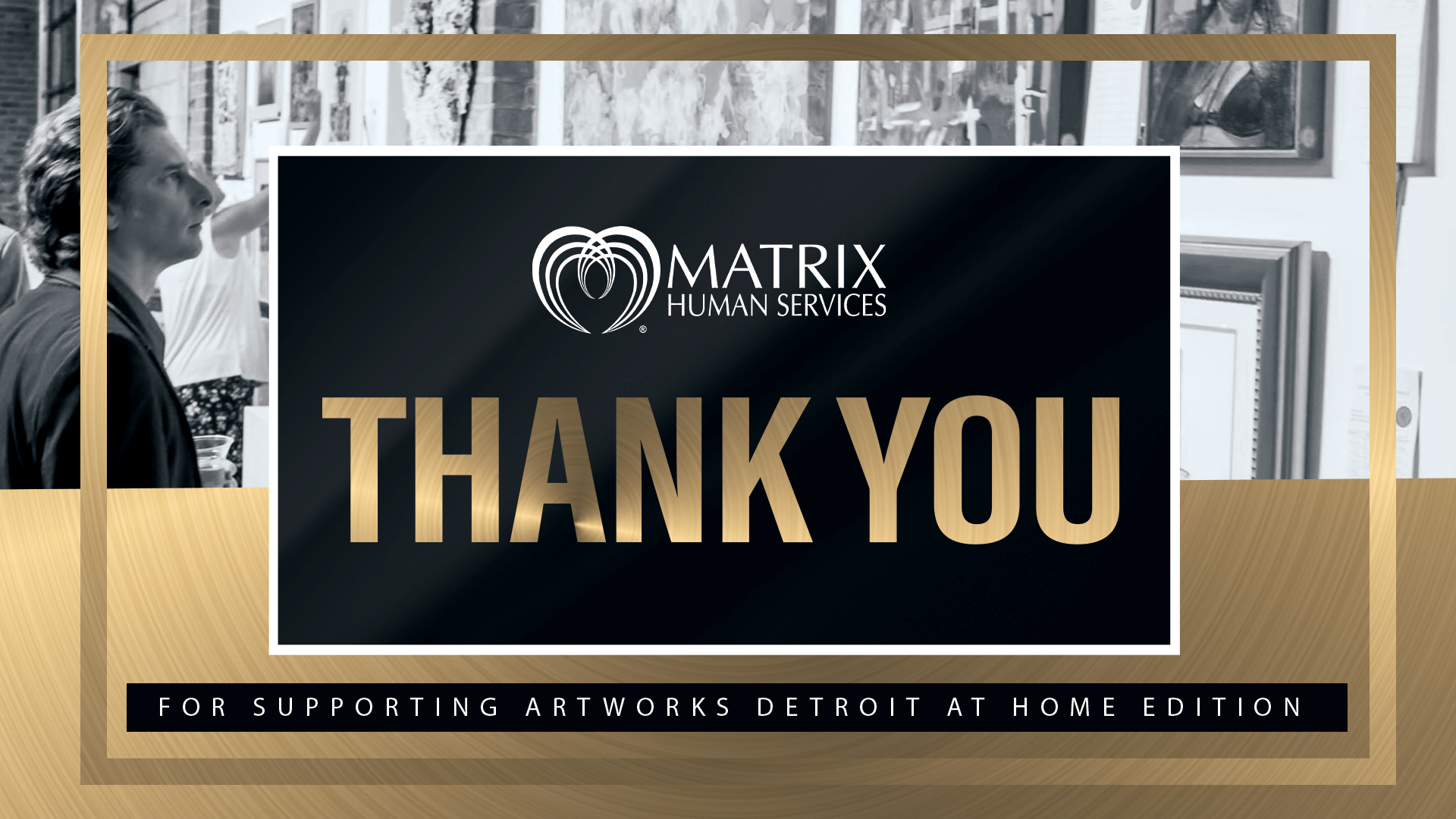 For the past 25 years, Matrix friends and supporters have looked forward to one of our most impactful fundraisers – ArtWorks Detroit. Due to COVID-19, we had to pivot and reimagine the experience while still upholding the legacy of our renowned event. This week, we did just that with an expanded roster of programming to celebrate ArtWorks Detroit!
We kicked the week off with virtual bidding for our online art auction and then hosted an in-person preview at our exclusive installation at Wasserman Projects. We closed out our exciting week of programming with a virtual celebration hosted by iHeartRadio's Kirby Gwen and auctioneer Greg Bator at Wasserman Projects. The live-streamed event also included a DJ set from Drake Phifer, along with features from select artists and this year's honorary chairs – art powerhouse couples Dr. Daniel and Janet Haddad, Ed and Karen Ogul, and Dr. Linda and David Whitaker.
Check out photos from the event below
Thanks to our generous supporters, our reimagined ArtWorks Detroit — At Home Edition was a success! Through the support of our planning and curation committee and honorary chairs, Dr. Daniel and Janet Haddad, Karen and Ed Ogul, and Dr. Linda and David Whitaker, we secured over 90 pieces of art from locally and nationally renowned artists, including jewelry and sculptures! Special thank you to our ArtWorks Committee who helped secure art as well as made some incredible pieces themselves — Barbara Bunting, Sue Carmen-Vian, Carl Demeulenaere, Jeff Cancelosi, Monica Mills, Priscilla Phifer, and Nathaniel Wallace!
We also raised nearly $60,000 to continue providing essential services and COVID-19 relief programming for the children and families we serve. Whether you purchased some of the artwork, donated to Matrix, and/or attended our virtual bash, we appreciate you! With your support, Matrix will continue to provide our life-changing services to Detroit's most vulnerable populations.
If you missed our virtual bash or just want to relive the good times (including Greg Bator's highlights of some of the artwork), you can watch the Youtube video of the second half of our live stream right here!
Your support matters!
Now in its 25th year, ArtWorks Detroit has raised over $1,500,000 for our life-changing work. Your financial support is crucial for Matrix to continue providing COVID-19-related emergency services, as well as our day-to-day programming and roster of essential services. The easiest way to help Matrix continue to provide essential services and COVID-19 relief support is by donating directly to Matrix Human Services. Consider donating directly to Matrix to help us continue to offer our life-changing programs.
In addition to our day-to-day programming, since March, Matrix has provided food and care packages on a bi-weekly basis to over 600 families in need, Matrix continues to provide transportation and food deliveries to seniors in need and we continue to distribute and deliver diapers, wipes, and formula to our Head Start families.
THANK YOU TO OUR SPONSORS
Throughout the night, videos were played featuring our 3 honorary chair host couples as well as artists Sydney James, Sheefy McFly, and Katie Bramlage. You can watch the Youtube playlist of videos here: