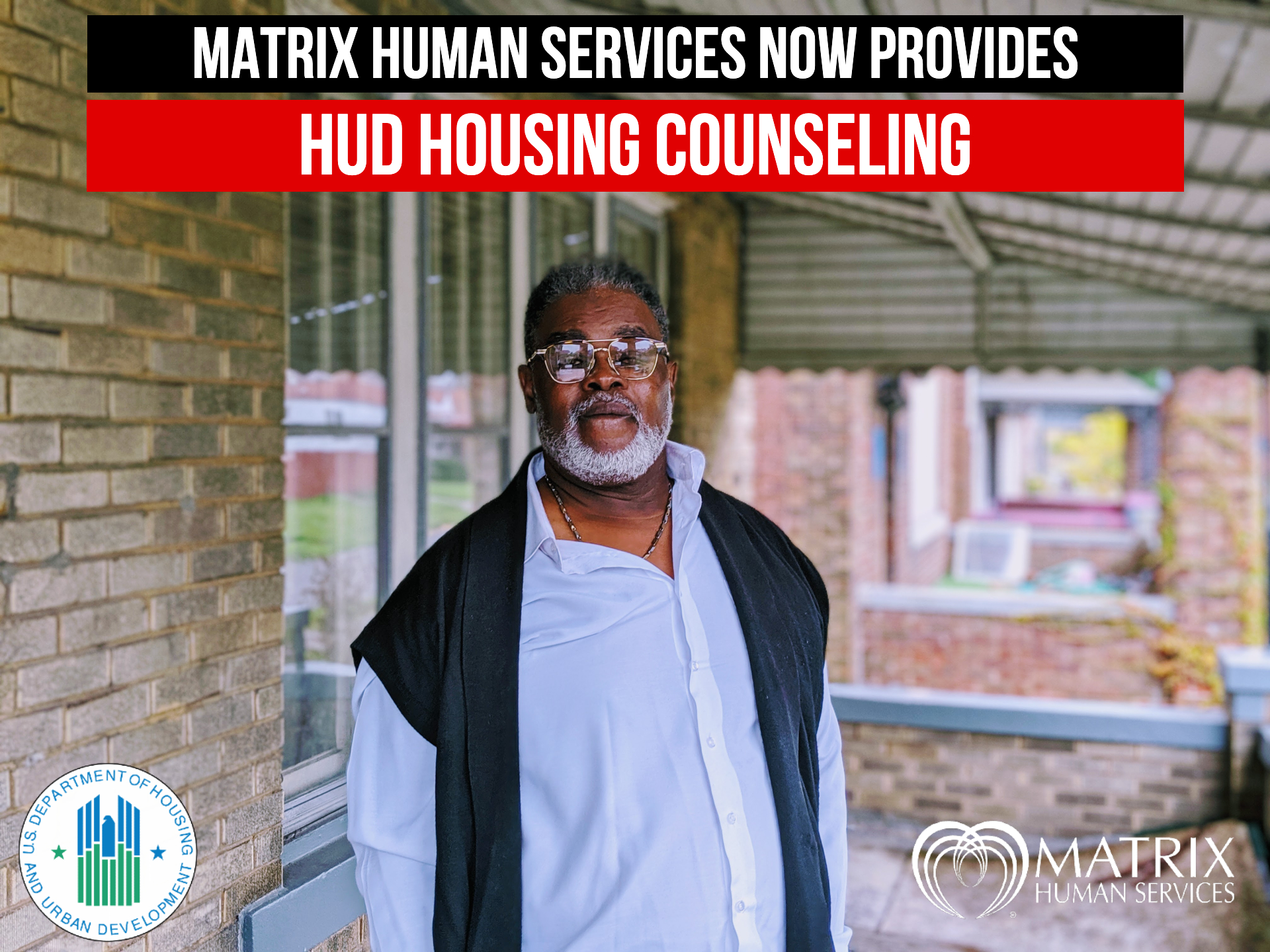 James King pictured above at his home purchased through the Detroit Land Bank
Matrix Human Services has been assisting clients for years with homebuying education and resources as part of our overall mission to provide a hand-up for those facing poverty and low-income needs. In May of 2020, Matrix partnered with The Detroit Land Bank Authority (DLBA), Occupied Buy-Back Program, which made it possible for Mr. King (pictured above) to purchase a home he had been living in for years and wanted to own.  Our homebuyer workshops also provided interested home buyers with a free 6-week course to learn more about the process and financial concerns involved with buying a home.
In June 2020, Matrix was also awarded a grant from United Way of Southeast Michigan – Emergency Food and Shelter Program to provide direct housing support to those living in Detroit that are in danger of eviction and becoming homeless. This is especially important when the pandemic has still left many people unemployed and struggling to stay in their place of residence.
Today, Matrix Human Services is excited to share that our 115-year-old agency is now a certified U.S. Department of Housing and Urban Development (HUD) Local Housing Counseling Agency. This will allow us to help Detroit metropolitan residents with housing resources and opportunities for homebuying through HUD and the Michigan State Housing Development Authority (MSHDA)!
Matrix Human Services Director of Adult and Senior Programs, Mr. Gregory McPherson, was the person behind the effort, which involved numerous staff in his program completing rigorous preparation and testing to achieve the certification.
"I feel a great sense of achievement. We started investigating what it would take to become an approved HUD housing counseling agency about 3 years ago. To see it come to pass is exciting." – Director of Adult and Senior Programs, Gregory McPherson
This designation for Matrix will make it possible to qualify clients for several credits such as the MSDHA first-time homebuyers credit that could total up to $10,000 on down payment and closing costs. Homeownership is a key factor for one's personal economic upward mobility.
"I believe homeownership in Detroit is a key aspect of building up the community. Matrix will now have a wealth of resources to help clients become homeowners, evade predatory lenders, build their creditworthiness, manage their money more effectively, and connect to reasonable rent options when home buying is not the best option at the time, all while improving their overall economic health."
If you are seeking assistance with rent, mortgage, or homeownership, please call Assistant Director of Adult Programs, Ms. Cynthia Elmore-LeJeune (celmore-lejeune@matrixhs.org) at 313-526-4000 Ext 1411 or visit
Below is the certificate achieved by Assistant Director of Adult Programs – Ms. Cynthia Elmore-LeJeune