Back in 2001, Ms. Vivian Gray was a young mom living in Detroit and pregnant with her son. At that point in life, Ms. Gray was preoccupied with raising a family but decided to take classes at The Matrix Center to achieve her GED as well.
"I never really thought it was that important. I was a mom with four kids and I wasn't thinking about going to school. I was thinking about raising a family. But I kept pressing on anyhow…"
Despite the circumstances, Ms. Gray completed the program and received her GED, which turned out to be a life-changing achievement.
"When I obtained that GED it opened up so many other doors for me, and because I had that, I was able to go to medical assistance. From medical assistance, my internship was at Saratoga hospital and because I had that GED and doing that internship, I was able to become a part of the staff at Circle of Life, the mental institution that was there. I'm talking about a fabulous experience. And that allowed me to have interest in really being in that field of work."
As life continued, Ms. Gray didn't have a need for Matrix any longer because she was thriving with her new career and supported by her husband and family.
Fast forward 20 years and in 2022, Ms. Gray is now working at an organization called Pregnancy Aid of Detroit where she assists mothers that are pregnant or have children under one.
"We give them food, clothing, different items, maternity clothes and clothes for the children, and we have to put that data in on the computer." 
However, Ms. Gray was feeling a little rough around edges when it came to using the computer, so she broke out her old computer from the late 90s and after taking it to a repair shop, she found out that they were unable to fix it. Unfortunately, she knew she couldn't afford to buy a new one either.
At that moment, she remembered the assistance she received from The Matrix Center back in 2001 and decided to give us a call, just to see if there were any computer classes she could take advantage of.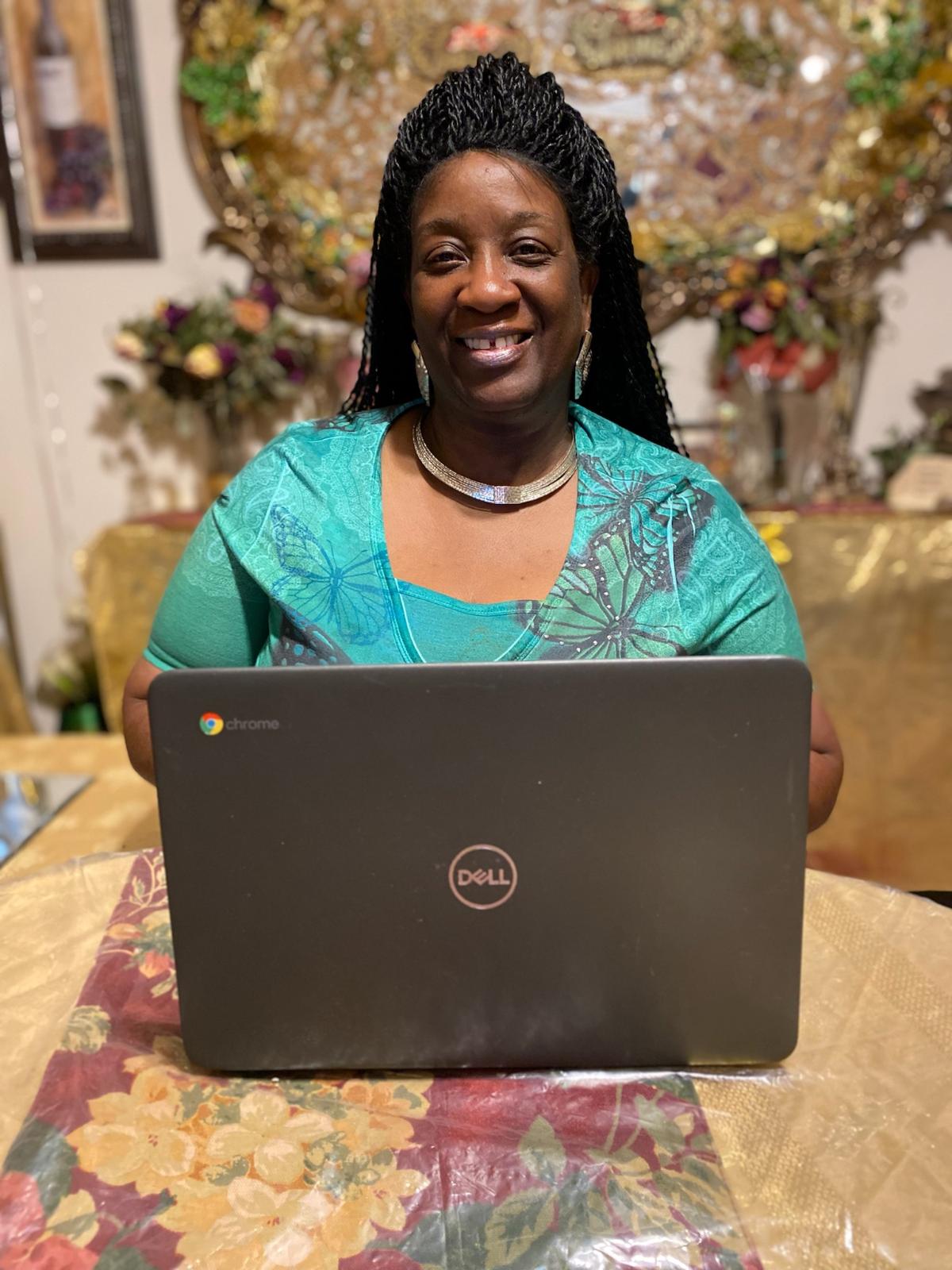 "I originally called Matrix because I was interested in learning how to use the computer… I knew that by getting with the AARP, they kept asking me about my computer skills and so I told them I was gonna seek out classes and things like that, and that's when I went on the computer to see what you guys had to offer. Also I had gotten older and I knew you all, at one time, were doing things with seniors and my husband is a senior citizen. So I was just kinda checking out the website and that's how I came across you guys."
Thanks to our partnership with Comcast and Older Adults Technology Services (OATS) from AARP, Matrix was able to provide Ms. Gray with a brand new Chromebook laptop, which has helped her both professionally and personally. The partnership is designed to bridge the technological gap in Detroit for seniors who are disconnected and feeling left behind in a digitally driven world. Matrix Human Services was one of a handful of organizations chosen, based on current programs serving seniors, to receive laptops that could be distributed to those in need.  
"Your organization blessed me tremendously and now I'm just trying to learn how to use it correctly because it's a little different than what I was accustomed to. So, I'm open to learning."
Now that Ms. Gray is active with the AARP in Detroit, she felt encouraged to become more familiar with the computer, and just as her determination paid off 20 years ago when she achieved her GED, it has paid off again after she contacted Matrix for some assistance.
"I just started AARP which is a senior program where they take us through training and all that kind of stuff, and because I do have the computer, it is helping me navigate at the site that I'm at because they have us on computers putting in data. They were really impressed that I had my little laptop that you all gave me, it looked like theirs," she said laughing. 
Today Ms. Gray is continuing to learn the computer and assist her husband with it as well. Even though 20 years had passed since Vivian was engaged with Matrix, she was happy to learn that we are still serving the community.
"I didn't forget where I come from, that's what that is… The point of the matter is you guys are still standing doing great and awesome things."
If you are interested in learning more about our Program for Seniors, please visit