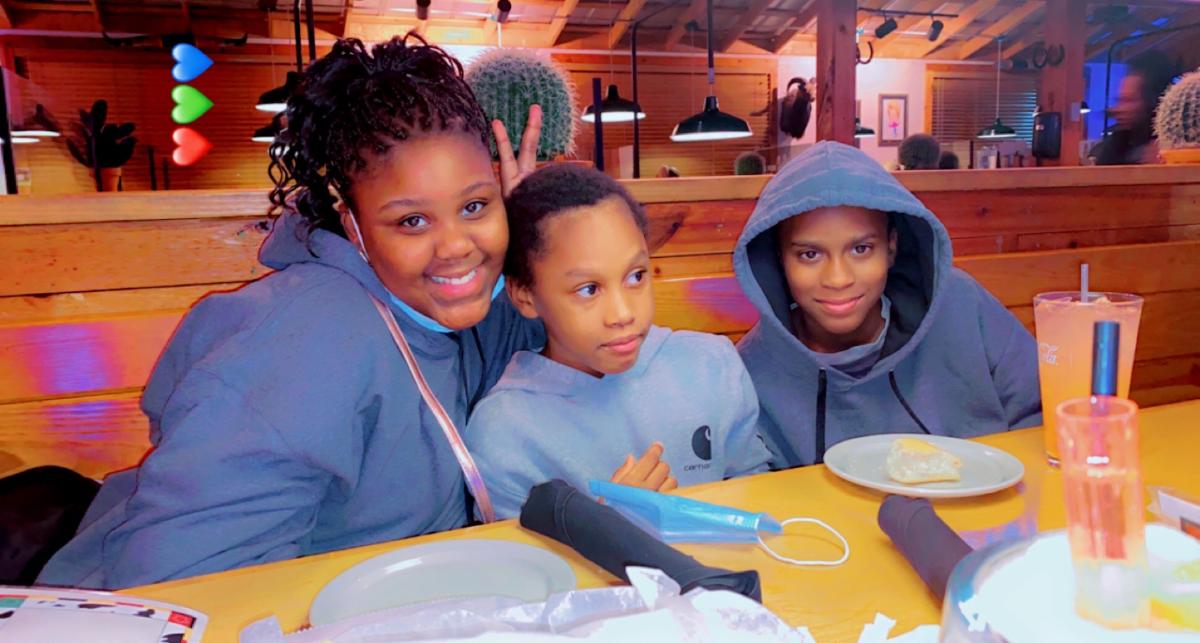 Like most kids starting middle school, 12-year-old London was a bit nervous and seeing girls putting on makeup in class for the first time did not make her feel comfortable. 
London had always been an honor roll student but her grades began to slip a bit once she entered sixth grade in the fall of 2021 at Oak Park Preparatory Academy. However, her upbeat attitude and work ethic inspired her to find resources at school, that is where she met Matrix Human Services Youth Prevention Specialist, Ms. TiKilah Turner.
London decided to join a small group of 6th and 7th graders who enrolled in the Life Skills Program with Matrix Human Services Youth Assistance Program. This allowed her to connect with other kids her age to talk about life and school. However, as Ms. Turner began to learn about London's life at home, she realized the family was in desperate need of assistance.
"One week she said she lived with her grandma, and then she said she moved in with her cousin and then she said something else a couple weeks afterwards that got my wheels turning, cause' I'm like, oh she's moving a lot."

– Matrix Human Services Youth Prevention Specialist, Ms. TiKilah Turner
It was at this time when Ms. Turner learned that the family was struggling to find stable housing. Behind the scenes, London's mother was doing her best to keep the family together.
"Before I got into Matrix, I was homeless, pregnant, and I really couldn't work because I had just had a baby. Right when Ms. Turner called me, I was in the process of going in to go have the baby. At that time too, Ford Motors had hired me and the first week I was working at Ford, Ms. Turner contacted me through my daughter's school. She actually asked me if London could be in a group at the school to teach kids the fundamental things of life and how to be on time, punctual, just trials and tribulations that the kids go through to help them where needed. Basically keeping their head on straight and being a second source of somebody to talk to."

– Ms. Ashley Davis, mother of four in Detroit including London and her three younger brothers.
Little did London know at the time how important it was that she signed up for the program with Matrix Human Services.  
Not long after London began the program, the holidays began to approach, starting with Thanksgiving. Ms. Turner knew the family could use some food for the holidays, so she connected them with the Matrix Thanksgiving Food Distribution in partnership with Higher Hopes!
"The Thanksgiving Food Distribution fed me and my whole family. I believe they brought two turkeys…They delivered the food when they found out how many kids was in the household. They brought yams, turkey, boxed dressing, cakes, they brought so much for Thanksgiving, so they really helped me throughout the holidays knowing that I was in a little hardship and the process of moving. So I was able to save my stamps for that Thanksgiving because, I get food stamps, and when the holidays come you have to spend your food stamps to buy the Thanksgiving food so that was a real big help.. we ate very good."

– Ms. Ashley Davis
Soon after Thanksgiving, Ms. Turner was concerned about the family during Christmas as well, so she arranged a connection with one of our generous Matrix supporters for our annual Angel Tree Holiday Gift Program, helping families in need with wish list items and gifts so they do not have to go without during the holidays. This connection turned out to be more than anyone could have imagined. See photos and read more about Angel Tree 2021 here
"And then I got a call from her Matrix advisory saying 'do you mind if we adopt your family?' And I said of course. And then it was like, 'wow OK, so that little group she was involved in at school, it turned out to be something much bigger."

– Ms. Ashley Davis
Typically, donors and recipients do not meet each other until the day of the gift distribution. However, once again the Davis family found good fortune when their donor wanted to communicate directly with the family and had a LOT to give.
"It was better for me and her to talk because my schedule was super tight and you know I was homeless and had to move and only had a certain amount of time. So it helped me… London got two beds. She got some clothes and pajamas, shoes… A lot of dishes with glass plates, glass bowl set to match the plates.. I love to cook and it was a lot of kitchenware. And I appreciate that all the kids got clothes… They were trying to get me furniture from donations and everything and I ended up getting my own furniture, and I'm like hey, I got everything that I need, thank you. But ya know everything you gave me I appreciated it."

– Ms. Ashley Davis
The family also left them with an extremely unique pot and pan set from the Civil War which still carries a lot of value today.
"That right there was making me feel so blessed like someone cared and helped me overcome the stress that I was so worried about. Because I actually got tissue in bulk, napkins in bulk, you know coming into a new home and not having anything, that was like a true blessing because I was already broke from moving. I had to give up all the money to come here, and I didn't have to try to scramble up some more money to get what I needed. I didn't have to worry. And I was just thanking God that I was able to be in the program because if I wasn't, I don't know… So it really helped me and I hope the program continues to go on for the next person… because it's truly a blessing."

– Ms. Ashley Davis
Today, the Davis family is looking forward to moving into a new house and have been approved for Section 8 housing, a federal program that helps those in extreme need with a housing voucher for temporary financial assistance.
London also just graduated from the Matrix Life Skills Program and she has seen her grades go up since joining the program. Being active at school and taking advantage of the resources available to her, London was able to help her entire family through one of their most difficult periods.
"She's really a very vibrant young lady. She reminds me of my younger days and gives me a more youthful feeling because of how she talks about her experiences with school… She's enthusiastic about everything and that makes me feel like I'm in 6th grade like she is haha."

"One small thing really created this whole domino effect of blessing for the family so I was just overjoyed to be involved with all of that."

– Matrix Human Services Youth Prevention Specialist, Ms. TiKilah Turner
If you would like to learn more about our Youth Assistance Program for kids ages 7 through 17, please visit: