Matrix Human Services' annual mission-focused event is returning on select dates in October and November
Support is needed now more than ever, so we are excited to safely move forward with one of our most critical events.
Matrix Human Services' Mission Event normally draws over 250 community leaders who are committed to advancing our mission. This year, we are doing things a bit differently and hosting numerous outings at different restaurants and locations for a small crowd and safer gathering. We invite you to connect with Matrix's mission in this intimate and exclusive way. 
For sponsorship opportunities please contact Kerrie Mitchell at 313.587.8749 or via email at KMitchell@matrixhs.org.
Your support is crucial to our success. In addition to learning more about Matrix's mission, you will also discover how you can help us continue our life-changing work!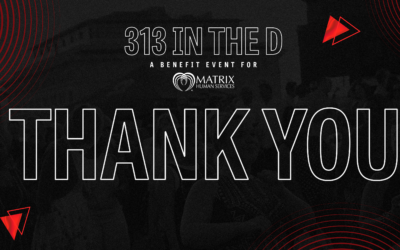 For the past 8 years, Matrix friends and supporters have looked forward to one of our most impactful fundraisers - 313 in the D. This annual fundraiser party, held on the rooftop of 3fifty Terrace, features a live DJ,...
read more
Youth Programming via Online, Virtual Delivery, and tablet distribution to over 150 youth and teens.
Bi-weekly Food Distribution for over 600 Families with Children (per distribution) in the most impoverished zip code in Detroit.
Bi-weekly diaper, wipes, formula, and essential product distribution for families in Early and Head Start programs. Our counselors also continue case management support for entire families.
Bi-weekly food distribution and home deliveries specifically for up to 100 seniors.
Offer community job leads and direct hire through our Workforce Development team.
Senior Transportation for Adults 55+ years to groceries stores and pharmacies.
Financial Literacy and Assistance for families to find secure resources.
Resources for Pregnant Moms and Children Birth-5 years that includes weekly lesson plans virtual learning.
Remote telehealth for those living with HIV