COVID-19
Matrix Human Services – Adult Services Resource page
Adult Services at the Matrix Center 
The Matrix Center is closed. But the department will be operational. The staff office numbers below will be redirected to staff working remotely. Services offered include workforce development, financial education, resources, online high school education. We are encouraging clients to call in as opposed to coming to the facility. Our staff will be calling clients to do check-ups and encourage new clients to call in utilize this time work on resumes, credit and other needs essentials.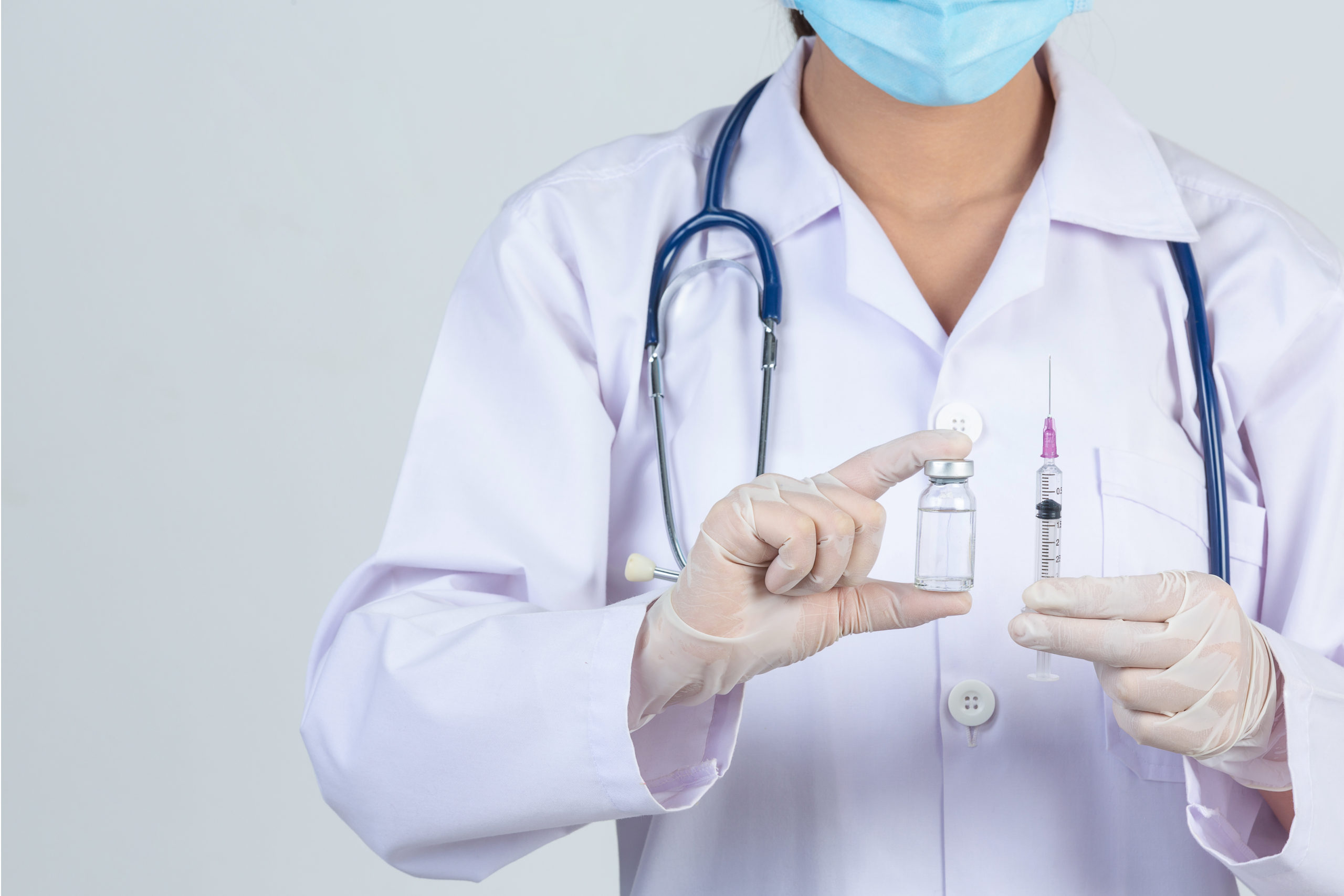 Starting Monday, the City of Detroit will begin scheduling 20,000 COVID vaccination appointments at the TCF center over the next four weeks, based on the anticipated supply of vaccines from the state, Mayor Mike Duggan announced today.  Those vaccines will be available initially to the following groups: 
Who is Eligible to receive the vaccine at TCF?
Any Detroit resident 75 and older
Any "good neighbor"  65 and older who drives a 75 year old to TCF
Group B essential workers, including K-12 teachers and support staff and child care workers
Access to vaccinations at TCF gradually will expand to other eligible groups as the supply of doses provided to the City allows.
How to schedule an appointment
Starting Monday, Detroit residents age 75 and older and their "good neighbor" drivers 65 and over, will be able to call 313-230-0505 starting Monday to schedule an appointment at the TCF center.  The first appointment will take place on Wednesday.
Senior Services at the Matrix Center 
We understand that seniors are among the most vulnerable to be affected by COVID-19, which makes leaving the house for any reason even more concerning. If you know of anyone 55+ who needs to leave the house while maintaining social distancing (avoiding public transit), we provide no cost rides that are safe & reliable for trips to doctor appointments, grocery stores, and more. Just give us a call to schedule a ride at (313) 526-4000 ext. 1230
CENTER FOR SENIORS
Matrix has assisted older adults in maintaining healthy, active and whole lives for more than 6 decades.
The Center for Seniors helps our senior population maintain healthy, enjoyable and independent lives. Comprehensive services include assistance with transportation to medical appointments, home care services to help support clients remain living in their own homes, and helping our older population remain active with a range of programs at Detroit recreational centers.
Services and programs that help achieve these goals include:
• Personal home care services
(cleaning, cooking, laundering and more)
• Free community recreation activities
Including water-chair aerobics, community luncheons, health fairs, field trips and more.
• Low cost non-emergency medical transportation
CONTACT Dominque Jordan
djordan@matrixhs.org 313-526-4000 Ext 1230
Maximize Your Downtime with Proper Financial Budgeting
We will be delivering virtual financial education classes providing our workbooks online for download. We will also continue to provide 1:1 coaching that includes free credit report monitoring and support via video chatting, phone appointments, text messaging services, and email. As always, we will continue to guide our clients regarding financial and housing emergencies, late payments, other resources during the crisis. We can help walk people through the process. Check out our website for more information contact Cynthia Elmore-LeJeune celmore-lejeune@matrixhs.org or call 313-526-4000 Ext 1411.
Manage Your Finances During this Difficult Time
With massive layoffs, many will need assistance in navigating how to access resources that can make these easier for you. Matrix is assisting with helping clients delay bill payments, counseling, and referral programs for emergency services, such as housing, food, and healthcare. Plus, assistance with tax prep/EITC. Check out our website for more information contact Cynthia Elmore-LeJeune celmore-lejeune@matrixhs.org or call 313-526-4000 Ext 1411.
Do you need rent or mortgage assistance?
Get up to $500 towards your balance
 Must be a Detroit Resident
 Must meet with a Matrix Financial Coach to create a budget and create an action plan with personal economic goals and agree to receive ongoing (at least 6 months) financial coaching geared towards helping individuals reach self sufficiency.
 Assistance "must" help bring account up-to-date - Landlord/Mortgage Company must sign documentation indicating that assistance brings the account current thereby allowing the tenant to remain living in the home for at least 30 days. 
Check out our website for more information contact Cynthia Elmore-LeJeune celmore-lejeune@matrixhs.org or call 313-526-4000 Ext 1411.
COMMUNITY FINANCIAL CENTER
Services and support designed to assist clients in reaching their personal economic upward mobility goals.
Services within this Center include:
• One-on-one financial coaching and counseling
• Free credit reports and FICO scores
• Financial capabilities classes
• Tax Prep Assistance (during tax time only)
CONTACT Cynthia Elmore-LeJeune
celmore-lejeune@matrixhs.org 313-526-4000 Ext 1411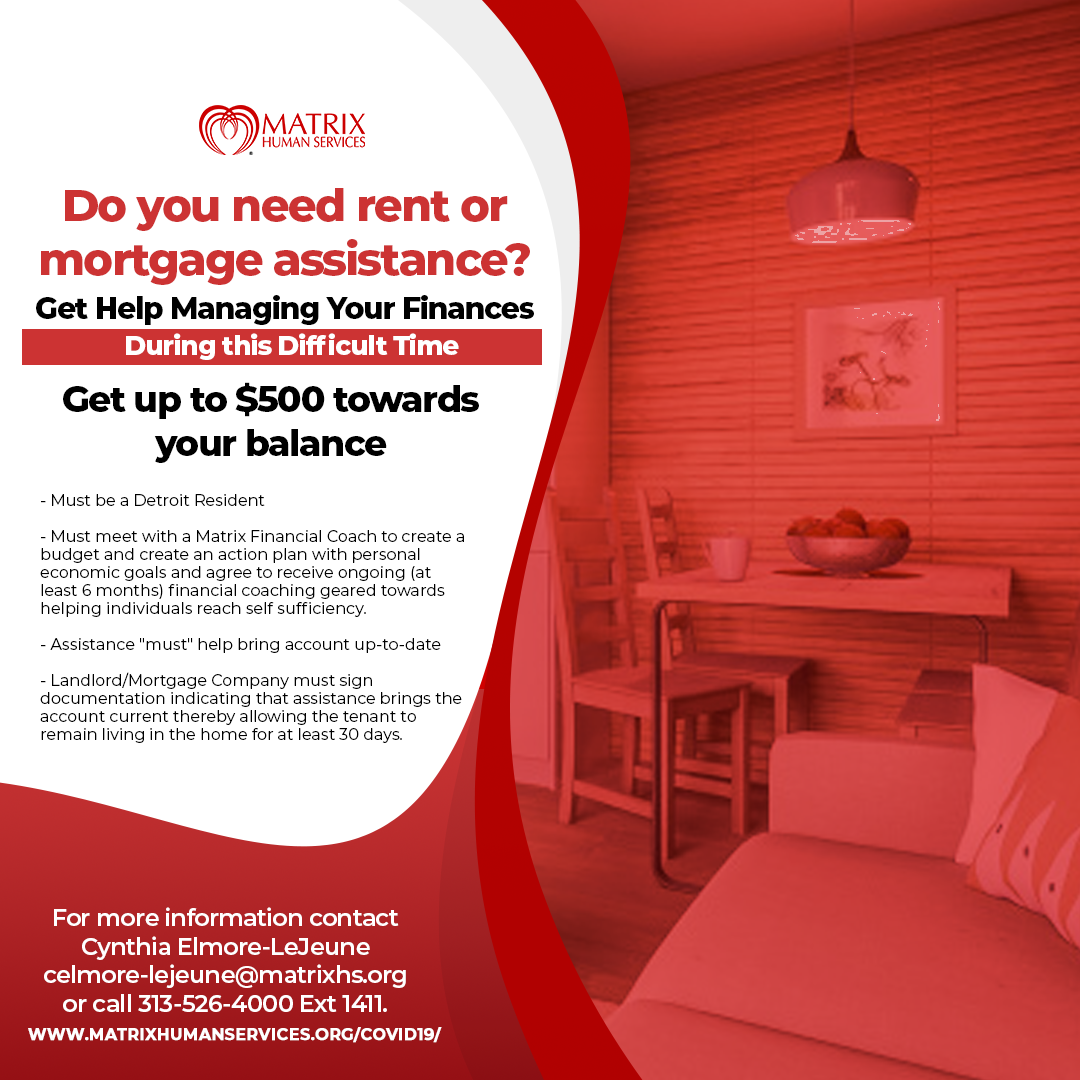 Many have been laid off, and we know this moment is scary and challenging. During this time of economic instability caused by the COVID-19 pandemic, we are here to assist anyone in need of finding work and securing employment. Our employer partners are still looking for a qualified workforce, and many are still hiring. We equip clients with job readiness skills and training so that they are prepared for any opportunity that comes their way. Please visit https://matrixhumanservices.org/covid19/  and under the Adult Services section, choose "COMPLETE APPLICATION" to get started today. Our Workforce Development team will be in contact. Or call Debbie Blackman at dblackman@matrixhs.org or call 313-526-4000 Ext 1236
WORKFORCE DEVELOPMENT CENTER
The ability to secure and maintain gainful employment is at the heart of social and economic mobility.
Services available through this Center include:
• Soft skills training
• One-on-one career coaching and counseling
• Resume, cover letter and job search assistance
• Employment resources and referrals
CONTACT Debbie Blackman
dblackman@matrixhs.org 313-526-4000 Ext 1236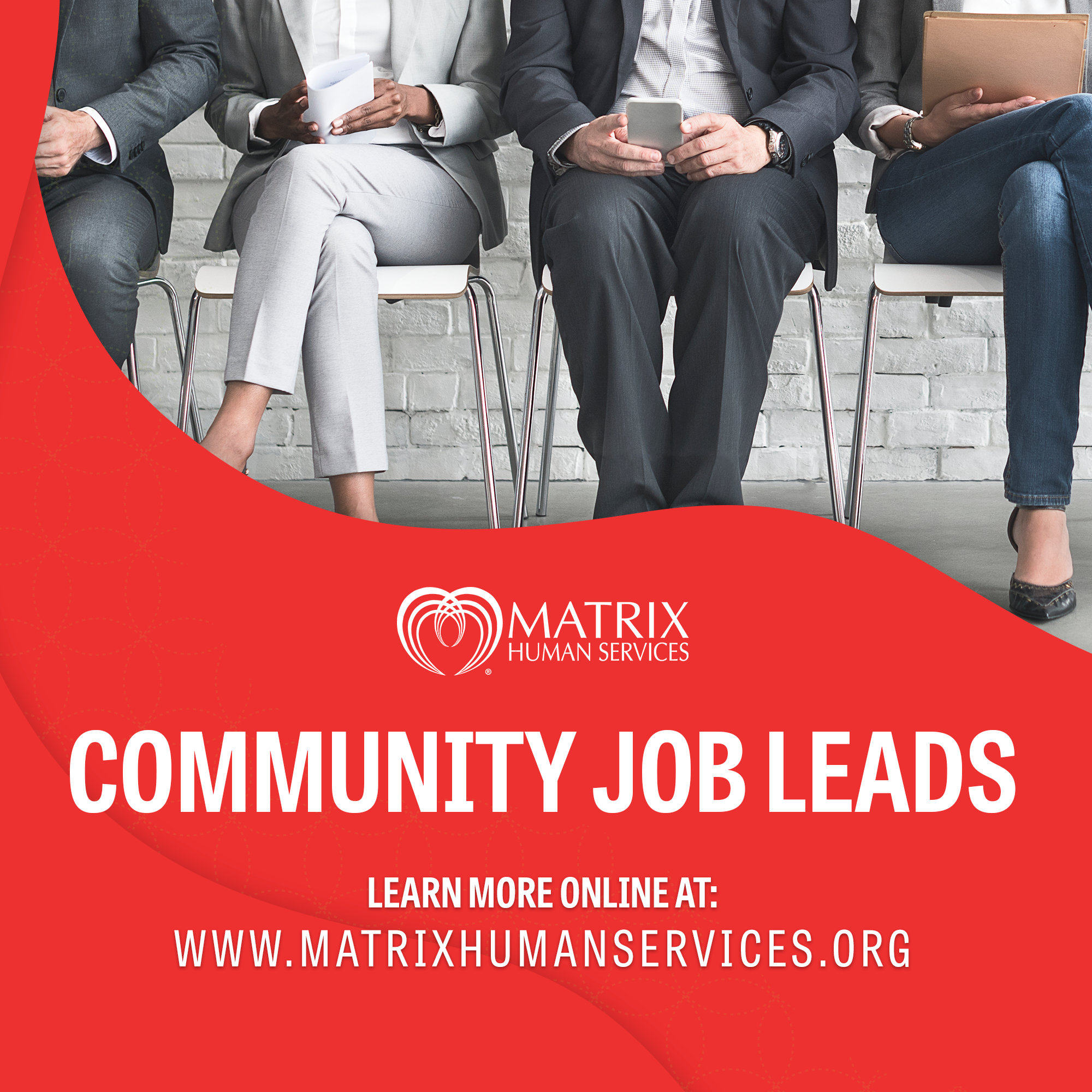 Are you a SNAP recipient not receiving cash benefits from MDHHS and seeking employment?
Would you like to know if you qualify to become a SNAP recipient?
Matrix Human Services can answer all your questions and assist you with your application. Whether you want to put in a new application, get recertified, or have questions we are here to help. Listed below are just some of the supportive services we can help you with if you qualify to become a SNAP recipient and fully participant in Matrix Human Services programs to become gainfully employed.
Work clothes
Job Search clothes
Course registration fee
Drug and fingerprint testing
TB test or physical required for employment
Training materials, textbooks, and supplies
Housing assistance (rent and utilities only)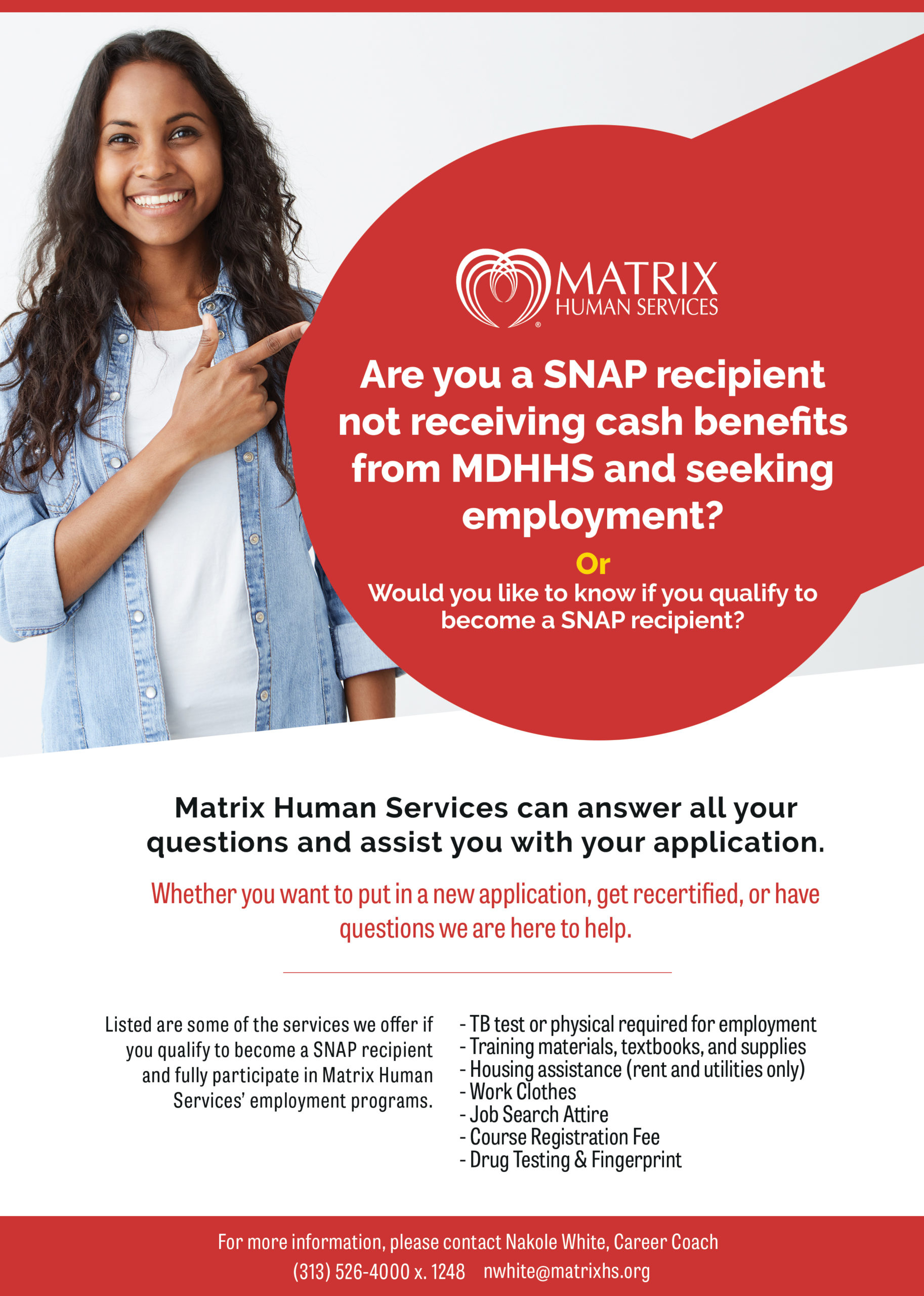 SNAP Program
The ability to secure and maintain gainful employment is at the heart of social and economic mobility.
CONTACT Nakole White
nwhite@matrixhs.org
(313) 526-4000 x. 1248
RESOURCE CENTER
Many agencies and organizations provide vital services to assist a person moving from poverty to self-sufficiency. Our Resources Center was designed to connect clients with available resources to help address their needs.
Services available for this Center include:
• Assistance locating untapped community resources
• Connections to FREE resources
(energy efficient light bulbs, refrigerators and more)
CONTACT Tracy Burrus 
tburrus@matrixhs.org 313-526-4000 Ext 1221
EDUCATION CENTER
Designed to help those in the community without a high school diploma or GED achieve those accomplishments.
Services available through this Center include:
• 100% Online High School Diploma Program
• Education resources and referrals
• Learn more and enroll here.

CONTACT Ronald Norwood
rnorwood@matrixhs.org 313-526-4000 Ext 1244
HOUSING CENTER
Housing is a basic essential need. Our Housing Center assists the community in trying to meet this need.
Services and programs within this Center include:
• Low cost affordable housing options
• Housing resources and referrals
CONTACT Debbie Blackman
dblackman@matrixhs.org 313-526-4000 Ext 1236
Call Us
Central Office:
1400 Woodbridge
Detroit, MI 48207